I have reached out to some of my friends around the globe who are originally from the "604" area to see how they're doing during the COVID-19 pandemic. Here is the first in the Vancouverites in Isolation Elsewhere series:
Vancouverites in Isolation Elsewhere: Steffani in Ottawa
Name: Steffani (Instagram, Twitter)
Hometown: Vancouver
Current City/Home: Ottawa
What is your city like right now?
I live on the 14th floor. It's a light snow today, so it's hard for me to see the bridge leading into Gatineau, but yesterday the traffic was really reduced. Very few people are out. Ottawa came out like gangbusters against COVID-19 and while the province shut down schools and daycares as of March 13th, the city of Ottawa closed all libraries, museums, galleries, recreation centers, etc, as of March 13 too. Theatres are now closed. Restaurants have been only doing takeout for over a week, I think.
I shopped yesterday and the store was formerly 24 hours, but down to 12-hour days. Loblaw's had social distancing enforced, limited entry, and limited supplies for things like chicken and eggs and frozen veggies.
Shockingly, I'm not a Doug Ford fan, but he had said several days before spring break, "travel, it's fine!" and the next day had changed his tune — since then he has been an effective, active leader who has tightened the noose on this thing. I've been VERY impressed with the handling of this, and I suspect it's because protocols have long been in place since the SARS experience here. I never dreamed Doug Ford would be a guy saving lives, but I really think he will have done so with quick action here. We have three times BC's population but have the same # of cases right now.
How has COVID-19 personally impacted your day-to-day (work/life routine)?
Financially, I'm scared, and I'm not in a position to do much about it. All avenues of my work have been impacted.
I had already been a breadmaker and a good cook, so I'm set for a lockdown on that front. But I live on the 14th floor and the elevator terrifies me now, so I'm not getting out much — and I've probably saved lives as a result.
Luckily, I'm a news hound and have followed this thing since the new Year. I have a mask, I have gloves, I have disinfectant. I wish I had more beans. *frown*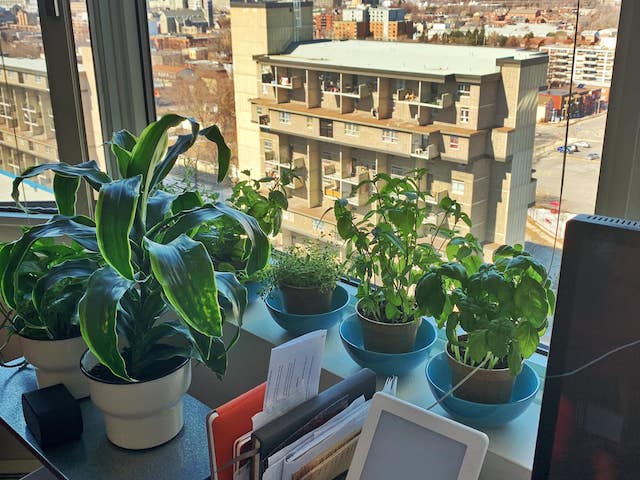 How have you been coping with isolation/quarantine/lockdown?
I have my moments of ethereal calm. Today, I woke pretty terrified and have been high-strung all morning. I'm trying to work, I've been taking breaks to literally just breathe and think happy thoughts. There's not a lot we can do to cope, realistically, and we're all gonna need to be creative. I'm watching lots of Australia Masterchef with a VPN, I've been watching it for weeks, since I've been sort of self-isolating for about 3-4 weeks now. (There are over 600 episodes!!!) Yesterday, I put all my winter crap in SpaceSaver bags. Today, I'm feeding my bread starter so I can make sourdough tomorrow. Soon, I'll handwash some laundry.
This would all be so much better with a cat, really.
What have you been cooking at home?
I've been turning to things that last well — cabbage, potatoes, carrots, and so on. Last night I had a French carrot salad with some ham and potatoes, the day before was ancho chili & honey pureed roasted yam with the same ham, and some so on. I have powdered milk for baking with, I've got some herb butters in the freezer, and so on — lots of stuff I made in advance. Soon, I'll have to start doing things like pasta, etc. I have a 20-pound bag of rice and a 10-pound bag of potatoes that will be major staples for me. Carrots are so much more versatile than people think — cook in a little stock with butter and herbs or spices, then when it's reduced down and tender, puree it up as an amazing side. Same with peas, same with nearly any root veggies. (Thanks, Australia Masterchef!)
Colcannon is Irish mashed potatoes with cabbage in it. That's the kind of food that really turns me on right now — doable and sustainable with the foods we have available.
Do you have enough toilet paper?
You bet I do. 30 rolls and 11 of paper towel.
What's keeping you most entertained?
Australia Masterchef and the occasional cat or dog video. And cooking. I hate the fucking cleaning, though.
What makes you happy right now?
Kindness. An Okanagan winemaker took my 83- & 85-year-old aunt and uncle in Kelowna 7 bottles of hand sanitizer yesterday and I cried when my aunt sent me a picture of the bottles.
Any advice for Vancouverites?
Stay the fuck home. Stay the fuck home. Stay the fuck home.
Buy vegetables that will last a long time — cabbages, turnips, carrots, potatoes. Buy rice. Buy dried beans. Then buy frozen foods. Canned goods are your third line of defense. The LONGER you can stay inside in between shopping, the safer you, me, and everyone else will be. This is the crisis of our lifetimes, the most aggressive illness in a century, and being responsible AND BEING BORED will save lives.
Do *not* expect this to last just a few weeks. Prepare. Hunker down. Understand the science: Even "healthy," you can be infected and spread this virus for up to 14 days before showing symptoms. Staying home will save lives.
Fill in the blank: When this is all over I really _____
…Want a hug.
Bigger picture is, I want a home somewhere like Nova Scotia where I can run a guesthouse for writers and readers, grow my own food, bake, and write a book.
Read more in my COVID-19 news and community series here »