I have reached out to some of my friends around the globe who are originally from the "604" area to see how they're doing during the COVID-19 pandemic. Here is the eighth in the Vancouverites in Isolation Elsewhere series:
Vancouverites in Isolation Elsewhere: Dave in Japan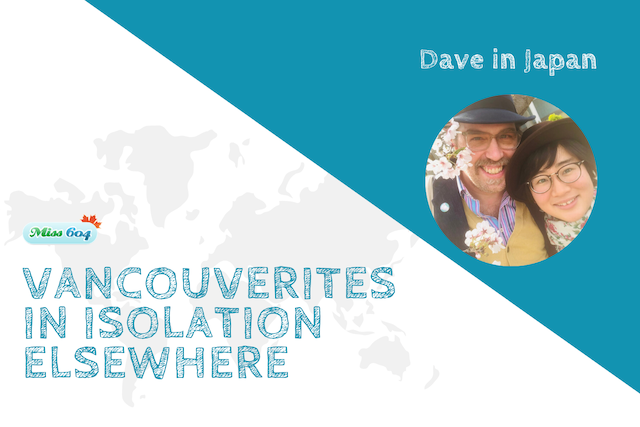 Name: Dave Olson
Hometown: Whalley (but have lived in most all of Vancouver's extended suburbs and burroughs including: Lynn Valley, West End, North Burnaby, Newton, Maillardville etc etc)
Current City: Okayama, Japan – a rather under-appreciated provincial capital between Osaka and Hiroshima
What is your city like right now?
Long answer: The virus first arrived in Japan in January with the quarantined cruise ship and soon after, some precautions were taken from stopping tour groups from China and closing the schools, cancelling sumo and baseball, closing attractions but not shops and restaurants. After the initial response, everything gradually returned to "sorta normal" (keeping in mind normal is Japan means people commonly wear masks, stores are generally very clean, and there is very little in the way of hand shaking and air kisses).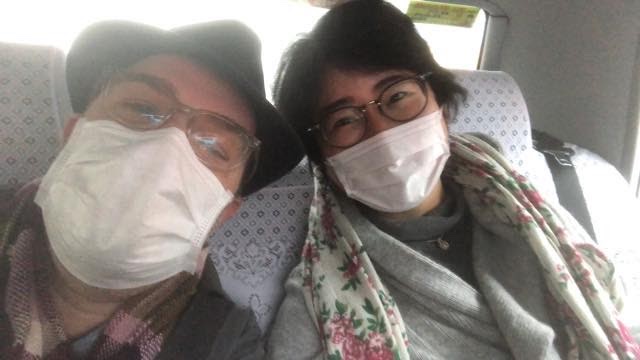 We travelled to Nagasaki in early February (a lifetime ago) and already masking and taking precautions and thought we were through the worst of it but recently ramping back up 🙁 in the usual exponential manner – especially in big cities.
Our smaller city/area is growing in cases but still rather calm but anxious, fewer people out and about but certainly not a "ghost town" feeling like other places. There is no lockdown or official quarantine (the post-war constitution puts limits on what government can do) and clear recommendations have been scant.
We've also had to go to local "general" hospitals and city offices recently and well, no extra precautions were being taken so we left immediately. Note: Our birthing hospital is wonderfully very clean, prepared and we have a plan a, b, and c. We live out of town in a semi-rural environment so our situation is atypical of city dwellers (like Tokyo area with population of Canada).
After what was a rather lukewarm government response (mailing 2 masks per household wtf?), now that the Olympics are officially postponed, PM Abe and colleagues declared a state of emergency for Tokyo and few other large cities just recently (writing this on April 6, 2020) as the situation is getting rather intense with rapid cases developing.
How has COVID-19 personally impacted your day-to-day (work/life routine)?
I live with a chronic and complex illness which keeps me largely housebound anyway – we've had grocery delivery setup for months now and am well used ordering things online and planning for needs. I am very good at staying busy with projects.
My wife Ryoko runs her own arborist business and now is 7 months pregnant so was ramping everything down anyway. So, due to my illness and her pregnancy, we are both very high risk but we would basically be home regardless.
Of course, shopping for baby stuff needs to be mostly done online now so we're missing out on that part of the experience but hey, rolling with it all.
One frustration is dealing with things like renewing driver's license, pension and my spouse visa but we're getting extensions on all of those things.
Post: Baby and Blossoms (in the Time of Quarantine) »
Post: Baby Check-in and Picnic Time »
How have you been coping with isolation/quarantine/lockdown?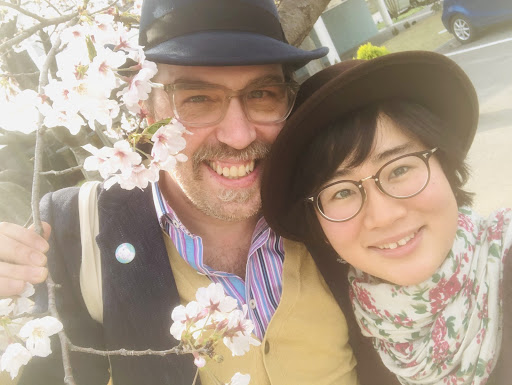 Again due to my experience with being and "indoor cat" so to speak, and having lots of hobbies and projects, generally rolling with it but sometimes are overwhelmed with anxiety about the baby coming amidst *all of this* and how to best protect.
Ryoko misses being out and about in nature as she climbs trees and whatnot for her job and does weekly tea ceremony which she paused for now. Also, Spring is usually time for "hanami" which is having (often drunken) picnics under sakura trees but we have a few great trees at our house to enjoy rather than going the park with others.
Related: Hermiting like a pro »
What have you been cooking at home?
Usual Japanese dinner is grilled fish, miso soup, brown rice, some kind of vegetable or two, and some kind of pickled things. So, I'm making fermented pickles, the wife made marmalade, and we got a counter-top convection oven for making bread so we can be like everyone else in the world 😉 Oh sometimes I make batches of Nepali Dal Curry to freeze – and to be a good internet user, I take pictures and make blog posts of many of these things :). A brother sent us a care package box of tacos supplies which we enjoyed while watching Talking Heads' "Stop Making Sense" so we could sing along with the part about having enough peanut butter to last a couple of days and two passports a couple of visas…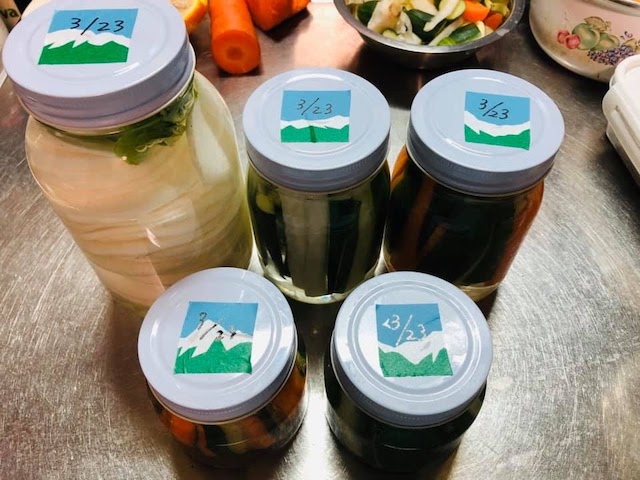 Food round-ups:
Diary: Homecooking at Tsuchida Cottage
Diary: Days go by – filled (mostly) with coffee, food and and sundry tasks
Diary: (Yet another) Food round-up from Tsuchida Cottage
Talking Heads and Tacos »
Princess Bride and Pizza »
Do you have enough toilet paper?
We have the technological wonder of a "Washlet" toilet which involves a push-button control panel with various options to wash one's undercarriage with warm water. As such toilet paper is well, used very sparingly for a bit of drying.
Indeed, our house is hundred+ years old, has no insulation or proper foundation but we have a computer-controlled toilet and bathtub which we luxuriously use daily).
What's keeping you most entertained?
Organizing 40+ years of scrapbooks, diaries, records, letters, books etc etc (*my whole life archive* arrived from Canada by shipping container a couple of weeks ago), making little video dispatches of current musings as well as archival material (did I mention my weird "rolling elsewhere" transportation ambient views?)
We have a house full of musical instruments, books, art supplies and no TV though we sometimes to put together a projector and screen and watch movies (for language study and amusement) but mostly working on the house and garden.
I'll also say that I love all the live streams *suddenly* appearing! I watch something wonderful on delay with morning bevvie.
Related evidence:
Cemetery Walk »
"Sortganizing" the Kura Barn »
Postal Roundup »
Japan Cottage Musings »
What makes you happy right now?
We are coming up on one year since our wedding so remembering all the wonderful friends who sent kind of wishes or came for the festivities; grateful for remarkable parents who live next door and support us with kindness and good humor; welcoming a little human into this strange world in June; Ryoko surprising me with new skills from gardening to piano to sewing to drawing to baking… on a daily basis; oh and seeing grassroots musicians and artists build audience while traditional hierarchies crumble.
PS I'm enjoying people enjoying my weird train videos and other eclectic dispatches. #plugagain
Also following the advice from John Prine:
Blow up your TV throw away your paper
Go to the country, build you a home
Plant a little garden, eat a lot of peaches
Any advice for Vancouverites?
As you've gathered from our dispatch, we're doing alright (although a lot of anxiety about the little human coming but…) I also have a lot of friends/comrades dealing with chronic and complex diseases and have been housebound for years and feeling a little bit blue about seeing so many suddenly dealing with a situation they've had to deal with for years and years so, please take a moment to reach out to any of your friends / relatives who need an extra hand at this time, or at least let them know you "get them" a little bit more now.
Fill in the blank: When this is all over I really want to ____
welcome friends for visits in this wonderful part of the world.. we'll go to museums and a goat farm (no yoga)! Here's your travel primer »
Postscript: While keeping in touch with friends around the world, my wee heart aches for kind, hard-working people in Sri Lanka, India, Nepal, Indonesia, Uganda and so on who are having a rough go of it. If you are so inclined, and have ability, I can definitely assist in building connections to support people by: purchasing art, sending donations, or just sending good vibes and feelings. We *all* need help sometimes.
Read more in my COVID-19 news and community series here »