Check out some great holiday events attractions around Metro Vancouver this weekend including many free events.
Miss604 is proud to sponsor the following featured attractions: Lights at Lafarge, Burnaby Village Museum Heritage Christmas, and the VanDusen Botanical Garden's Festival of Lights.
Things to do in Vancouver This Weekend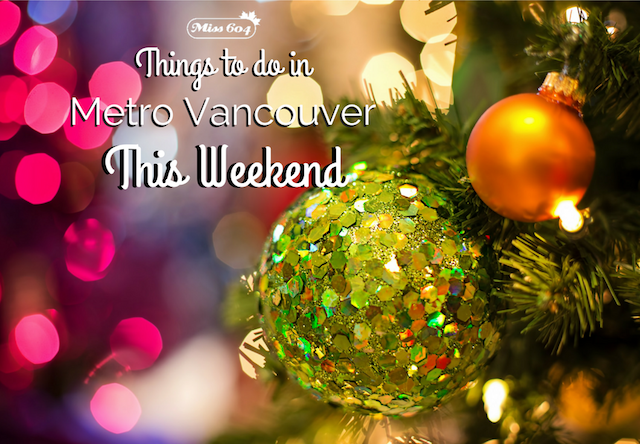 Events that run for longer than three days in a row are highlighted in green.
Friday, December 15, 2017
Vancouver Chinese Lantern Festival at the PNE
Good Noise Vancouver Gospel Choir – Good Tidings
Sponsored by Miss604: Burnaby Village Museum Heritage Christmas
Sponsored by Miss604: Lights at Lafarge Lake in Coquitlam
Sponsored by Miss604: VanDusen Botanical Garden's Festival of Lights
Gingerbread Village at Central City Shopping Centre
Ongoing Attractions
Vancouver Christmas Market
GLOW Christmas at Milner Village Garden Centre
Bright Nights Christmas Train in Stanley Park
Christmas at Canada Place
Christmas at FlyOver Canada
Peak of Christmas at Grouse Mountain
Park & Tilford Hi-Light Festival
Canyon Lights at Capilano Suspension Bridge
Theatre This Season
Goh Ballet Nutcracker
Bah Humbug!
Vancouver TheatreSports: Christmas Queen 4 Secret Santa
The Arts Club Presents: Disney's Beauty and the Beast
The Arts Club Presents: The Day Before Christmas
The Arts Club Presents: Onegin
East Van Panto: Snow White & the Seven Dwarves
Gateway Theatre: A Christmas Carol
Pacific Theatre: Almost, Maine
Little Dickens: The Daisy Theatre
Continue reading »