Call it Insta-worthy, call it memory-making, but you're going to want to bring your camera to Capilano Suspension Bridge Park during its 130th anniversary this summer. From the local history, to exciting attractions and spectacular natural elements, you'll want to capture – and share – the fun. Here are my top picks for the best photo ops at Capilano Suspension Bridge Park:
Best Photo Ops at Capilano Suspension Bridge Park
1. Kia'palano: Get a sense of place and cultural history when you enter the park at Kia'palano, where you'll find North America's largest privately-owned collection of totem poles. Check out the Millennium Pole which was erected in 2000 and contains a bentwood box time capsule with messages from visitors in 1999.
2. Cliffwalk: This is the newest experience in the park so if you haven't been in a few years, you'll love discovering this cliffside journey that takes you on a series of unobtrusive cantilevered and suspended walkways jutting out from the granite cliff face above Capilano River. There are plenty of places to stop (look for the camera signs) and take photos of the walkways, canyon, and river below.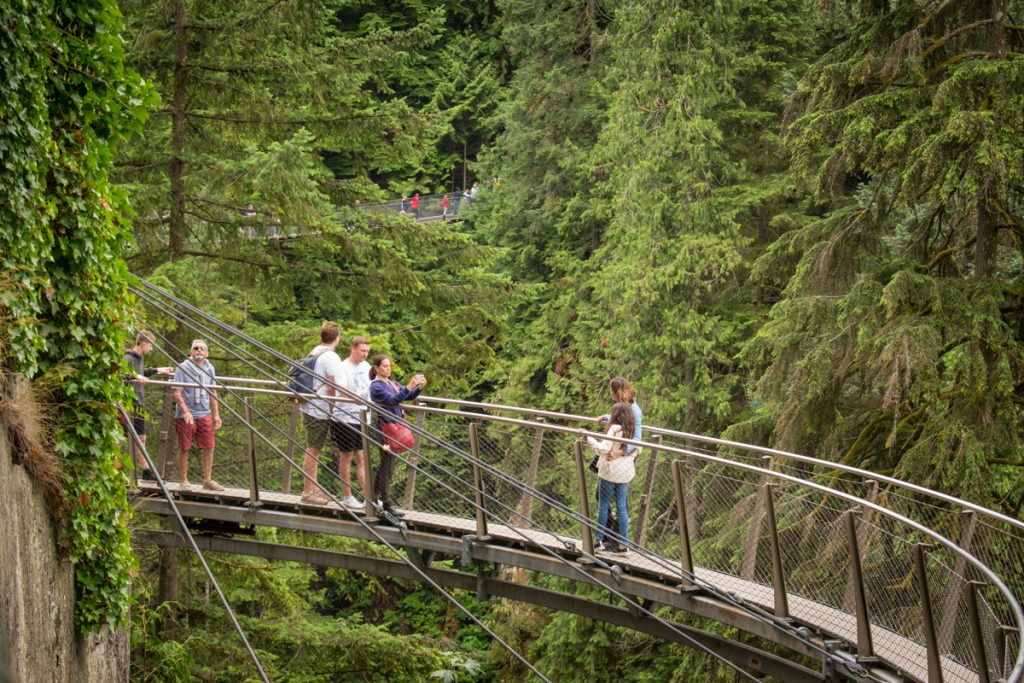 3. Treetops Adventure: I call this the Ewok experience! Walk along a series of series of 7 suspension bridges attached to 250 year old Douglas-firs way up in the canopy. Trees beside and above you, the forest up to 110 feet below, a reclaimed wood treehouse, and network of bridge make for an epic forest photo op at any time of year.
4. The Living Forest: Once you've crossed the bridge, take a stroll in the lush northwest coast rainforest. With the evergreen canopy above you, wander the boardwalk and learn about the ecosystem and geology of the area, from the tranquil ponds to the edge of the canyon. Large info panels guide the way through interpreting the forest floor for you. Pro Tip: Some of the trees in the park are over 1,500 years old, can you spot them?
5. Canyon Lights: Take all of the above and add millions of twinkling lights and the spirit of the holiday season! During Canyon Lights (November to January) the suspension bridge, Treetops Adventure, Cliffwalk, the rainforest and canyon are transformed into a world of festive lights and visual enchantment. Pro Tip: Bring a tripod or rest your phone on a steady base to capture nighttime photos of the lights without streaks or blurriness. You can also use a third-party long exposure app on your smartphone for some great results.
Finally, of course there's the bridge itself! This legendary Vancouver attraction has been drawing visitors for 130 years. I discovered recently that it's also a great spot to take photos of the other attractions, like the Cliffwalk – which really gives you a sense of how high and rugged that experience is above the river.
Celebrate #CapBridge130 with Great Deals and Discounts
There's never been a better time to visit Capilano Suspension Bridge Park! There are more activities than ever to enjoy in this lush natural setting and from now until September 15, 2019, you save 30% on admission after 5:00pm with the Twilight Discount.
BC residents can also save when they collect an annual pass for the price of one day's admission! That's right, visit once then return over and over again visitors, friends and family for the rest of the year since your guests will get 15% off admission when they're with a pass holder. Your annual pass also includes admission to Canyon Lights for the holidays.
Getting there is as easy as taking the free shuttle from Canada Place, available daily. Share your Capilano Suspension Bridge memories and stories by following and contributing to the tag #CapBridge130 on Instagram, Facebook and Twitter.