Blogging to Drive Business: 2nd Edition
Eric and I have completed the second edition of Blogging to Drive Business and it will be published on October 14, 2012. Stay tuned for more information and check out the book's official page to find out about signing events in Vancouver and San Francisco.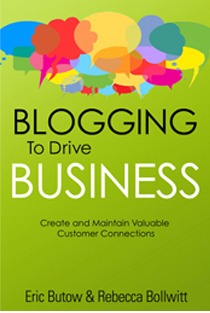 Blogging to Drive Business
Along with my co-author, the talented Eric Butow, I wrote Blogging to Drive Business, which is currently on sale in bookstores and online.
Available from:
You can purchase a hard copy version as well as download it to your Kindle, iPad, or other mobile device, depending on availability.
You can find a blog post about our book as well, featuring a review by Gillian Shaw of the Vancouver Sun (which was in print Saturday January 23, 2010).
Jacket Description
"Blogging can help you deepen customer loyalty, reach new customers, gain indispensable feedback, and drive more sales.

This no-nonsense guide shows how to craft a business blog that does all that, and more–building your business and increasing your profits.

Top e-marketers and business bloggers Eric Butow and Rebecca Bollwitt help you define clear goals, generate the right content with the right tools, attract visitors, build communities, and avoid costly mistakes…"
Editorial Reviews
"A great read! If you're looking to start a blog for your business, this is the book for you. It's well-written and comprehensive, including case studies and examples of real companies to make the concepts easy to understand."
Dee Barizo, performancing.com
"Blogging to Drive Business does an excellent job at educating the market on the critical elements required for success in the digital economy. After all, businesses only gain market share when they communicate in a way that enhances relationships. Blogging to Drive Business provides the roadmap for success!"
Jay Deragon, Social Media Strategist
"To connect with today's buyer, you need to stop pushing your message out and start pulling your customers in. And there is no better tool for this than the blog! Blogging to Drive Business is an essential guide for any business wishing to use a blog to attract a steady stream of inbound opportunities."
Paul Dunay, Global Managing Director of Services and Social Marketing, Avaya Inc.
"This book provides business owners and entrepreneurs hands-on advice on starting a blog–why planning is important, who should be contributing, what tools are available, and where to find additional resources and content ideas. The authors make good use of case studies to address many of the commonly asked questions about blogging. If you've been on the fence about starting a blog, this book will help you draw an action plan."
Valeria Maltoni, Conversation Agent
"Butow and Bollwitt have assembled a practical guide for any company to follow as they develop a blogging strategy. Their approach is firmly planted in driving business success without overburdening executives with impractical advice or ideological mantras. I highly recommend this book for anyone who wants to take advantage of a blogging strategy to promote their business and connect with prospective and current customers."
Jeff Nolan, Venture Chronicles
"If you are looking for a practical guide to show you exactly how to use a blog to drive business, look no further, you've found it. As a practioner myself, I know there are some skills that can only be learned by doing. These authors know what they're talking about because they've done it. Save yourself some time and invest in this book."
Michelle Price, CEO, A Third Mind Digital Media
"If you get blogging right, it can be a major benefit for you business. This book helps you get the strategy and planning right upfront, and then talks you through the steps you need to make your blog a success and to grow and develop it."
Matt Rhodes, FreshNetworks
"Blogging to Drive Business is a no-nonsense and practical guide for those who have yet to embark on the road to enhanced corporate communications. It explains why, who, what, and how to start and maintain a valuable connection with your customers via this engaging medium."
Hayden Sutherland, Ideal Interface (UK)