Eating fresh and local this summer is as easy as visiting one of our awesome farmers markets that come into town, but with a lineup of farm festivals around Metro Vancouver, you can get your goods right from the source – and enjoy some extra fun in the process!
Farm Festivals You Won't Want to Miss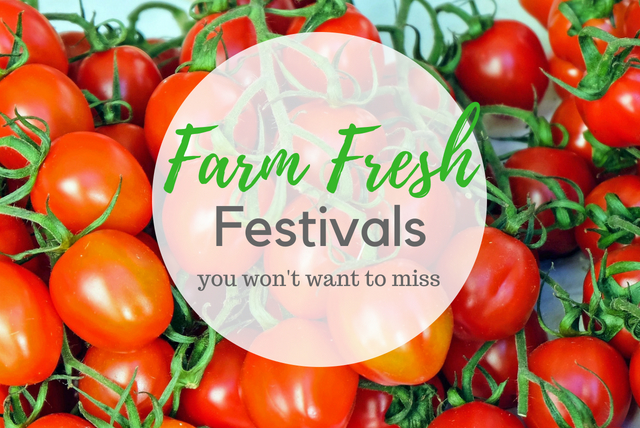 Farm Fest at Garden City Lands
When: Saturday, August 10, 2019, 10:00am to 3:00pm
Where: Garden City Rd & Lansdowne Rd, Richmond
Admission: Free
Website | Facebook | Twitter | Instagram
Things to do: Richmond celebrates local food, sustainability and its agricultural past, present and future. Visit the Farmers Market, see local performers on the Community Stage, and enjoy children's activities, local food trucks, agricultural demonstrations and displays by local farmers, community partner displays, and more.
Coquitlam Farmers Market Corn Festival
When: August 11, 2019 at 9:00am
Where: Dogwood Pavilion (Poirier and Winslow) in Coquitlam
Admission: Free
Website | Facebook
Things to do: The Coquitlam Farmers Market is hosting their first ever Corn Festival, celebrating all things corn. They'll have an expanded kids area, cooking demos, a corn boil, and of course lots of delicious BC corn.
Richmond Garlic Festival
When: Sunday, August 18, 2019, 10:00am to 3:00pm
Where: Terra Nova Rural Park (The Sharing Farm) 2771 Westminster Hwy, Richmond
Admission: By donation. All proceeds from the festival go to supporting The Sharing Farm in their mission to grow fresh healthy produce for families in need.
Website | Facebook | Twitter
Things to do: Over 1,000 pounds of locally grown garlic for sale! The festival will also feature live music, garlic ice cream, a large selection of The Sharing Farm's own produce, giveaways and a children's area with family friendly activities. To celebrate the 10-year milestone for this event, The Sharing Farm is partnering with the City of Richmond to create an enhanced festival. Along with the usual foods and local farmers market, expert bird handlers will educate and entertain event attendees with flying demonstrations of native birds of prey.
Chilliwack Garlic & Harvest Festival
When: August 24 & 25, 2019 from 9:00am to 3:00pm
Where: Fantasy Farms (9423 Gibson Rd, Chilliwack)
Admission: TBD
Website | Facebook
Things to do: Local music, great food trucks, fun contests. Make it, back it or grow it, artisans. More details coming soon!
Chilliwack Sunflower Festival
When: Opening August 1, 2019
Where: 41310 Yale Road, Chilliwack
Tickets: Available online now with single day or season pass options
Website | Facebook | Twitter | Instagram
Things to do: Food trucks, vendors, and of course the flowers! Wander through 35 different varieties of sunflowers planted over 6 acres with some that can reach heights of 12 feet and taller. There is also 5 acres of Sunrich Orange, 2 acres of display garden, and 4 acres of u-pick sunflowers. This year there will also be a 3 acre field of Dahlias to enjoy, over 50 varieties of beautiful blossoms.
Abbotsford Corn and Peach Festival
When: August 10 & 11, 2019 from 11:00am to 4:00pm
When: Lepp Farm Market (33955 Clayburn Road, Abbotsford)
Admission: Free to attend.
Website | Facebook | Twitter | Instagram
Things to do: Enjoy barbecue treats like Lepp's signature shaved brisket sandwich, premium Angus burgers, hotdogs, and their new plant-based burgers. Mexican street corn is always a favourite too! Live music, free kids activities, and free canning demos. Sign up to judge to compete in the peach pie competition.
There's also the 147th annual Chilliwack Fair (August 9-11, 2019) and the Abbotsford Agrifair (August 2-4, 2019).
Stay on top of these events and more by following Miss604 on Facebook, Instagram, and Twitter. If you have one to add, send in your event for a free listing!