A hundred years ago in Vancouver, the year 1922 was rung in with a change on the roadways. On January 1st, motor vehicles went from driving on the left to driving on the right hand side of the street. While the Vancouver Archives doesn't have any photos of that, I have put together a collection of images created one hundred years ago (as I have done for the last eight years):
1922 A Hundred Years Ago in Vancouver
Starting off with a really cool panorama, that actually measures 19 x 105 cm! You can click the caption to view the full image on your screen and zoom in from Burrard and Nelson.

Joe Fortes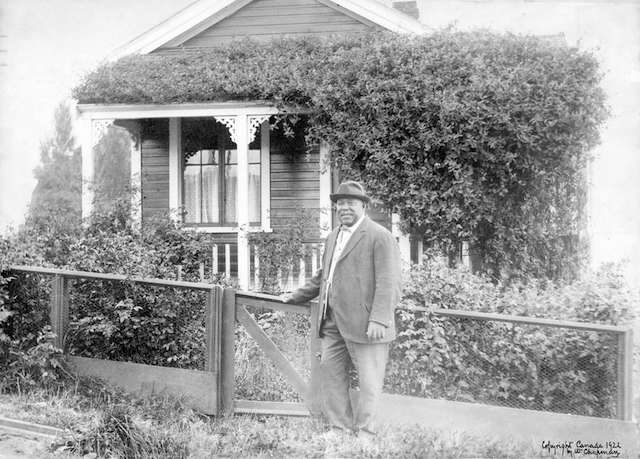 Seraphim "Joe" Fortes was a self-appointed lifeguard who became so famous – teaching thousands to swim and saving dozens of lives – that the city of Vancouver finally rewarded him with a salary for doing what he loved best. He swam and taught swimming in English Bay for thirty years. When he passed away on February 4, 1922 his funeral, on February 7, was conducted at Holy Rosary Cathedral to an overflow crowd, and an estimated 10,000 persons lined Dunsmuir, Granville, Hastings and Main streets. Schools all over Vancouver observed a 5-minute silence, as his funeral procession made its way to Mountain View Cemetery. He was declared Vancouver's Citizen of the Century in 1986. Read more via BC Black History. The NFB has a great little animated short about the life of Joe Fortes.
Strathcona School Baseball (Championship Team)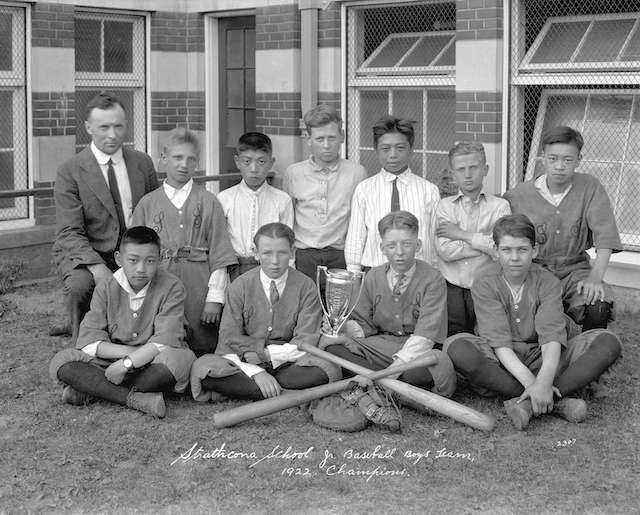 From the History of Strathcona Elementary re: organized school sports: "On week-ends and on summer evenings professional baseball was played on the Powell Street Grounds which was fenced for the purpose. Boys who lived in this area remember sneaking into the ball park by digging their way under the fence. (Powell Street Grounds continued as the centre of baseball until the construction of other parks, such as Con Jones Park out by Renfrew Street.) […] Even with the development of competitive sports, these activities were regarded as extra-curricular. No one considered them as part of the programme. An integrated school sports programme had to wait until the early 1930s. However, at the time, some educators were concerned about the need for a physical education programme, but when it was introduced it followed the military pattern."
Yucho Chow Studio Family Portrait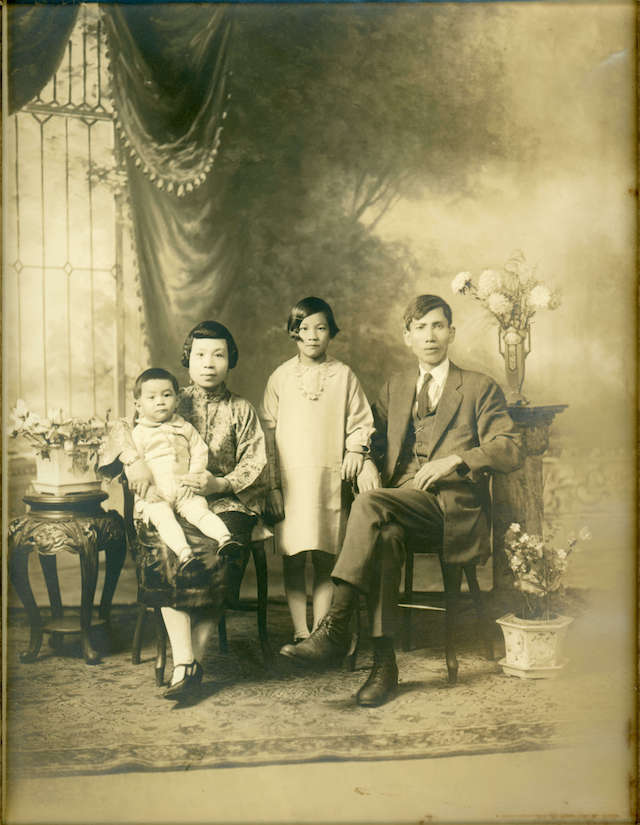 The description of this photo in the City of Vancouver Archives: "Circa 1922, Vancouver. Photo of the Mah family. Mah Moon Yuen (1878-1943), with his wife Lee Lin Choy (1897-1993) and their adopted children Robert Sing Mah (1921-1981) and Adeline Mah (later Wong). Both children had been adopted and were believed to be of mixed race: Chinese and Aboriginal. Yuen, who is quite thin, worked in a sawmill and the family stories say he would walk each day from Chinatown to his job in New Westminster. Lee Lin Choy was purchased at the age of 8 as a maid for a wealthy family. Subsequently, the family immigrated and lived in Victoria BC. Eventually a marriage was arranged for her to a man who was 20 years her senior (my grandfather in the photo). He died (about) 1942 and Poh was a widow for 50 years. She adopted these two children with him."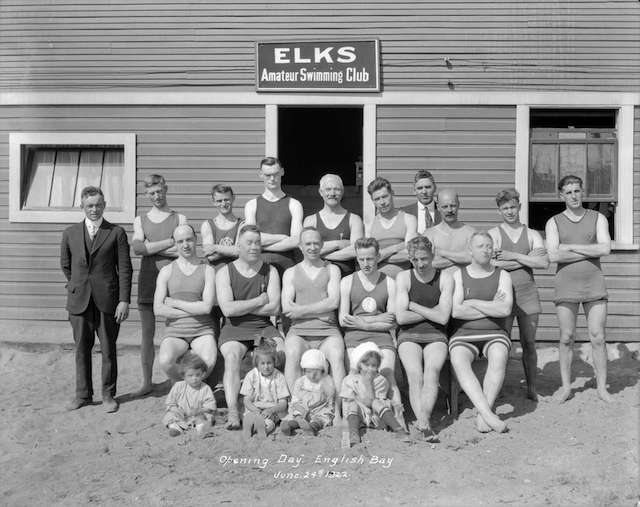 In terms of news, 1922 was a big year for radio in Vancouver: The Sprott-Shaw Schools of Commerce & Wireless Telegraphy and Radio Specialties Ltd started CJCE on AM 750 with 5 watts of power, the Vancouver Province started testing its new radio service with a newscast (Station FB, later CKCD), and Radio Specialties Ltd. opened CFCQ in Vancouver using 40 watts of power.
In October of 1922 UBC Students staged "The Great Trek" as a part of their "Build the University" campaign. On October 28 nearly 1,200 students with banners and placards, floats, and a marching band made their way through downtown Vancouver and on to the unfinished campus at Point Grey.
Find more news items in Chuck Davis' History of Metropolitan Vancouver online.
Related: Vancouver in 1920, Vancouver in 1919, 18 Photos of Vancouver in 1918; Vancouver in 1917; Vancouver in 1916; 15 Photos of Vancouver in 1915; 14 Photos of Vancouver in 1914.
See also: February in Vancouver History, March in Vancouver History, April in Vancouver History, May in Vancouver History, June in Vancouver History, July in Vancouver History, August in Vancouver History, September, October in Vancouver History, November in Vancouver History, December in Vancouver History.