The opening of VanDusen Botanical Garden, farmers markets, and encouragement to get out and enjoy the fresh air. Not a bad outlook for the weekend during the second month of COVID-19 isolation. For your entertainment and viewing pleasure, here are a couple of things to do in Vancouver this weekend: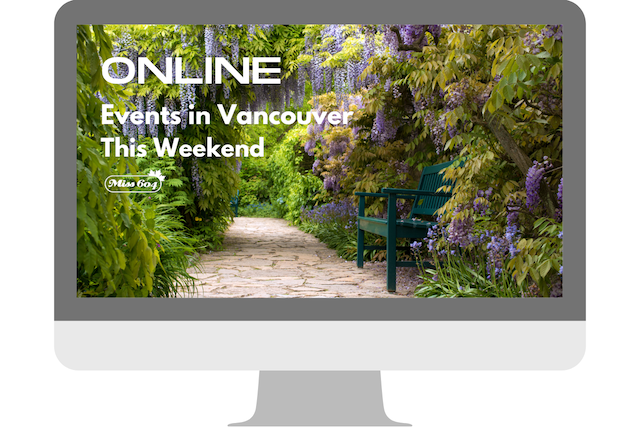 Things to do in Vancouver This Weekend May 1-3, 2020
Friday, May 1, 2020
BC Youth Week Online Events
Virtual Opening Ceremony for Asian Heritage Month
Orca Stories: Book Reading/Launch
Dani Strong – The Bathroom Sessions
Lambsbreath Live from Home!
Niki Kennedy on Sessions Live
Quin With One N – Live-Streamed Album Release
Hermanns Jazz Livecast | Online
Friday Night Piano Lounge on the Rock
The Stream of Kayne Concert Series
Red Truck Beer Company Live Music Nights
Creative Mornings Vancouver: Melina Laboucan-Massimo
North Vancouver Community Zoom Morning Coffee Check-in
Whitecaps FC Live Programming
Rumble Theatre: Good Things to Do
Art Connects | An Introduction to Vogueing and Ballroom Culture
Saturday, May 2, 2020
BC Youth Week Online Events
BC Youth Week CityFestatHome North Van
West My Friend | European Album Release Tour + BC Brunch Show
Laura Reznek | Saturday Nooner
Shred Kelly Saturday Night Cocktail Party
Andrew Allen – The Writing Room
Saturday Night Concert
House Party with Decibel
Stay at Home Gala Tri-Cities
Saturday Morning QueerToons
Mindful Photography for Youth – Free Virtual Workshop
Sahabhāva: A Virtual Indian Classical Music & Dance Festival
Sourdough Bread – Online Live Class
Park Sound Virtual Concert Series
Virtual Brave New Play Rites 2020
Rumble Theatre: Good Things to Do
Live Gem Sale on Facebook
Riley Park Farmers Market
Trout Lake Farmers Market
Sunday, May 3, 2020
BC Youth Week Online Events
Breakfast in Bed with the NarcoLeap Cast
Chris Ronald Housecoat Concert
Wish You Were Here Hosted by Cassandra Maze
Quarantune Sundays
Morien Jones Sunday Vibes | Instagram Live
Musical Zoo
Stephen Hamm's Theremin Music and Meditation
Spend Afternoon Tea with Renee Making Gluten Free Apple Florets
White Rock Farmers Market
Kitsilano Farmers Market
Ongoing Online Events
Digital Exhibitions at Place des Arts
Hot Docs at Home Festival | Online
Virtual Museum Tours in Vancouver
NFB Has Over 4,000 Free Films Online
Agriculture in the Classroom at Home
Science World's Online Resources for at Home Activities
Subscribe
The full May event list for Metro Vancouver is available now. It's updated daily so feel free to send in your event listing anytime and check back often. Follow Miss604 on Facebook and Twitter for daily insights.