What do a bird feeder, circuit builders, cotton ball catapult, and soap powered boats have in common? These are just some of the things you can build with Science World's online resources for at home activities!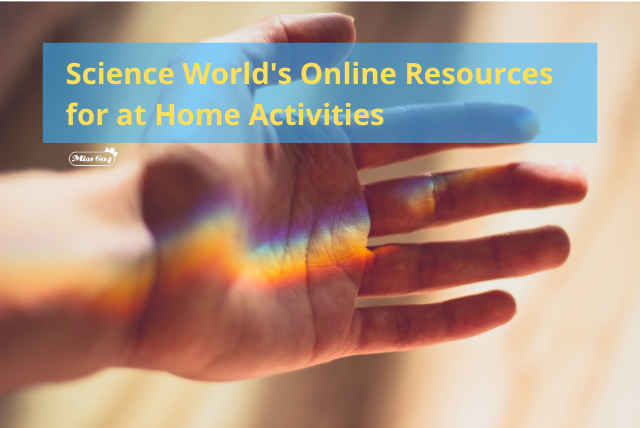 Science World's Online Resources for at Home Activities
There is a robust collection of tools available online here. Search by grade level, preschool to grade 12, select the topic and the type of activity, be it make-and-take, an experiment, an illusion, a game or demonstration.
Each activity includes photos, instructions, and the estimated time it will take to complete. Here's one of my favourites for creating indoor rainbows:
Example: Indoor Rainbows
Objective:
Kids can experiment with white light to make their own rainbows
Materials Needed:
Small glass vessel (vase, cup or bowl), flashlight, mirror, water
What To Do:
Place a mirror in the glass vessel, tilted slightly upward.
Fill the glass vessel with water.
Shine the white light from the flashlight through the glass at the mirror and point out the rainbow. (You may need to darken the room; rainbows should appear on the walls.)
Indoor rainbow! The online guides include questions, helpful images and figures, as well as add-ons to expand your experiments (like polarizing filters for your rainbow).
Follow Science World on Facebook for more resources and updates in the coming weeks.
Related: Virtual Museum Tours Around Vancouver, Live Stream Curators Talks from the Vancouver Art Gallery