Experience the incredible scenery from the 10-storey Malahat Skywalk on Vancouver Island this spring as kids 17 and under get in free (with an accompanying adult or senior ticket). Start your visit with a walk through arbutus trees on the TreeWalk, take in the views of Inlet waters, mountains, and islands from 250 meters above sea level.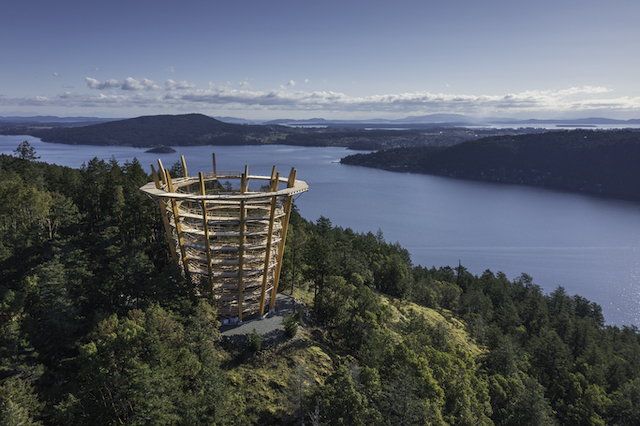 Spring Break at the Malahat Skywalk
When: March 11 to 31, 2023
Where: 901 Trans-Canada Hwy, Malahat, BC
Tickets: Kids 17 and under visit free with purchase of one adult or senior ticket online using code SPRING23. Tickets can be purchased online.
Take in the view of Saanich Inlet, Gulf Islands, San Juan Islands, Mount Baker, and more, from every level of the 10-storey Spiral Tower. Step out onto the 84-meter mesh Adventure net, suspended high at the top of the tower, take a 20-meter spiral slide down, and walk through the elevated TreeWalk amongst the Arbutus and Douglas Fir forest as you learn about the nature, history, and culture of the area.
Join your friends and family at the outdoor fire pit to sit back and enjoy each others company around the campfire. Keep your eyes out for birds, frogs, and other critters in the forest as well as peeled driftwood art installations of owls, cougars, and blue herons.
Just a short 35-minute drive north of Victoria, Malahat SkyWalk is Vancouver Island's newest premier year-round attraction and is accessible for all guests, providing a connection to nature like never before. 
For more information and the latest news on the Kids Visit Free offer, follow Malahat SkyWalk on Instagram, and connect on Facebook.