Looking for Free Holiday Activities in Vancouver & The Valley? We have put together our 8th annual list right here and it's growing every day! Take a stroll to enjoy a light display, visit a nostalgic attraction, and spend time with those you care about (while not breaking the bank).
This list will be updated often throughout the season so be sure to bookmark it and check back often.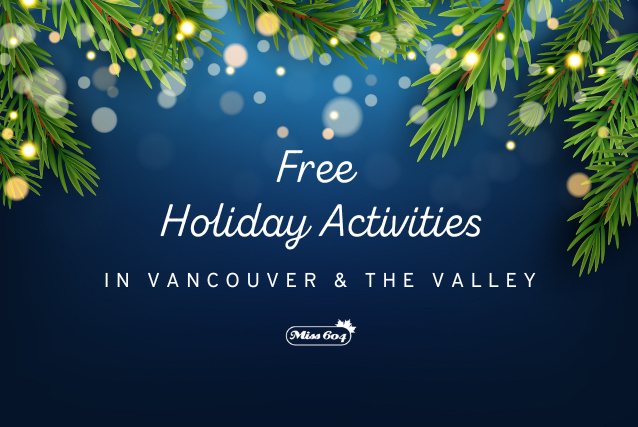 Free* Holiday Activities in Vancouver
St Paul's Lights of Hope illuminates for the season on Thursday, November 23, 2023 with a kick-off event with food trucks, music, Santa, and the official countdown and lighting ceremony for the 26th annual Lights of Hope which will be on all season.
Killarney Tree Lighting is Saturday November 25, 2023 at the Killarney Community Centre 6:00pm to 8:00pm.
Gastown Thursday Nights over four consecutive Thursdays November 30 to December 21 with free pop-up performances, roaming bands, and delightful displays to add to the festive atmosphere.
Vancouver Christmas Tree Lighting Celebration on December 1, 2023 at 6:00pm at the Vancouver Art Gallery.
Bright Nights in Stanley Park has free admission to the site (with a suggested donation to the BC Burn Fund) even if you do not have a ticket for the train. Open November 30, 2023 to January 1, 2024 with dazzling light displays and live entertainment in a festive forest setting.
Skating at Robson Square Ice Rink opens December 1, 2023. Free when you bring your own skates otherwise there is a fee for rentals.
CandyTown Street Festival in Yaletown is December 2, 2023. Downtown Vancouver's only free outdoor winter festival, which will transform Yaletown public plazas into a winter wonderland.
Christmas at Canada Place December 1, 2023 to January 2, 2024 with free outdoor displays, lights, the legendary Woodward's Windows, and more. Miss604 is a proud Media Sponsor.
Chinatown Holiday Market is a free community day for BC residents (ID required) at the Dr. Sun Yat-Sen Classical Chinese Garden on December 2, 2023. They're transforming the gardens into a winter wonderland for guests. RSVP online in advance.
Downtown Vancouver Night Market is December 1, 2023 from 6:00pm to 10:00pm at 800 Robson St. It's also the first night of free Robson Square ice skating.
Light up the Harbour on December 14 with the Vancouver Maritime Museum.
Lighting of the Silber Family Agam Menorah at 5:30pm Thursday, December 7 at the Vancouver Art Gallery.
Fleurs de Ville NOEL on Robson and Alberni Streets is December 8-17, 2023. It's a 10-day festive celebration, featuring 40 enchanting floral displays created by Vancouver's talented florists.
NEW this year! A free Festival in Coal Harbour called Liven Up will be on December 1-30 with light installations and plenty of photo ops. Friday and Saturday nights enjoy live music at various spots along the Coal Harbour Seawall.

The JCC Chanukah Carnival on Sunday, December 3, 2023 with live performance, food, music, crafts, and dance. By donation to the Jewish Food Bank at the JCC.
Free Holiday Fun in Burnaby & New Westminster
Free Holiday Fun in the Tri-Cities
Free Holiday Fun in Surrey & White Rock
Free Holiday Fun in Richmond
Christmas in Steveston Village starts at 1:00pm on December 3rd. Watch Santa arrive by boat!
Richmond Christmas Craft Fair on November 18, 2023 at the South Arm Community Centre.
Sparkle Brighter at McArthurGlen from November 16 to 18, 2023 with free crafts, activities, live music. There are some paid experiences available as well, with proceeds going to the Richmond Food Bank.
Winter Tram in Steveston has free admission. Climb aboard and explore the history of interurban travel in Richmond. Don't miss the junior tram conductor dress-up station and strike a pose with the historic tram, all decked-out for the holidays. Open December 1 to 31 (closed Mondays and stat holidays) 12:00 to 4:00pm.
Free Holiday Fun on the North Shore
Free Holiday Fun in Delta & Tsawwassen
Free Holiday Fun in Langley & Fort Langley
First Christmas Experience from December 8 to 10, 2023 is a free-to-attend family-friendly interactive event.
Magic of Christmas Festival on Saturday, December 2, 2023. Free admission. Live entertainment, food and beer trucks, activity station, and a holiday artisan market.
Aldergrove Christmas Light Up Parade on Saturday, December 16, 2023. Runs through downtown Aldergrove. Free food, hot beverages, and entertainment available at the pre-parade community gathering at 4:30pm.

Honourable Mention: Christmas Wish Breakfast on Wednesday, November 29, 2023. Free breakfast with the donation of a new unwrapped toy in support of the Langley Christmas Bureau.
Free Holiday Fun in Maple Ridge & Mission
Candlelight Parade in Mission on Saturday, December 2, 2023 at 6:00pm. This is a family-oriented parade where community groups and businesses showcase themselves and use the opportunity to inform residents of Mission about the varied services, activities and opportunities that exist within Mission.
Maple Ridge Santa Claus Parade on Saturday, December 2, 2023 at 6:00pm and the annual Christmas Festival from 4:00pm to 8:00pm. Decorations, trees, food trucks, Christmas market and special light displays at Memorial Peace Park.
CPKC Holiday Train arrives in Maple Ridge and Pitt Meadows on December 17, 2023 with performances from Tyler Shaw and Kiesza. Please bring a donation for your local food bank.
Free Holiday Fun in Abbotsford & Chilliwack
*Please note that there may be costs associated with extra activities at these events and attractions, such as food/snacks, admission to other attractions or sites, etc. This post covers information available at the time of publishing and any posted signage or fees at these activities should be observed.
Follow Miss604 on Instagram, Threads, and Facebook.
See also:
Holiday Hampers and Adopt-A-Family Programs in Metro Vancouver
Where to Donate Warm Clothing in Vancouver