Help ensure everyone can stay warm and dry this season by dropping off winter clothing and other essentials to these organizations around Vancouver: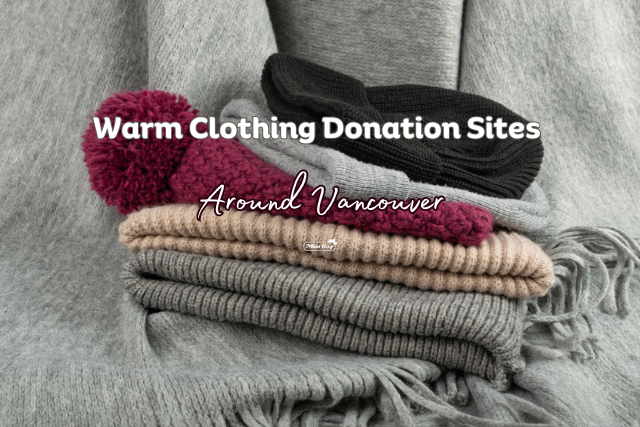 Where to Donate Warm Clothing in Vancouver
Downtown Eastside Women's Centre
Location: Drop-in Centre (302 Columbia St, Vancouver)
Location: Drop-in Centre (25 E Hastings, Vancouver)
Location: Emergency Shelter (412 E Cordova, Vancouver)
Location: Warming & Respite Space (265 E Hastings, Vancouver)
Items Needed: Leggings, jeans, hoodies, t-shirts, socks, shoes, bras, and outerwear. View the full wish list here along with specific drop-off instructions for each location.
Aunt Leah's Place
Location: 8380 Street George Street #101, Vancouver
The Donation Centre is open for donation drop-offs, by appointment only, call 604-230-0941.
Items Needed: In Season pants, shirts, jackets, shoes, hats, belts for all genders/sizes.
Union Gospel Mission
Location: 601 East Hastings Street, Vancouver
UGM's Donation Centre is located inside the UGM Thrift Store. Donations can be dropped off Monday-Friday 9:30am to 3:30pm at the front door of the Thrift Store or in the Loading Bay in the back alleyway off Heatley Ave.
Items Needed: Socks, underwear, hats, gloves, shoes, long underwear, shirts, sweatshirts, pants, and outerwear (larger sizes are preferred).
NightShift Street Ministries
Location: 10635 King George Boulevard
Drop off clean, bagged clothes weekdays, Monday-Friday, between 9:30am and 4:30pm.
Items Needed: Lightly used men's and women's jeans, hoodies, and jackets. New underwear, socks, tops, shoes, and blankets. Winter coats, boots, scarves, and gloves. View their full wish list.
Lookout Housing + Health Society
Location: Russell Housing Centre (740 Carnarvon St, New Westminster)
Location: North Shore Shelter (705 West 2nd St, North Vancouver)
Location: Front Room Resource Centre (10667 – 135A St, Surrey)
Items Needed: Jackets, rain coats, boots, socks, gloves, hats, and rain ponchos. Clothing donations can also be made online through the Amazon Wish List.
Realtors Care Blanket Drive
Location: Various locations at participating real estate offices to be announced
Items Needed: Blankets, sleeping bags, winter clothing (coats, jeans, pants, sweaters), scarves, gloves, hats, new socks and underwear.
Covenant House Vancouver – Wildlife Thrift
Location: Box at Wildlife Thrift Store (1295 Granville St, Vancouver)
Items Needed: Jackets and hoodies in all sizes, umbrellas, rain ponchos, socks, sweatpants.
East Van Roasters Pajama Drive
Location: East Van Roasters (319 Carrell St, Vancouver)
Items Needed: On Thursday, November 30th, donate new and unworn women's pajama sets in sizes ranging from XS to 4XL to East Van Roasters. As a token of gratitude, you'll receive a complimentary hot beverage in exchange for your donation.
If you have any suggestions to add, please leave a comment so we can include the organization. Thank you!