Enjoy a holiday experience like no other as the Bright Nights train is back on track in Stanley Park this 2023 holiday season! Ride the train through the magical forest, alight with thousands of sparkling lights, all while supporting a great cause.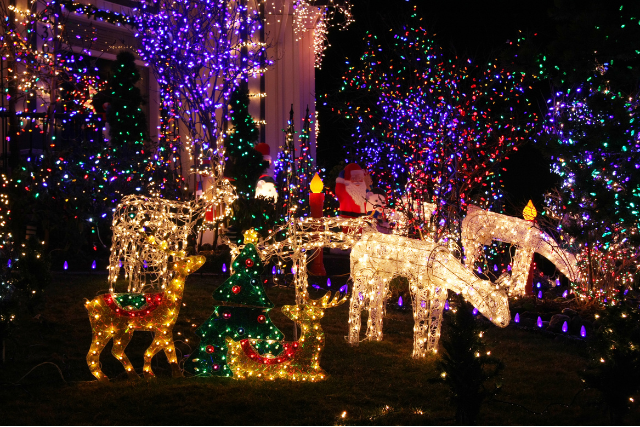 You can still visit the site by donation without a train ticket, and enjoy the beautiful light displays and entertainment in the festive forest setting.
Bright Nights in Stanley Park
Date: November 30, 2023 to January 1, 2024

Open nightly from 4:00pm to 10:00pm
Closed December 25

Location: Pipeline Road in Stanley Park (follow signs to Miniature Railway)
Admission to the site: Free, suggested donation to the BC Burn Fund.
Train Tickets: (currently sold out) For purchase online starting November 9, 2023. Train tickets are not sold on-site and must be purchased in advanced for designated ride time.
Visitors can once again ride through the Stanley Park winter wonderland on the Bright Nights miniature railway, which was not operational last year due to mechanical issues.
Bright Nights Train in Stanley Park Back on Train
"We are thrilled that the Stanley Park Train will be operational for Bright Nights," Mayor Ken Sim said in a press release today. "We extend our heartfelt appreciation to community champions for their generous philanthropic support in the restoration of this beloved holiday attraction. Specifically, we express our gratitude to the Beedie Foundation, Peter and Joanne Brown Foundation, Diamond Foundation, The Lyall Family, Jeff Stibbard, and The 625 Powell Street Foundation for their invaluable contributions."
"We understand how cherished Bright Nights is for Vancouver families, and we are delighted that the train will be a feature of this event. We appreciate the patience and support of the community as the train's restoration work was completed. We are excited for families to come and enjoy Bright Nights and create memories for years to come."
The vintage 1961 train equipment required specialized parts that were challenging to acquire and necessitated specialized work to complete. The restoration work was accomplished through a collective effort involving staff and private donors who generously funded the project.
Without a Train Ticket
Take in the vibrant colours of thousands of twinkling lights throughout the forest. Stroll through the plaza to enjoy even more lights, whimsical displays, and the crowd-pleasing vintage fire truck. Make sure you check out the live entertainment on your way to the North Pole workshop, where you can snap a pic with Santa and his fire fighter friends.
BC Professional Fire Fighters' Burn Fund
A favourite holiday tradition for the community and fire fighters alike, Bright Nights is also the single largest fundraiser for the BC Professional Fire Fighters' Burn Fund, which provides life-saving, life-supporting, and life-enriching services to burn survivors and their families from across the province. The Park Board has donated more than $2.5 million to the Burn Fund since Bright Nights began in 1998.
Follow Miss604Holidays this season for the latest arts and culture activities, attraction and event news »