As the holiday season approaches, it's time to reflect on the spirit of giving. This year, consider making a meaningful impact on those in our Metro Vancouver community by donating to families, individuals, and seniors in need. Some helpful options include sponsoring a family and donating holiday hampers, ensuring everyone gets to experience the joy the holidays bring with gifts and food.
Holiday Hampers and
Adopt-A-Family Programs in Metro Vancouver
Surrey Christmas Bureau
Adopt-a-Family Program
What you provide: Christmas breakfast, lunch, and dinner as well as age-appropriate gifts for the family you are matched with. Grocery gift cards can be purchased with sufficient funds to purchase groceries for the three meals as opposed to the hamper itself.
Details: The Surrey Christmas Bureau matches individuals and businesses with a family in need with a child under 18 during the holiday season. Sponsors should deliver gifts and hampers no later than December 18th, unless otherwise arranged with the family. View guidelines and complete the sponsor application form.
Covenant House
Backpack Campaign
What you provide: Help fill a backpack with kindness for youth ages 16 to 24.
Details: These backpacks will be gifted during the Covenant House holiday party. Learn more about what items are needed and how to contribute.
Caring Calendar
What you provide: Sponsor a day or activity to make the holidays a little brighter. Fulfil the Caring Calendar items for youth ages 16 to 24.
Details: Much like the tradition of an advent calendar, the Caring Calendar program provides youth in Covenant House care with an activity or item each day from December 1st to 25th. Learn more about needed items.
Burnaby Community Services
Senior Hamper Program Burnaby Christmas Bureau
What you provide: Donation of a food hamper or alternatively, a gift card with sufficient funds for purchasing food for a senior with low income.
Details: The Burnaby Christmas Bureau matches sponsors with a senior in need. Be sure to set up a delivery date with your matched senior before December 18th. Applications for the Senior's Gift Hamper sponsors are open.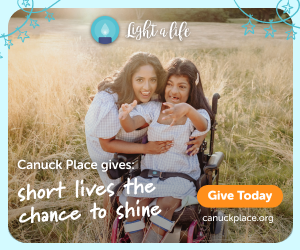 Holiday Hampers and
Adopt-A-Family Programs in Metro Vancouver
Family Services North Shore
Christmas Bureau Family Sponsors
What you provide: Provide holiday gift baskets for families, individuals, and seniors with low income. You will be matched with the number of people you would like to sponsor along with gift suggestions.
Details: The Christmas Bureau serves children aged 0 to 18 and provides a Wish List for those aged 11 to 18 as they are often harder to buy for. Holiday gift baskets include $50 grocery gift card per person, a wrapped gift (new items only) for each members of the family, and optional festive items. Information on basket assembly and delivery will be included in an information package.
CityReach Care Society
Boxes of Love
What you provide: A cash donation provides a Box of Love for a family which includes wrapped toys, grocery and clothing gift cards, holiday treats and more. Additionally, each family is invited to the Christmas Extravaganza. Sponsor support also ensures each family receives fresh food hampers for an entire month through the Food For Families program.
Details: A donation of $200 support a whole family across all three initiatives and any amount helps ensure each family is feed through the winter. Donate online to help contribute.
Face of Today
Holiday Hampers
What you provide: Sponsor a family hamper for $500, employee gifting opportunities for $40, or $100 grocery gift cards.
Details: The Face of Today Foundation has a fundraising goal of providing 100 holiday hampers this season. Each hamper gives a family the opportunity to cook a holiday meal, buy presents and to strengthen family connections by making memories.
The Shoebox Project
The Shoebox Holiday Drive
What you provide: Any standard-sized, decorated shoebox filled with around $50 worth of gifts and essentials that any woman might enjoy. Make sure to include a warm greeting or message of support.
Details: Volunteers of The Shoebox Project distribute these gifts to local women's shelters and community agencies serving women impacted by homelessness across Canada. There are multiple drop-off locations for these gifts. Sponsors may also hold a Shoebox Gift Drive where groups can come together to support women in need this season.
Langley Christmas Bureau
Sponsor a Family
What you provide: Sponsors organize a food hamper and additional small gifts for your matched families children.
Details: Applications for sponsoring a family this holiday can be made online. Sponsors are asked to deliver by December 12. Instructions on what to purchase and how to arrange the food hamper can be found in the food hamper guideline.
YWCA
Presents of Peace
What you provide: Sponsors donate a grocery gift card to go towards each families food and provisions. Also, a gift for each member of the family; ideas, suggestions, and wishes will be included when you are matched with a family.
Details: Applications for sponsoring a family can be found online. Gifts for your families should always be new and can either be wrapped or provide your family with gift wrap and bows so parent may wrap them. Grocery gift cards should be a minimum of $100 with an additional $25 per person in the family. Additionally, if you have gently used items you'd like to donate make sure to contact the families before you add them to the hamper to make sure they would like to receive them.
Westcoast Family Centres
Sponsor a Family
What you provide: Purchase, wrap, and drop off a hamper at either Westcoast Family Centre Vancouver or Tri-Cities Locations for your matched family.
Details: Sign up as an individual, a family, or a team to sponsor a family during the holidays. Once matched with a family, you'll receive a list of items to buy for your family.
Holiday Hampers
What you provide: Donation of any amount of money to Westcoast Holiday Funds to help provide for families of low income this holiday season.
Details: The Holiday Funds are used to support families during the holidays as the Westcoast staff uses the donations to purchase hampers for families.
Options Community Services
Christmas Hampers
What you provide: Gift certificates, personal care items, gloves, slippers, socks, pajamas, age appropriate puzzles, blocks, toys, educational toys, board games, and crafts. Food items and some essentials are also on the wish-lists.
Details: Fill out the online sponsor form to register and you will be paired with a deserving family recipient in your community.