Things to do in the West End: A day with Miss604 is a three-part summer series, in partnership with the West End BIA, showcasing all the wonderful, delicious, and engaging things to do around this iconic Vancouver neighbourhood.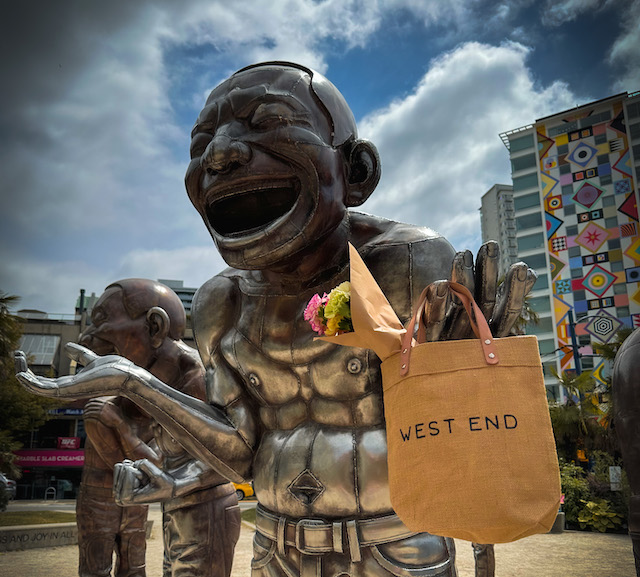 Things to do in the West End
In the first part of this series, we shopped, dined, and toured around Denman and Robson Streets. Today we visit Davie Village, the beach, Denman, and some entertainment in Stanley Park. Here are even more ways to get the most of out of a West End excursion in Vancouver this summer: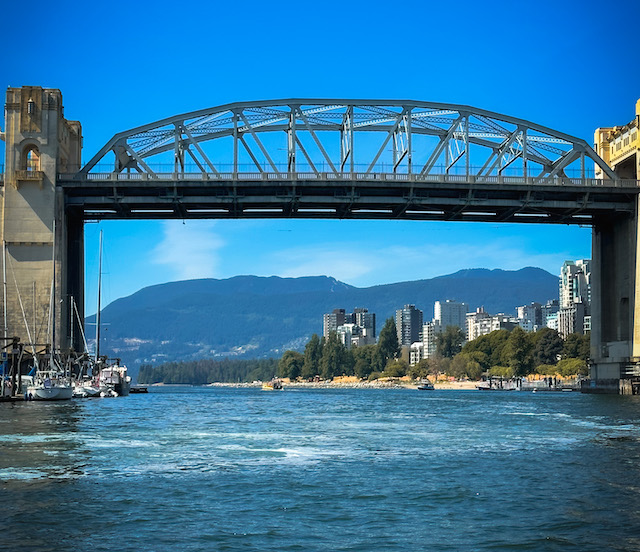 Getting to the West End
I live in the West End but I love taking the False Creek Ferry! It's the cheapest little cruise around. If you're in Kitsilano, Granville Island, Yaletown or Olympic Village it's a scenic way to get over to the West End. Disembark at the Aquatic Centre and walk the Seawall around to Denman and Davie.
Shopping on Davie and Denman
West End Farmers Market is Saturdays from 9:00am to 2:00pm on Comox between Bute and Thurlow. Then of course there's the shop that I think every town in BC has because it's full of so many staples: Home Hardware (1053 Davie St). One of my favourite little flower shops, that also has tons of pots and planters, Davie Flowers (1139 Davie St), and then there's the iconic, the one and only, Little Sister's Book & Art Emporium (1238 Davie St) a legendary queer retail store selling everything from LGBTQ2+ books to Pride to cards to adult items.
Kimprints (1179 Denman) is one of my go-to when I need to find something locally inspired for a gift.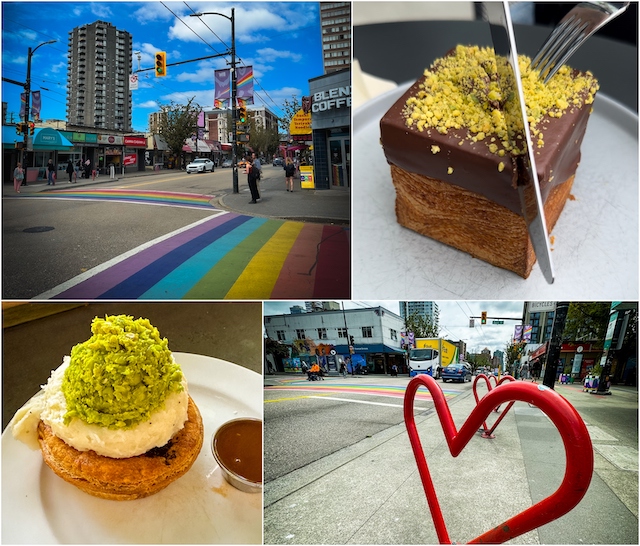 Activations at Jim Deva Plaza
The Jim Deva Plaza (1200 Bute) at Bute and Davie is a public space where you can eat your takeout under the market lights, enjoy artwork, shop a pop-up, or enjoy entertainment. Coming up this season is Art from the Heart, which are free guided painting sessions August 10 & 24 from 6:00pm to 7:30pm. New Gen. Collective Market will pop-up again August 11 & 25 from 6:00pm to 10:00pm. Pop Queen Cardio will offer high energy fitness classes mixing dance and pop music. Free to the community on August 3rd.
Snacks and Sweet Treats
Bisou (1190 Bidwell) opened this year and has gone viral on Instagram thanks to their spiral and cube croissants.
Peaked Pies (975 Denman St) is another satisfying local favourite with hearty Australian meat pies as well as veggie and vegan options. Make sure you get your pie "peaked" with all the fixings (peas, mashed potatoes, and gravy) for the full savoury experience.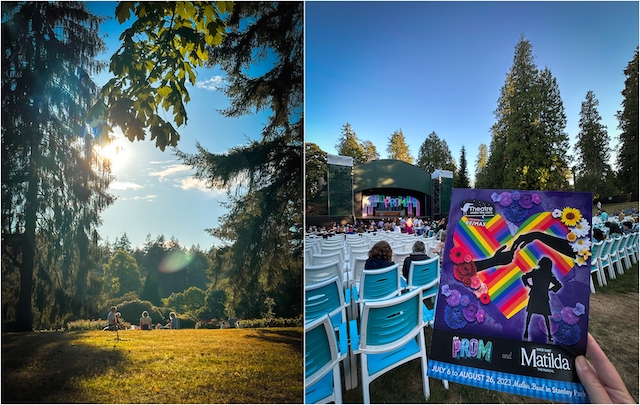 Summer Entertainment in the Park
Stanley Park is my favourite local destination at any time of year, from the trails and the gardens, to the Seawall and beyond. In the summer it comes even more alive with activity with the longstanding tradition of Theatre Under the Stars, as well as the Evo Summer Cinema with free outdoor movies at Second Beach.
Win Dinner and a Movie
I have partnered with the West End BIA to share a classic West End summer experience: You can enter to win VIP tickets to an Evo Summer Cinema Movie (August 1st) plus $80 for dinner at Davie Dosa Company! Here's how:
Visit South Okanagan: Oliver Prize Package
For more information on each of these businesses, and many more, visit the West End BIA online and follow along on Facebook and Instagram.