It's a staple of summer fun in Vancouver and when it comes to free activities, it's definitely one of the most popular! Free outdoor movies in Stanley Park at Second Beach return as part of the EVO Summer Cinema Series.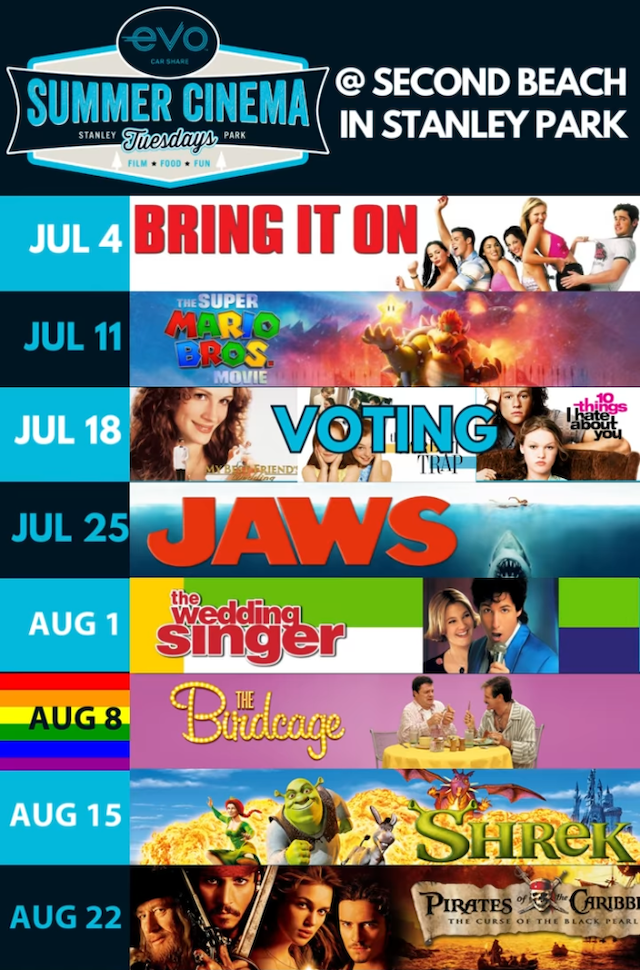 Free Outdoor Movies in Stanley Park 2023
Come and join Evo Car Share and Fresh Air Cinema for an unforgettable movie experience on a massive 40ft screen under the stunning night sky. The movie will start just after sunset so there is a clear enough image on the screen. All events take place in the field beside Second Beach Pool in Stanley Park.
Tuesday, July 4, 2023 – Bring it On
Tuesday, July 11, 2023 – The Super Mario Bros. Movie
Tuesday, July 18, 2023 – Vote now for: My Best Friend's Wedding OR the Parent Trap OR 10 Things I Hate About You
Tuesday, July 25, 2023 – JAWS
Tuesday, August 1, 2023 – The Wedding Singer
Tuesday, August 8, 2023 – The Birdcage
Tuesday, August 15, 2023 – Shrek
Tuesday, August 22, 2023 – Pirates of the Caribbean Curse of the Black Pearl
Seating on the field is free and it is first-come first-served, so arrive early and enjoy the festivities. Low profile lawn chairs are ok and they sometimes divide the park down the middle: one side for blankets, one side for lawn chairs.
There will be 200 VIP seats available at each event for $20 (plus fees) that include front row views in reserved chairs.
Enjoy the West End on your way to and from the event, and support local business by bringing a picnic. You'll also be able to get items at the Snack Bar and Second Beach Pool Concession.
Fresh Air Cinema will have more details available soon so follow along on Facebook for the latest updates.