Things to do in the West End: A day with Miss604 is a three-part summer series, in partnership with the West End BIA, showcasing all the wonderful, delicious, and engaging things to do around this iconic Vancouver neighbourhood.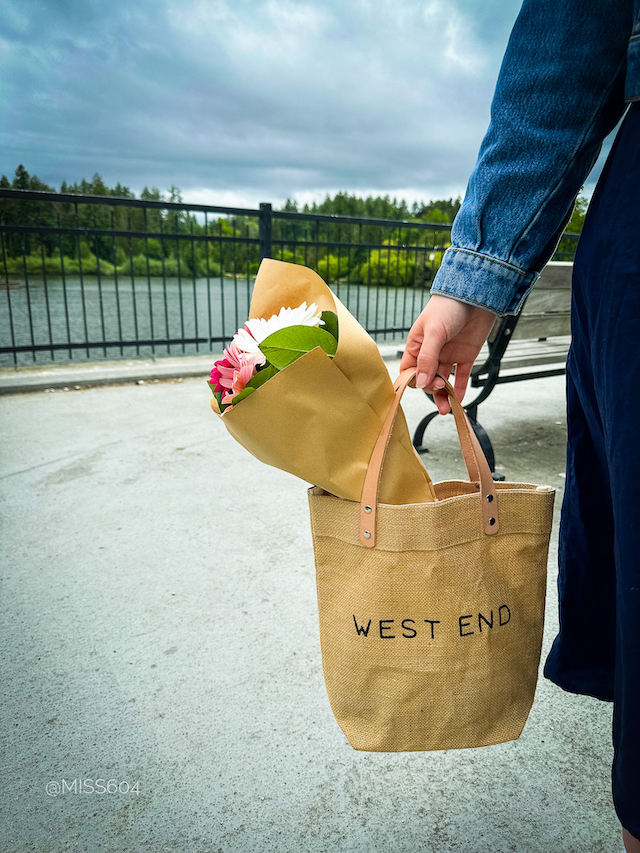 There is no other neighbourhood in Vancouver that's bordered by our bustling downtown, the ocean on two sides, and a 1,001 acre park on the other. Over 47,000 people call the West End home, including myself for the last 18 years, and there are hundreds of restaurants, cafes, shops, and services that cater to locals and visitors alike.
It's one of the city's best-loved and most popular destinations and over the past century, the three commercial streets of Davie, Denman and Robson have connected everything together.
A Day with Miss604
Start your day off with coffee and a breakfast bite at Cardero Cafe & Latin Snackery (1060 Cardero Street). Their coffee is some of the best in the city and they just launched a new Green Breakfast Croissant with spinach that's really delicious. Enjoy the ambiance of quiet neighbourhood street and the lush greenery all around the sidewalk patio. You can also shop their variety of Latin treats (their tamales are a staple in our house).
There are a number of corner stores in the West End, which have everything from homemade baked goods to fresh produce, and imported delicacies. I love the plant and flower selection at Denman Market & Flower (940 Denman Street). Whether you're looking for a long-lasting bouquet or a sturdy succulent. You can also pick up some grocery items and a lotto ticket while you're there. Another favourite is the newly re-opened Danial Market (1500 Barclay Street) with the neon sign right on the corner.
While you're out and about, you may notice quite a few colourful murals. There are several around the West End Community Centre (870 Denman Street) including a couple from John Ferrie, and then in 2020 and 2022 the Vancouver Mural Festival came to the neighbourhood and we were fortunate enough to get some amazing art from: Carson Ting and Annie Chen; Mandy Tsung; Margaret August; and Pearl Low. I also love the new Sade Alexis mural in Rosemary Brown Lane at Denman, and the Matt Hanns Schroeter mural by Ted Northe Lane at Denman.
Did you know there's an indoor shopping centre in the West End? The Denman Place Mall (1030 Denman Street) gives me serious Surrey Place Mall nostalgia with the glossy brown brick interior. There's a Shoppers, No Frills, a tailor, a barber, a Dollarama, and my favourite: Clothes & Collectibles. A thrift store operated by the West End Seniors Network. It's cash only and there's always a line up front because the deals are so good (like $10 for mint condition designer apparel).
Speaking of the West End Seniors Network, next to their home base at Barclay Heritage Manor you'll find Roedde House Museum (1415 Barclay Street). This City of Vancouver-designated Class A Heritage House is attributed to famed architect Francis Rattenbury (notable for the Legislative Buildings and Empress Hotel in Victoria). Gustav and Matilda Roedde settled in Vancouver in 1888 and German-born Gustav was Vancouver's first bookbinder. Tour the house (on your own or with a guide), or visit during one of their many special events throughout the year.
Time for some TLC! I go to Four Seasons Nail Spa on Robson (1817 Robson Street) when my nails need some extra attention, especially for summer sandal weather. Their prices are quite affordable (comparatively) and you can get an entire spa treatment (like your full pedicure regime, plus hot rock massage, plus paraffin wax, plus massage, plus polish) for just $60. Just need the basics? A manicure is $25 and a pedicure is $35 (based on prices posted online June, 2023).
After all that walking, culture, and shopping, it's time for lunch. My favourite spot these days is Good Dogs Plant Foods (1331 Robson). They have a selection of gourmet plant-based hot dogs, salads, sides, and sodas that make my tummy so very happy. My current favourite is the Dilly Dog, with creamy dill sauce, kale and sauerkraut slaw, house fried dill pickle. Alexis (Miss604 contributor who enjoyed the day with me) had the Kraken Dog, with smoked house bakon, cream cheez, onion jam, house pickled jalapeno, grainy dijon, chips. The restaurant is adorable on the inside and they have two Robson Street patios out front. Follow them on Instagram to find out where their food truck will be next.
Finally, a weekend in the West End in the summer isn't complete without a trip to the market. Whether that's the West End Farmers Market (on Nelson) on Saturday mornings, or an artisan market like New Gen Collective at Bute-Robson Plaza or Jim Deva Plaza. The next New Gen markets at Jim Deva (1200 Bute Street) are July 2 and 16, August 6 and 20, from 12:00pm to 6:00pm. There's also a night market June 23 from 6:00pm to 10:00pm at Jim Deva.
That should definitely fill up your day — and I didn't even get to the theatre, movies, and beaches yet! Stay tuned next month for another day with Miss604 around the West End. For more information on each of these businesses, and many more, visit the West End BIA online and follow along on Facebook and Instagram.
How to Get to the West End
If you're not a resident like me, you can get here by taking transit: The #5 Robson from Burrard SkyTrain, the #19 Metrotown/Stanley Park and walking over from West Georgia, or the #6 Davie from Yaletown-Roundhouse Canada Line. I also love taking the False Creek Ferry if you're in Kitsilano, Granville Island, Yaletown or Olympic Village it's a scenic option. Disembark at the Aquatic Centre and walk the Seawall around to Denman and Davie.