Sunshine, crisp waves, and the convenience of a quick bus ride makes Vancouver area beaches hard to resist. These sandy destinations the perfect places to take in the gorgeous weather not to mention fantastic local views. Of course, sometimes the easiest way to get around is to leave the car at home. Here's a list of 5 local beaches, made easy to get to with transit, all beginning at a SkyTrain Station.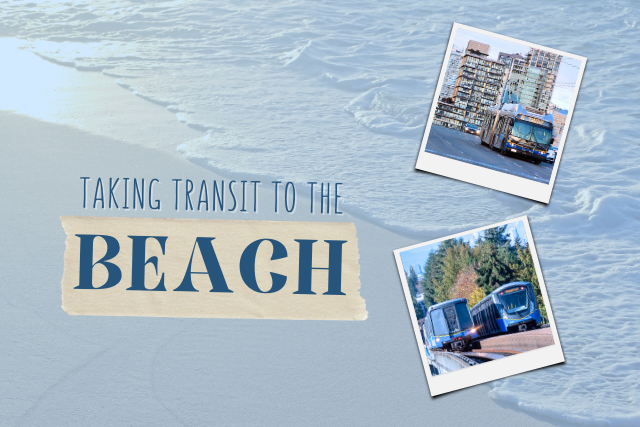 Take Transit to These 5 Vancouver Area Beaches
TransLink has all of your schedules and maps online here but here are some quick guides to some hot spots:
Spanish Banks Beach
Granville SkyTrain Station to Spanish Banks Beach
Located along the shores of English Bay in the West Point Grey neighbourhood, Spanish Banks boasts gorgeous views of mountains and downtown Vancouver, refreshing surf, and plenty of area for your favourite beach activities. Find your way to Spanish Banks beginning at Granville Skytrain Station, locate the bus stop a short 3 minute walk up Seymour Street. The 004 Blanca arrives every 12 minutes, ride for 21 stops – totalling around 30 minutes – and get off at WB W 4th Ave @ W Georgia St. Finally, from this destination Spanish Banks Beach is a quick 10 minute walk west on Sasamat Street.
Second Beach
Burrard SkyTrain Station to Second Beach
Second Beach is found in Stanley Park featuring picnic shelters, stand-alone barbeques, a heated pool, and scenic views. From Burrard Station Bay 1, the 005 Robson (arriving every 7 minutes) takes you down Robson Street for 8 stops where you disembark at SB Denman St @ Pendrell St. From here, a 13 minute walk on Morton Ave – which then turns into Beach Ave – until reaching the Stanley Park Seawall Path. Lastly, follow the path all the way to your destination Second Beach.
Burrard SkyTrain Station to Second Beach (alternative)
From Burrard SkyTrain head north to Pender and catch the 019 Metrotown-Stanley Park bus and select the stop just before the roundabout as you're entering the park. Exit there and cross the street, do under the causeway overpass, and follow Lagoon Drive or the Lost Lagoon gravel path all the way west out to Second Beach.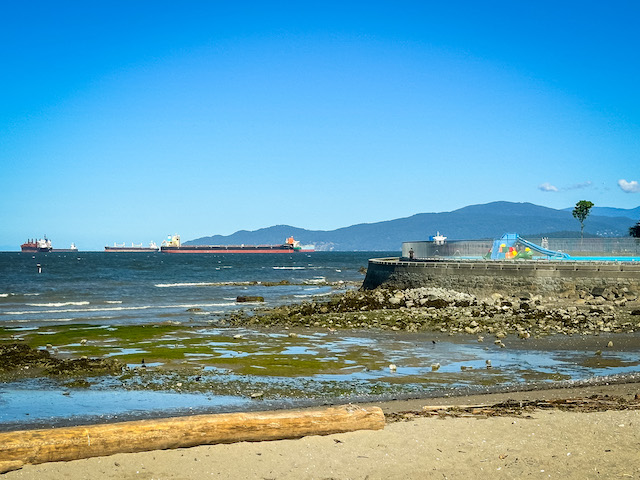 Centennial Beach
Bridgeport SkyTrain Station to Centennial Beach
Centennial Beach in Tsawwassen features a spacious playground, numerous walking trails, sheltered picnic areas, and a café. From Bridgeport SkyTrain Station in Richmond, the 602 Tsawwassen Heights arrives every 60 minutes. Following this, stay onboard for 4 stops and disembark at South Delta Exchange @ Bay 2, exchange buses for the 619 Boundary Bay. Next, ride the bus for 12 stops and get off at SB 67 St @ 3rd Ave. Finally, a short 10 minute walk down centennial Pkwy takes you to Centennial Beach. Furthermore, this trip totally just under an hour.
White Pine Beach
Moody Centre Station to White Pine Beach
Beautiful walking trails following the lakes shoreline, sandy beaches, cooling water, and picnic tables make White Pine Beach a popular summer hangout spot for families. Firstly, from Moody Centre Station catch the 182 Belcarra for a 30 minute ride (33 stops). Secondly, disembark at WB Bedwell Bay Rd @ White Pine Beach Rd where you then walk under 20 minutes to the final destination of White Pine Beach.
Crescent Beach
King George Station to Crescent Beach
Enjoy swimming, nature trails, views from the pier, and so much more at Crescent Beach. To begin your journey, the 394 White Rock Centre arrives every 30 minutes at the King George Station Bay 2. Ride the bus for 13 stops, totally under 40 minutes. Next, exchange buses at the South Surrey Park & Ride Bay 2 for the 352 White Rock Centre bus and stay on for 9 stops. Finally, exit the bus at SB 128 St @ Crescent Rd and exchange for the 350 Crescent Beach. Stay onboard for 3 stops and disembark at WB Sullivan St @ Beecher St. From here Crescent Beach is a quick 5 minute walk.
Also this Summer
TransLink is partnering with local businesses, restaurants, museums, and other regional destinations to provide discount incentives for customers who take transit to get there. Participating organizations and details are on the Ride & Shine Webpage, along with an interactive map with wayfinding information about how to travel to tourism hotspots sustainably.
Out and about this summer? Follow Miss604's ongoing event list here.