From story time with Spike to online training sessions and classic matches, you can catch some Whitecaps FC live streams and kids activities during COVID-19 isolation.
Whitecaps FC Live Streams and Kids Activities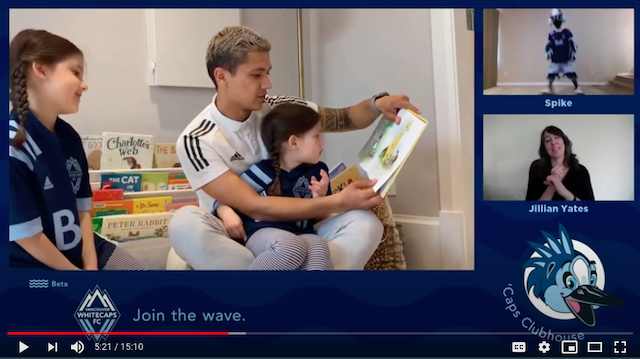 Caps Clubhouse
When: Tuesdays to Fridays at 8:30am (until the end of April/ongoing)
What: Book reading with Spike and friends followed by a fun activity. You can go back and view the archives if you missed a reading as well.
Live Skills Clinic
When: Tuesday to Friday (April 14-17, 2020) at 2:00pm
What: Skills and drills with coaching and BMO Academy coaches from across Canada
Caps Primetime
When: Wednesday, April 15, 2020 at 7:05pm
What: What's Up Wednesdays: Live hangout with Russell Teibert, Inboem Hwang, and Ali Adnan
When: Thursday, April 16, 2020 at 7:05pm
What: Caps Classics: Whitecaps FC vs Seattle Sounders (June 11, 2011)
When: Friday, April 17, 2020 at 7:05pm
What: Friday Night FIFA: eMLS Whitecaps FC vs Seattle Sounders FC, Exraa vs The MarsBars
You can watch all live content on the Whitecaps website.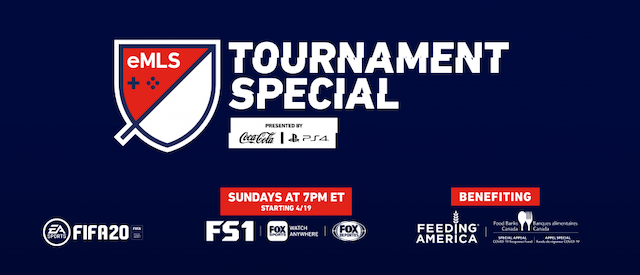 eMLS Tournament
As part of MLS Unites, a league-wide platform designed to educate communities, entertain fans and elevate heroic efforts taking place during the COVID-19 pandemic, Major League Soccer and FOX Sports announced that eMLS Tournament Special presented by Coca-Cola® and PlayStation® will debut on Sunday, April 19, 2020 on FS1 and FOX Deportes at 4:00pm PT. The series will be hosted by FOX Sports Stu Holden, Rachel Bonnetta and Rodolfo Landeros, with colour commentary from Mike LaBelle.
Each Sunday the five-episode series will team up MLS players and eMLS players from the same MLS clubs in single-elimination EA SPORTS™ FIFA 20 tournaments. On May 10th Whitecaps centre back Erik Godoy will battle Toronto FC midfielder Mark Delgado in Leg One of the first round, while Leg Two will see Vancouver's eMLS player Alex 'exraa' Gonzalez-Aldana versus Toronto's eMLS player Phil 'PhilB94' Balke.
The best aggregate score from the Canadian clubs will then face the winner of Atlanta United FC with Franco Escobar and Paulo Neto versus Orlando City SC with Nani and Abe 'FIFA Abe' Valbuena.
Through eMLS Tournament Special and other programs, Major League Soccer is proud to support EA's "Stay Home. Play Together." Initiatives, helping the gaming community find more ways to connect through play during a time where people need to be physically apart.
Follow Vancouver Whitecaps FC on Facebook for more info.
Find a full list of online events in April here. More (ongoing online events) include TED Connects conversations on Facebook Live, Virtual Museum Tours in Vancouver, Arts Connect with the Vancouver Public Library, Small Business BC digital meetups and webinars, Free Concerts to Watch at Home, and NFB Has Over 4,000 Free Films Online!