The Rio Theatre Rio Theatre has released its schedule of late night movie events for Fridays this month. I'm a bit late at getting the listings up but we still have four late night movie nights to look forward to which will all have bar service and affordable ticket prices:
Friday Late Night Movies at the Rio
Friday, August 9, 2013
The Good, The Bad and The Ugly
(Sergio Leone, 1966)
Before Clint Eastwood directed movies only aged Oscar voters could love, he was an actor who made a lot of westerns. Sergio Leone's film about a bounty hunting scam that joins two men in an uneasy alliance against a third in a race to find a fortune in gold buried in a remote cemetery, is perhaps, the most recognized and acclaimed western of all time.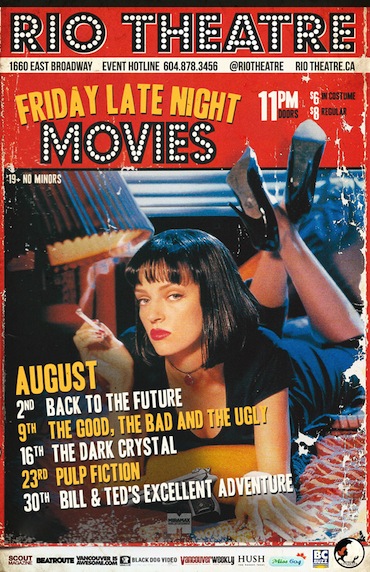 Friday, August 16, 2013
The Dark Crystal
(Jim Henson & Frank Oz, 1982)
The live action fantasy that traumatized a generation of young children returns, by popular demand. On another planet in the distant past, a Gelfling embarks on a quest to find the missing shard of a magical crystal, and so restore order to his world.
Friday, August 23, 2013
Pulp Fiction
(Quentin Tarantino, 1994)
Quentin Tarantino's non-linear and infinitely quotable Pulp Fiction is a modern masterpiece, featuring a killer soundtrack and all-star cast whose characters have become practically ingrained into contemporary culture. I mean, who doesn't love a Big Kahuna Burger or a $5 milkshake? Pulp Fiction is one of, if not the, definitive movie of the 1990s.
Friday, August 30, 2013
Bill & Ted's Excellent Adventure
(Stephen Herek, 1989)
Two seemingly dumb but lovable California teenagers (Keanu Reeves, Alex Winter) with a preponderance for surfer lingo and air guitar travel through the ages in a totally tubular time machine, tasked with picking up some notable historical figures who will help them pass their history class. Party on, dudes!
The Rio Theatre is an independent art and movie house located at 1660 West Broadway, at Commercial Drive, and is easily accessible by transit. They now have their full service bar up and running so you must be 19+ to attend this series. All screenings are at 11:00pm. Tickets are available online in advance or at the door for $8 or $6 if you come in costume.
Follow the Rio Theatre on Facebook and Twitter for more film screenings, comedy showcases, and special event information.
Miss604 is a media partner of the Rio's Late Night Movie series.