The Abbotsford Airshow is coming up this weekend, with spectacular high-flying performances in the sky as well as an abundance of attractions at ground level from August 9th to August 11th.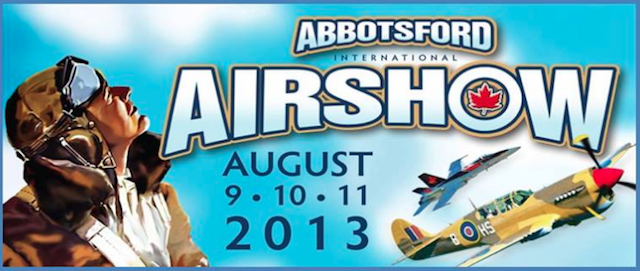 John has a fascination with airplanes and while we have yet to make it out to the Canadian Museum of Flight in Langley, we've had the chance to get up-close with modern and classic aircraft at places like the Heritage Flight Museum in Bellingham, where some of their main attractions make it out to the Abbotsford Airshow — an event we've also been meaning to attend.
The Abbotsford Airshow is a highlight of summer for many families and flight enthusiasts, and it's even been named one of the world's top ten best airshows by USA Today. It's also Canada's largest airshow, attracting over 125,000 spectators who watch performances from the Canadian Snowbirds jet demonstration team, Canadian Army SkyHawks (parachuting team), USAF Thunderbirds, USN Blue Angels, and more. Here's what you can expect this year:
All New Ground Attractions
The new Airshow Kids Zone has activities to entertain children and toddlers and will be open from 12:00pm to 5:00pm on all three days. Activities include a climbing wall, Huey Helicopter Ballpit, carnival games, obstacle challenge, Travis the Train, 9-hole mini golf, craft zone, and celebrity appearances in the charity dunk tank.
Mikey McBryan and Scott Blue of the famed Canadian docu-series Ice Pilots NWT are special guests coming to Abbotsford specifically to watch the airshow and interact with spectators including the children enjoying the Kids Zone.
Schedule of Events
The schedule is available online and is the same for all three days. Each day begins with a Skyhawks Flag Jump and the national anthems followed by the CF Combined Forces Tac Demo, Smoke-n-Thunder Jet Truck, Extreme Firebirds, CF Skyhawks, and much more.
"Sequestration": According to US Government reports, sequestration is a series of across-the-board cuts to government agencies, totalling $1.2 trillion over 10 years. In relation to airshows, these imposed cuts directly impact all US Military demonstration teams and displays. The Canadian Forces (CF) has not been impacted. The budget cuts are related to US government decisions and focus on US agencies only. » more info.
Gates are open from 9:00am to 6:00pm daily, from Friday, August 9th until Sunday, August 11th, with flying events running from 11:00am to 5:00pm. Tickets are on sale now for individual days or the full weekend experience.
The Abbotsford International Airshow Society (AIAS) is the non-profit society that has operated in British Columbia, Canada since 1966, created as a distinct entity in preparation for the 1967 Canada Centennial Airshow. Follow the Abbotsford Airshow on Facebook and Twitter for more event information and show updates.