The #CHVCatchUp is a monthly series featuring the latest updates and news from Covenant House Vancouver ("CHV"). Miss604 is proud to be the Official Blog Partner of CHV. This month's post has been written by Jason Bosher.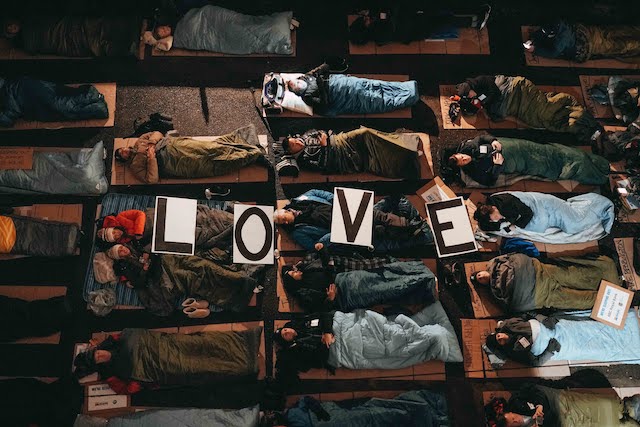 What is the Covenant House Sleep Out?
There are approximately 500–1,000 young people without a safe place to sleep every night in Metro Vancouver. Each of them has a story, a dream, and a future — one that they can build with the support and care from Covenant House Vancouver. They come to Covenant House seeking safe shelter, nourishing food, clean clothing, and essential services like job training, education, healthcare, and mental health counselling — tools they need to build independent, sustainable futures. Sleep Out is a way you can encourage, inspire, and support their journeys.
Sleep Out: Executive Edition
Every fall, business leaders get together to share one night in an alley, to raise critical funds for Covenant House Vancouver. They leverage their networks and challenge their peers to step up and support vulnerable youth.
They will be doing that again this November 16th.
You may ask, why do they do it?
Here are a few business leaders who were more than happy to share why they support Sleep Out:
"I want to inspire others to see homelessness and addiction as issues that can be solved if enough people continue to talk about them and make meaningful contributions to solve them." Jared Nicola, Construction Project Manager, Nicola Wealth Real Estate
"The epiphany for me was realizing how a few turns of bad luck can quickly change a youth's life, and how it can happen to anyone. The stories are heart wrenching: families rejecting their children due to misalignment of beliefs, youth who felt like they didn't have a way out after making some poor choices, and youth who strive to break free from intergenerational trauma." Peter Lukomskyj, CxO; Stealth Founder; Board Member; Mentor
"They [Covenant House Vancouver] provide more than just shelter to those most vulnerable. They help youth gain the confidence, skills, and knowledge to move forward in life, when they wouldn't necessarily have that chance. Above all, they provide unconditional love and support to many who have never had it before." Kevin Takahashi, Financial Planner, RBC
Miss604 participated in the Covenant House Sleep Out for four years: "It was uncomfortable, unnerving, and a long and sleepless night — but that's the point. It's all for an amazing cause that I highly encourage you to participate in. Read about my first experience in 2013 here, which kept me coming back to support this cause."
Get involved in Sleep Out: Executive Edition
Sleep Out: Executive Edition is only halfway to their fundraising goal! Funds that are critical in supporting the programs and services that Covenant House provides.
Help Covenant House reach their goal by supporting Sleep Out: Executive Edition. You can support a team, an individual, or simply donate directly to Sleep Out. No matter how you choose to get involved, you are letting vulnerable youth know that they are seen and that they are worthy.
To help Sleep Out: Executive Edition reach their goal and to double your impact, when you support Sleep Out, George and Sylvia Melville will match your donation, dollar for dollar, up to $150K!
In support of Covenant House Vancouver's Sleep Out, some of the city's most famous landmarks will be lighting up. If you're around the downtown area during the week of Sleep Out, check out:
BC Place, November 13
Science World, November 14
Vancouver Lookout, November 16
Covenant House Vancouver would like to extend a warm thank you to everyone who supports vulnerable youth on their journeys towards the futures that they deserve.
If you are a youth in need of help, you can call the following numbers for medical aid, food, clothing, shelter, or long-term care: 604-685-7474 or toll free at 1-877-685-7474. You can also visit Covenant House at their Drop-In Centre (1302 Seymour Street, Vancouver).
Follow Covenant House Vancouver on their social channels for more info.
Related: Impact of the Housing Affordability Crisis on Youth; Food for Thought – Meeting the Nutritional Needs of Youth at Covenant House; Covenant House Vancouver Harm Reduction Foundations; Supporting the Mental Health of Youth in the Community.