The #CHVCatchUp is a monthly series featuring the latest updates and news from Covenant House Vancouver ("CHV"). Miss604 is proud to be the Official Blog Partner of CHV. This month's post has been written by Jason Bosher.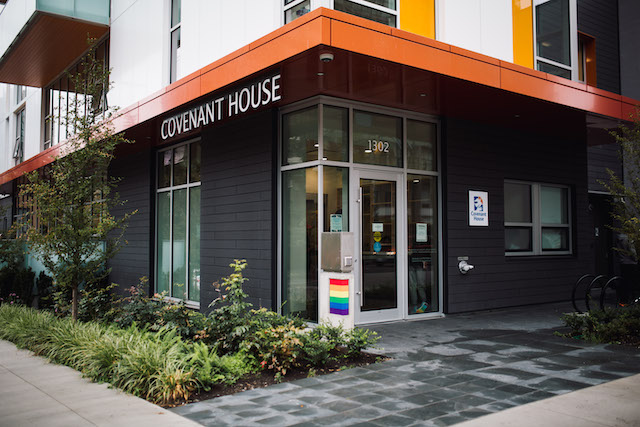 What Is Mental Health and Who Is Affected?
May 1st to 7th is Mental Health Awareness Week. Mental health refers to a state of well-being, and includes emotions, feelings, thoughts, and our ability to manage life's highs and lows. Mental health and mental illness are often used interchangeably, but are not the same thing.
Everyone is either directly or indirectly affected by mental illness.
Mental health stats on youth:
Most youth living with a mental illness experience symptoms before age 18, but only 1 in 5 children, in Canada, receive appropriate mental health services.
Suicide is the second leading cause of death among people between the ages of 15 and 34.
Approximately 20% of Canadian youth are affected by either a mental illness or a disorder.
Some warning signs to look for in young people: extreme anxiety, extreme moods, feelings of hopelessness, anger, changes in patterns like sleeping or eating, self-injury.
Supporting Youth at Covenant House Vancouver
Covenant House Vancouver's approach to supporting the mental health of youth is to provide holistic, wrap-around services.
To try and meet the needs of at-risk youth in the community, Covenant House Vancouver opened a new facility. The new facility enabled Covenant House to increase the programs and services that they can offer youth, to support them as they work through their trauma and any mental health challenges that they may have, as they work towards the futures that they deserve.
Let's take a quick tour of the new facility from the need/space aspects that support a youth's mental wellness: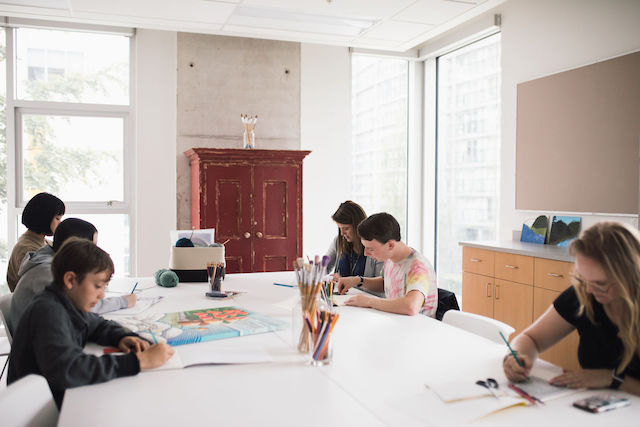 Artistic Expression/Dedicated Art Therapy Room: "Art therapy is used … to assess and treat the following: … mental and emotional problems; substance abuse and addictions; family and relationship issues; abuse and domestic violence; social and emotional difficulties related to disability and illness; trauma and loss; physical, cognitive, and neurological problems; and psychosocial difficulties related to medical illness."
Run by Registered Clinical Counsellors and art therapists, the art therapy room offers a non-verbal way to communicate and is an integral part of the holistic approach to healing.
Nutrition/Commercial-Grade Kitchen: A study conducted on Toronto's homeless youth population found that youth facing homelessness were nutritionally vulnerable. Being nutritionally vulnerable has significant ramifications including: poor health, which is a barrier to obtaining and maintaining employment; possible impairment of cognitive and physiological functions; and exacerbation of depression and substance use. The large commercial kitchen in the new facility provides fresh, healthy meals to youth at all three of Covenant House's locations (Drake, Seymour, and Pender). The equipment enables staff to expand their menus and provide youth with even more variety of nutritious meals.
Exercise/Gym and Fitness Room: Many youth who access Covenant House's programs and services, have experienced trauma, which can affect their mental health, as well as their physical health. Having access to a gym and fitness room, provides many benefits to youth. The fitness room is home to weights, treadmills, rowing machines, and elliptical trainers. The gym is a place where youth can engage in basketball, pickleball and other activities. The benefits of both spaces include: a reduction in stress, improved cognitive ability, physical activity may prevent depression and anxiety disorders, and may enhance the impact of addiction treatment. In addition, these facilities allow youth to form trusting relationships, both with their peers and with staff, in safe, judgement-free spaces.
The gym is also equipped with a retractable screen for movie nights. Watching movies has shown to boost moods, provide relaxation, inspire, motivate, reduce stress, improve relationships, and can help educate and enlighten.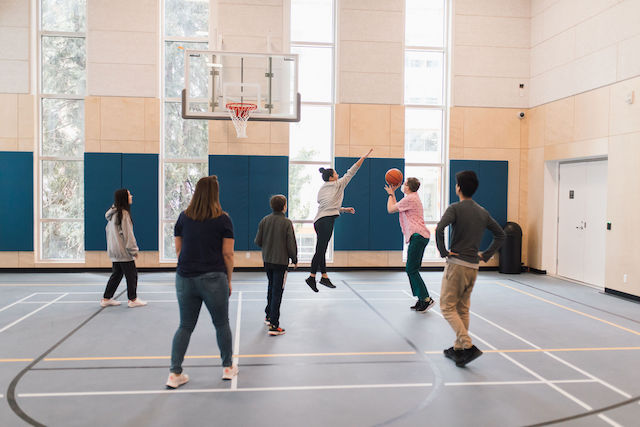 Quiet Space/Yoga-Meditation Room: The benefits of meditation can include increased self-awareness,developing a new perspective on what's stressing you, reduced negativity, lowering your heart rate and blood pressure, and improving your sleep. During yoga, brain cells make new connections, and strengthen areas of the brain resulting in improved cog­nitive skills, reasoning, decision making, memory, learning, reac­tion time, and mental acuity. The dedicated room at Covenant House enables youth to find a quiet space to not only calm and centre themselves, but it is also a safe space for them to explore and develop their own spiritual, religious and cultural identities.
Musical Expression/Music Room: Music can create significant improvements in mental health. Playing a musical instrument involves both sides of your brain. The left side controls logic and the right side controls the playing. This helps improve memory, increases grey matter, and can help reduce anxiety, stress, and depression. The new music room at Covenant House Vancouver is a safe space where youth can go to learn an instrument, improve their skills, and improve peer relationships by playing together.
How You Can Support the Mental Health of Youth
Covenant House Vancouver is over 90% privately funded. That means that the life-changing work that they do relies on community support. If you would like to help youth overcome trauma and improve their mental health, starting May 15th, Covenant House Vancouver's Double Match Campaign means that any donation made from May 15th to June 30th will be matched. This way you can double your impact when you support vulnerable youth. Visit the Covenant House Vancouver website to donate.