The #CHVCatchUp is a monthly series featuring the latest updates and news from Covenant House Vancouver ("CHV"). Miss604 is proud to be the Official Blog Partner of CHV. This month's post has been written by Jason Bosher.
Covenant House – Food for Thought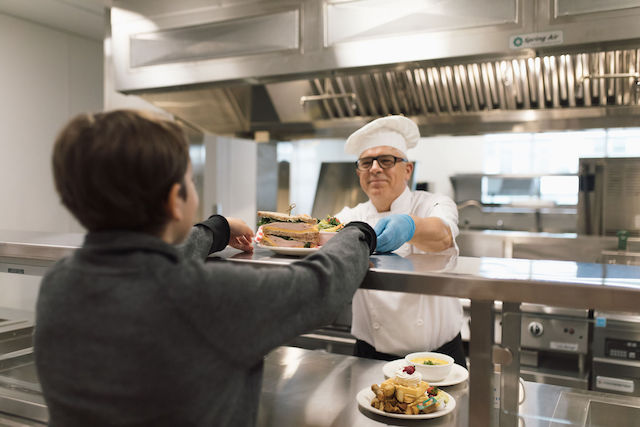 Nutrition and Cognition
Your brain is always on and consumes an incredible amount of energy, compared to the rest of your body. We receive energy from the foods that we eat. What you eat can affect how you think. "Dietary factors can affect multiple brain processes by regulating neurotransmitter pathways, synaptic
transmission, membrane fluidity and signal-transduction pathways."
Foods like salmon, kiwi, and citrus fruits enhance cognition, whereas foods high in saturated fat and sucrose can reduce cognitive performance. Diets high in refined sugars negatively affect the regulation of insulin, as well as promoting inflammation and oxidative stress. Those diets can also worsen the symptoms of mood disorders, like depression.
Vulnerable Youth and Nutrition
A study conducted on Toronto's homeless youth population found that youth facing homelessness were nutritionally vulnerable. Being nutritionally vulnerable has significant ramifications including: poor health, which is a barrier to obtaining and maintaining employment; possible impairment of cognitive and physiological functions; and exacerbation of depression and substance use.
Why are homeless youth nutritionally vulnerable? In a word — barriers.
Financial barriers: Nutritious food is prohibitively expensive. Many youth have to use all of their financial resources to stay in an SRO, which results in little or no money for food. Many SROs do not have fridges, or allow any kind of cooking (for fire safety reasons).
Storage barriers: Many youth do not have refrigeration facilities available for milk and other perishables. If youth are living on the street, they have no storage facilities. A lack of fruit, vegetables, dairy, and protein can contribute to food insecurity. Some services only provide food that requires the use of kitchen facilities.
The rising costs of food makes it even harder for vulnerable youth to attain foods that support their nutritional needs. Many youth show up to Covenant House Vancouver malnourished.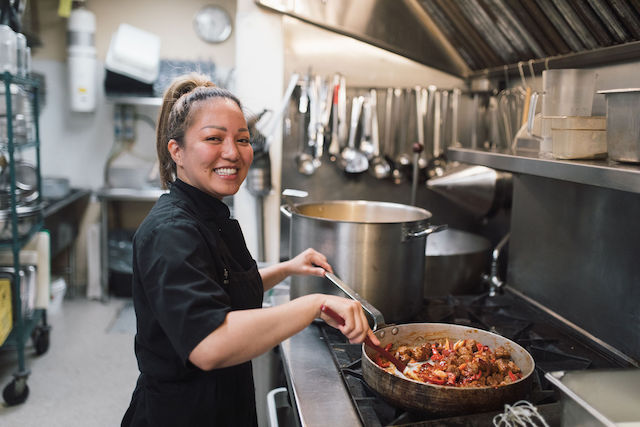 Meeting the Nutritional Needs of Youth
When young people arrive at Covenant House Vancouver, they are provided with healthy, filling, and delicious meals. Whether it's their Outreach Team travelling on foot to provide granola bars, sandwiches and juice boxes, or their Drop-In Centre providing hot meals throughout the week, food is a great way to show youth that they are loved and it is one of the many ways that Covenant House uses to start to build relationships with young people. Last year, Covenant House served over 500 hot meals to youth, at their Drop-In Centre.
Another way that Covenant House supports youth who visit the Drop-In Centre is a service they call Covey's Cupboard. Through their partnership with the Greater Vancouver Food Bank, Covenant House has been able to provide healthy non-perishables — such as granola bars, canned tuna, and fruit cups — to youth in need. Food bags are created in advance for both youth who are housed as well as those who are living on the streets. Young people also get to choose which foods they'd like, so that they are empowered with the freedom of choice. Due to the recent addition of a fridge, Covenant House has also been able to offer perishables, like milk, and frozen foods.
Covenant House also has youth in residence through their Crisis Program and Rights of Passage program. Many youth are pursuing an education, are working jobs, or both. While youth are working towards independence, they are supported by staff who care about their health and well-being. In 2022, the kitchen at CHV lovingly prepared over 96,000 meals!
Support Covenant House's Food Programs
Like many, Covenant House is feeling the effects of rising costs:
Food cost will continue to rise another 9.2%
According to the Canada Food Price Report 2023, the biggest increases in food prices are expected to be seen in vegetables, dairy and meat, ingredients which are important for creating healthy and nutritious meals
Covenant House's costs to care for vulnerable youth have been rising with inflation. Their weekly food costs have increased by 17% over the same period last year with no signs of dropping. In order to continue to provide meals, life skills programs, and holistic support for youth, Covenant House relies on community support.
Nutritious food helps fuel dreams. If you would like to support vulnerable youth, discover the many ways that you can donate to Covenant House Vancouver.