The awardees of the 19th annual Applied Art + Design Award (AAD) have been announced by the BC Achievement Foundation, an independent foundation that honours excellence and inspires achievement throughout the province. They will be showcased as part of a free exhibition at the Roundhouse in Yaletown from November 16 to 22, 2023.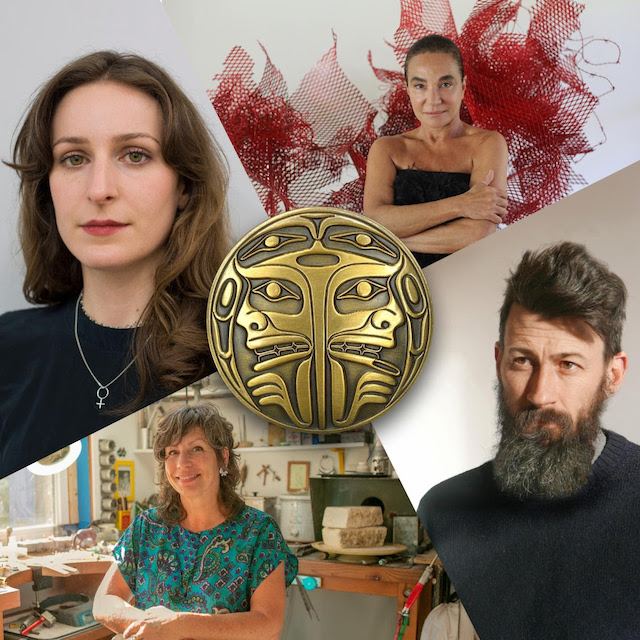 BC Achievement Foundation
Applied Art and Design Award 2023
The award program celebrates British Columbians who excel at creating functional art and design, while advancing the collective conversation around its importance.
The Applied Art + Design Award spotlights inspiring examples of functional art that enhances day-to-day life for individuals, while strengthening the cultural and economic fabric of the province. Artists and designers are celebrated for creating exceptional work that has practical or functional applications across a variety of areas, including furniture, textiles, jewellery, ceramics, weaving, glass, fashion, and industrial design.
The recipients of the 2023 Applied Art + Design Award are:
Kate Metten – Vancouver, Judson Beaumont Emerging Artist
Bridget Catchpole – Hornby Island
Riley McFerrin – Vancouver
Marie Khouri – Vancouver, Award of Distinction
The board of the BC Achievement Foundation, in consultation with the community, has named Marie Khouri as the 2023 Award of Distinction, honouring her exceptional career and lifetime achievement in sculpture and public art.
Awardees were selected by an independent jury, whose members include Renée Macdonald, Westerly Handmade Shoes (2015 recipient); Claudia Schulz, Claudia Schulz Hats (2018 recipient); and Henry Norris, furniture maker (2018 recipient). Ron Kong, craft advocate, and Toby Barratt, Propellor Design (2010 recipient), both served as advisors to the jury.
Recipients will be recognized at an award ceremony on November 22nd and will be featured in two short films showcasing their artistic accomplishments. Awardees will also be recognized through the online campaign, #ShineTheLightBC. 
Exhibition
BC Achievement is proud to present a combined exhibition showcasing the recipients for both the Polygon Award in First Nations Art and Applied Art + Design Award.
Dates: November 16 to 22, 2023
Location: Roundhouse Community Arts & Recreation Centre (Vancouver, BC)
Admission: Free, register in advance.
About BC Achievement Foundation
BC Achievement is an independent foundation established in 2003 that celebrates the spirit of excellence in our province and serves to honour the best of British Columbia. By recognizing the accomplishments of our province's entrepreneurs, artists, community leaders, youth and volunteers, its award programs pay tribute to exceptional people, doing exceptional work, while carving a path forward for others to follow.
Miss604 is a proud sponsor of BC Achievement Foundation programs in 2023
Related: 15th Annual Indigenous Business Award Recipients; 2023 Reconciliation Award Recipients; BC Achievement Foundation Community Award Recipients.