The Office of the Lieutenant Governor of British Columbia, in partnership with BC Achievement Foundation, has announced the recipients of the third British Columbia Reconciliation Award.
This award recognizes four extraordinary individuals and two organizations who have demonstrated exceptional leadership, integrity, respect, and commitment to furthering reconciliation with Indigenous peoples in the province of British Columbia, or inspired others to continue reconciliation efforts.
2023 Reconciliation Award Recipients
Individual Recipients:
Organization Recipients:
Last Post Fund – BC Branch (Burnaby)

The Last Post Fund (LPF) is dedicated to ensuring that no Veteran is denied a dignified funeral, burial, or military gravestone due to insufficient funds at the time of their death (read more)

The Exploration Place & Lheidli T'enneh First Nation (Prince George)
"Reconciliation acts as the cornerstone for fostering meaningful connections and bridging the divide between Indigenous and non-Indigenous communities. By acknowledging the historical injustices and illuminating transformative actions, we inspire others to tread the same path," said Cloy-e-iis, Judith Sayers, a member of the board of BC Achievement.
"As we enter the third year of the British Columbia Reconciliation Award, we continue to shine a light on empowering approaches that allow Indigenous peoples to flourish while positively impacting all communities. On behalf of BC Achievement, we take great pride in announcing and commending the accomplished recipients of the 2023 award. Congratulations to the awardees, and heartfelt gratitude for your unwavering commitment to our shared journey of reconciliation."
BC Achievement Foundation has several established programs honouring excellence and inspiring achievement throughout British Columbia, including the Indigenous Business Award and the First Nations Art Award.
"The recipients demonstrate commitment to community, education, and recognizing the challenges of the past while honouring those who came before us," said the Honourable Janet Austin, Lieutenant Governor of British Columbia. "They are an inspiration to me, and to all British Columbians, in their call to do the hard work of reconciliation and support its transformative power to create real change. As always, I am incredibly honoured to be a champion of this award, and to celebrate the accomplishments of the 2023 recipients with British Columbians."
The British Columbia Reconciliation Award draws inspiration from the work of the Honourable Steven Point [Xwĕ lī qwĕl tĕl], 28th Lieutenant Governor of British Columbia, and a founder of the Award. His hand-carved red cedar canoe, Shxwtitostel, currently on display at the BC Legislature buildings, was created as a symbol of reconciliation, with the understanding that "we are all in the same canoe" and must "paddle together" to move forward. In honour of this legacy, this year's recipients will receive a print of a canoe paddle designed by Kwakwaka'wakw artist Jamie Gentry to commemorate the award. Gentry is the Crabtree McLennan Emerging Artist recipient of the 2022 First Nations Art Award.
The selection committee for the 2023 British Columbia Reconciliation Award, including representation from Indigenous Elders and leadership, is:
p̓i·q̓, Dr. Christopher Horsethief – Ktunaxa Nation
T'esóts'en, Patrick Kelly – Leq'á:mel Nation
Nicole McLaren – Métis Nation
Cloy-e-iis, Dr. Judith Sayers – Hupacasath Nation
T,łalisam, Dr. Kim van der Woerd – 'Namgis Nation
Chief/Kúkpi7 Rosanne Casimir – Tk'emlúps te Secwe̓pemc
Xyolholemo:t, Brenda Crabtree – member of the Spuzzum Band with Nlaka'pamux and Sto:Lo ancestry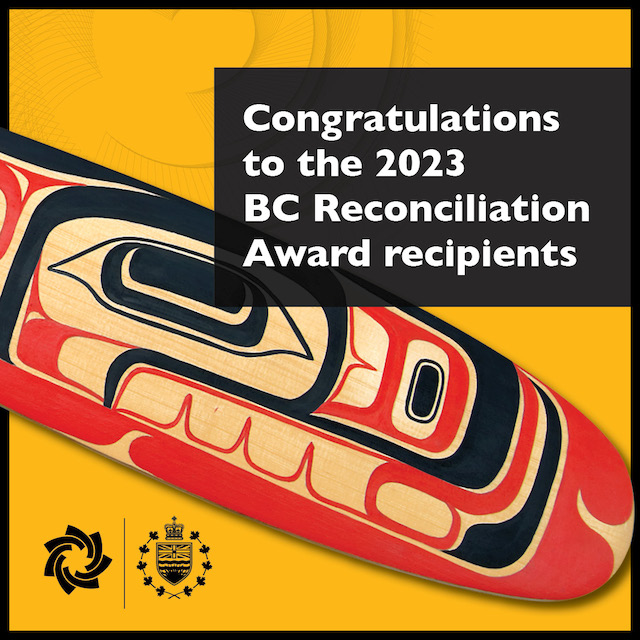 The 2023 recipients of the BC Reconciliation Award will be recognized in a ceremony held at Government House in Victoria in the new year.
BC Achievement is an independent foundation established in 2003 that celebrates the spirit of excellence in our province and serves to honour the best of British Columbia. By recognizing the accomplishments of our province's entrepreneurs, artists, community leaders, youth and volunteers, its award programs pay tribute to exceptional people, doing exceptional work, while carving a path forward for others to follow.
Miss604 is a proud sponsor of BC Achievement Foundation programs in 2023