Local, independent radio promoting local, independent artists! The 2022 Fraser Valley Music Awards are presented each year by CIVL-FM, the University of the Fraser Valley's campus and community radio station. They have a list of 36 nominees in 11 juried categories along with 4 bestowed awards, and $10,170 up for grabs.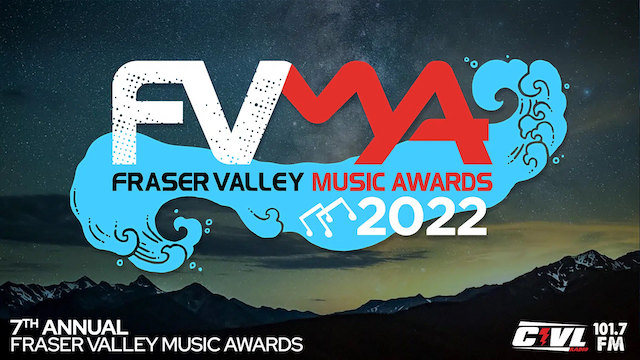 Vote for the Fraser Valley Music Awards
You can vote now in the Dakota Leslie Memorial Fan Vote by selecting three of your top nominee picks from the list below:
2022 Nominees
The winners will be announced July 21st at the Jam in Jubilee in Jubilee Park in Abbotsford. Each winner will receive a cash prize for being the highest adjudicated applicant in their category. The Mission Folk Music Festival will also select their favourite nominee and offer them a performance spot at the Summer 2023 festival.
Two-Time 2021 Winner Etienne Siew
Etienne Siew, who took home two awards in 2021 for Best Country/Roots category, as well as the Top Fan Vote says this of his experience: "Winning Last year's awards really helped me appreciate what I have been working at, it enforced that I am on the right track with music and I am doing what I have always dreamed of, being an original artist who writes impactful stories. The support I received in the fan vote, above all, was an indication that my music is doing something positive for people, and that is really what I have set out to accomplish."
Siew is once again up for nomination in the Juried Country Roots Category. "I am just so honored to have my music considered for a Second Year in The Fraser Valley Music Awards. I feel grateful to CIVL Radio, who are doing an amazing job of highlighting our work as artists and am happy to have my music reaching others in a positive way, it's what I have always wanted."
You can hear Etienne Siew live at The Jam in Jubilee, Abbotsford, at the Hollywood Theatre in Vancouver, Music on the Wharf In Maple Ridge, on the Sunshine Coast at the PowTown Shakedown Music Festival, and The Harmony Arts Festival in West Vancouver in the next three weeks.
About the Awards
The awards, now in their seventh year, are an initiative of CIVL Radio, which was named Canada's #1 Campus Radio Station in 2022, and were first hosted in July 2016 after a year-long grant project funded by the Community Radio Fund of Canada.
Starting in 2020, as an extension of the station's commitment to the region's musicians, and that group's livelihood having been particularly devastated by the effects of COVID-19, the station has put up $10,170 in prizing to be split between the years' winners.