Beyond King Tut: The Immersive Experience is coming to Vancouver in October, and we'll be the first Canadian city to host the highly anticipated exhibition! Developed in partnership with the National Geographic Society, the exhibition commemorates the 100th anniversary of one of the greatest archaeological discoveries of all time.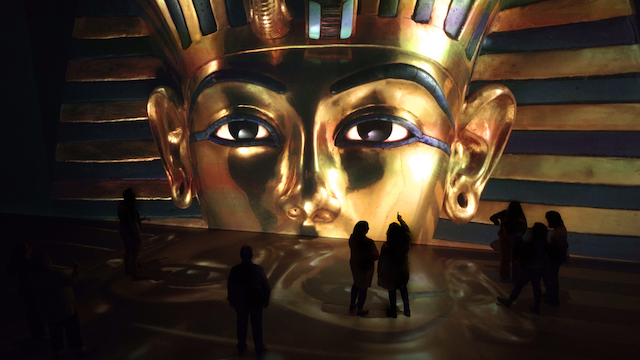 Beyond King Tut in Vancouver
When: October, 2022
Where: Vancouver Convention Centre (1055 Canada Place)
Tickets: Available online now

Tickets are timed and dated, and advance purchase is strongly encouraged with sellouts expected. Prices start at $31.99 for adults and $23.99 for children ages 5-15 (plus ticketing fees). Package rates for families, seniors (on Tuesdays) and groups are available, as well as VIP Tickets, which include a flex ticket for entry, merchandise and entry to the award-winning "Tutankhamun: Enter the Tomb" VR companion experience voiced by Hugh Bonneville.
National Geographic's Beyond King Tut will take visitors on a time-traveling journey flooded with sight, sound and intrigue through the world of King Tut—the boy who reigned as pharaoh of Egypt more than 3,000 years ago—and the discovery of his tomb and treasures in 1922.
The discovery of the intact tomb of King Tut captured the imagination of the world, and the mysteries surrounding the tomb still resonate today. Drawing from the storied archives of the National Geographic Society, the exhibition combines the power of cinematic storytelling and soaring imagery made possible with state-of-the-art projection mapping to invite visitors into the golden king's world like never before.
Beyond King Tut is produced by Paquin Entertainment Group and Immersive Experiences. Paquin Entertainment Group's exhibition portfolio includes the acclaimed Beyond Van Gogh and Beyond Monet exhibitions that have attracted more than 3 million visitors around the world.
The North American debut of the award-winning virtual reality experience "Tutankhamun: Enter the Tomb" will be presented alongside Beyond King Tut as an optional add-on experience. Created by immersive cinematic storytelling company CityLights and voiced by lauded English actor Hugh Bonneville (Downton Abbey), the groundbreaking experience whisks guests through a photorealistic version of King Tut's tomb and all its treasures, just as archeologist Howard Carter and his financier Lord Carnarvon found it when they first peered inside in 1922.
In addition to the premiere of Beyond King Tut, National Geographic is commemorating the 100th anniversary of the discovery of King Tut's tomb in November 2022 with content including a documentary and a National Geographic magazine feature.
Enter to Win
I have a family pack of tickets to give away, here's how you can enter to win!
Win Tickets to Beyond King Tut in Vancouver
Follow on Facebook and Instagram for the latest updates about the exhibition.