September 30 marks the first National Day for Truth and Reconciliation, a day to recognize and reflect on the legacy of residential "schools" in Canada.
If you are looking for a way to commemorate and recognize this day of active listening, and action (on top of wearing an orange shirt, which is a good start) here are a few ways to do so as recommended by the IRSSS (Indian Residential School Survivor Society):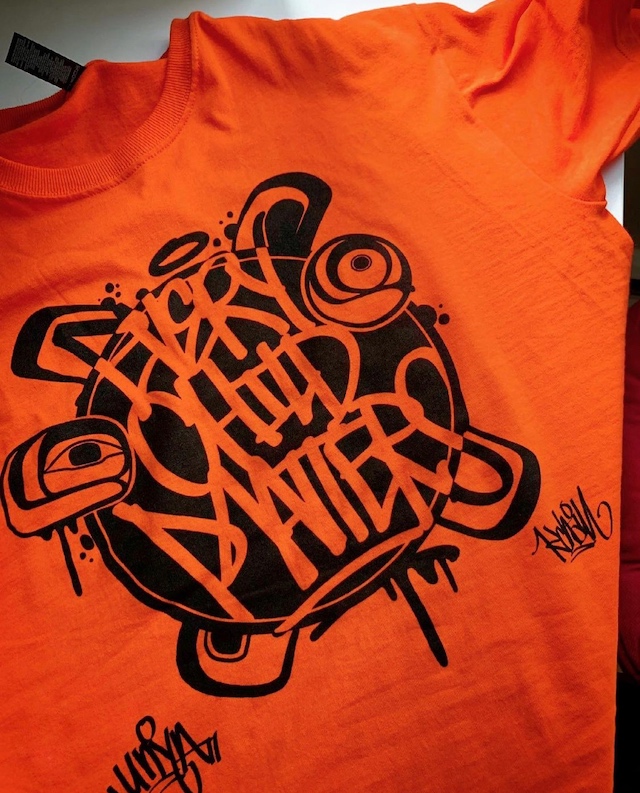 National Day for Truth and Reconciliation
Learn about the impacts of the Indian Residential School system
Read the TRC's 94 recommendations
Contact your MPs and local officials
Actively listen to people of First Nations, Inuit and Métis backgrounds
Stand up to stereotypes, prejudice and systemic racism
Have conversations with your family and friends (even children)
Be respectful towards trauma survivors and elders
Support Indigenous-led community organizations
Be patient, empathetic and receptive (it's distressing for everyone)
Raise awareness in your community and online (wear orange)
For support:

IRSSS Toll-Free Line: 1-800-721-0066 (24-Hours)

National Crisis Line: 1-866-925-4419
KUU-US Crisis Line: 1-800-588-8717
Tsow-Tun-Le Lum: 1-888-403-3123
Tune In
Start your day with CBC Vancouver's award-winning reporter Angela Sterritt for a special, province-wide edition of The Early Edition featuring conversations with residential school survivors, activists, youth and community leaders about the meaning of this day and the journey to come. Tune in from 5:00am to 8:30am. There will be more programming throughout the day on CBC Radio Vancouver, CBC Gem and CBC TV.
Books
Here are my two favourite book-sellers/community builders in Metro Vancouver. They both post awesome recommended reads on their social media quite often, and they're both Indigenous-owned and operated. Give them a follow:
Films
On September 30th the First Nations Caring Society will make its documentary "Spirit Bear and Children Make History" available and free to the public all week. The NFB has also created a learning plan for teachers and students that includes four Indigenous-made films for mini-lessons.
Get Educated
Nahanee Creative is launching five new on-demand mini-courses on September 30th. Learn about: Territorial Acknowledgements, Cultural Protocols, Empathy & Safety, Decolonizing Practices, Restorying Colonialism, Etiquette for Allies, and/or Decolonizing Identity 101.
SEPT 30: National Day of Truth & Reconciliation – Angela White, executive director of IRSSS, suggests what Canadians can do to acknowledge the ongoing legacy of residential schools, to honour survivors and intergenerational survivors, and to remember those who didn't come home. pic.twitter.com/xspdvQu2SH

— IRSSS (@IRSSurvivor) September 29, 2021
Events
Check with your local community to see if there are any public events for everyone to attend. Here are a few that I found in Vancouver, Surrey, New Westminster, and Whistler.
Recommended Follows
Here are some Indigenous women-led businesses I have been following on Instagram. They not only have amazing products, they uplift and promote their communities:
You can also donate to causes such as the IRSSS and Indigenous organizations in your community, like UNYA (Urban Native Youth Association). Support Indigenous-led businesses, check out Indigenous artists and exhibitions, and continue to honour and observe throughout the year.
History of Residential Schools
Content Warning: Trauma, Abuse, Death
[Via the City of Vancouver]
"From the 1870s to 1996, Canadian governments removed more than 150,000 Indigenous children from their families and communities. Children were forced into residential schools, including the St. Paul's Indian Residential School in North Vancouver. As a result, children suffered familial and cultural alienation, loss of their Indigenous languages and identities, and severe mental, emotional, physical and sexual abuse.
Estimates are that more than 6,000 Indigenous children died while attending Canada's Indian Residential School System. This has negatively impacted all Indigenous people, communities and all Canadians. Moreover, the harm has extended over time and ongoing impacts of traumas experienced at Residential Schools continue to be felt throughout generations."