I have been meaning to put together an Indigenous Gift Guide for Shopping Local this season, inspired by the amazing artists and businesses I've been following on Instagram so I'm thankful that Indigenous Tourism BC has put it together for me! Thanks to their timely email, I present a list of gift-giving ideas that support local and Indigenous businesses. Shop incredible art at local galleries or browse a variety of other gift ideas from local retailers with the safety of secure online shopping.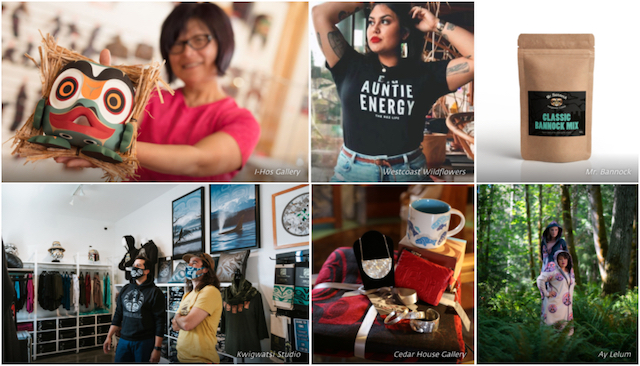 Indigenous Gift Guide for Shopping Local
This gift guide supports Indigenous economies and communities, and ships from unceded Indigenous Lands across British Columbia. Add Indigenous art to your cart and strengthen a digital economy rooted in care for the land and each other.
Vancouver Area & Online
Bill Reid Gallery: Featuring traditional and contemporary artwork and accessories, including hand-painted sculptures, fine jewellery, and art prints. This charitable organization also has two street-level locations. Proceeds from all purchases support local Indigenous artists and artistic and educational programs.
Skwachays Gallery: The first Indigenous boutique hotel in Canada. Skwachays hosts an in-house gallery with online shopping services featuring Indigenous artwork, including original paintings, framed limited edition prints, jewelry, pottery, wood carvings, and giftware. A social enterprise owned and operated by Vancouver Native Housing Society.
Stó:lō Gift Shop: Located at Stó:lō Nation on the Coqualeetza grounds. Shop in-person from 9:30am to 4:30pm on weekdays or online anytime for local, one-of-a-kind, authentic Indigenous and Indigenous-inspired arts, crafts, paintings, prints, glassware, cards. Pick up your online order at the store in Chilliwack or have it shipped directly to your door.
Heaven N Earth Native Art Gallery and Cultural Studio: (340B Wallace St, Hope) Teresa Walker & Brook Tobacco are a mother/daughter team and company who make authentic hand made indigenous products featuring items such as mixed media bead work, pine needle, birch bark, cedar bark jewelry and baskets. Including an assortment of drums, rattles, leather work, bone, semi-precious stone and medicine products, from the Nlhazkampx, Okanogan, Lakota, and Cree nations.
Whistler & Online
Squamish Lil' wat Cultural Centre: Authentic and exclusive handcrafted Northwest Coast First Nations art and merchandise. Shop online or visit the centre and choose from a selection of Indigenous handcrafted works of art, home accents, clothing and accessories, jewellery, pottery, baskets, and books. This is where I purchased my favourite face mask!
Okanagan & Online
Coyote's Gifts at Nk'Mip Cultural Centre: Open weekdays for holiday shopping from 9:00am to 3:30pm in Osoyoos. Download a coupon from their website to receive a 10% in-store discount on handcrafted, locally made items and Indigenous-inspired jewellery, moccasins, housewares, blankets, clothing, and toys.
Syilx Trail Gift Store & Gallery: Located at Lake Okanagan Shopping Mall on Westbank First Nation Lands in the unceded territories of the Syilx People and currently open daily from 10:00am to 6:00pm.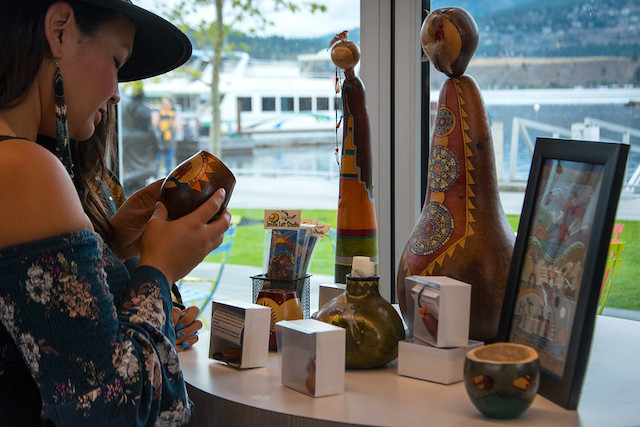 Vancouver Island & Online
Culture Shock Gallery: Indigenous owned and operated, rooted in the rich traditions of the 'Namgis people of the west coast of Canada. Cedar, silver, and abalone are the mood in this Alert Bay gallery.
U' mista Cultural Centre: Open weekdays from 12:00pm to 4:00pm in Alert Bay, Kwakwa'ka'wakw Territory. Order one-of-a-kind hand-carved masks and prints by popular Indigenous artists online for pickup within four hours. Free shipping within Canada and the US for orders over $100 CAD.
I-Hos Gallery: Traditional and contemporary Indigenous art from the Northwest Coast, including masks, prints, gold and silver jewelry, and wood carvings. The physical gallery is located between Courtenay and Comox on Vancouver Island, on the original K'ómoks Village site.
Cedar House Gallery: Gallery, studio, and centre for community and conversation in Ucluelet. Owned by a Tla-o-qui-aht artist, the gallery is currently open by appointment. The art showcased is made by local Nuu-chah-nulth artists and Indigenous artists from around British Columbia.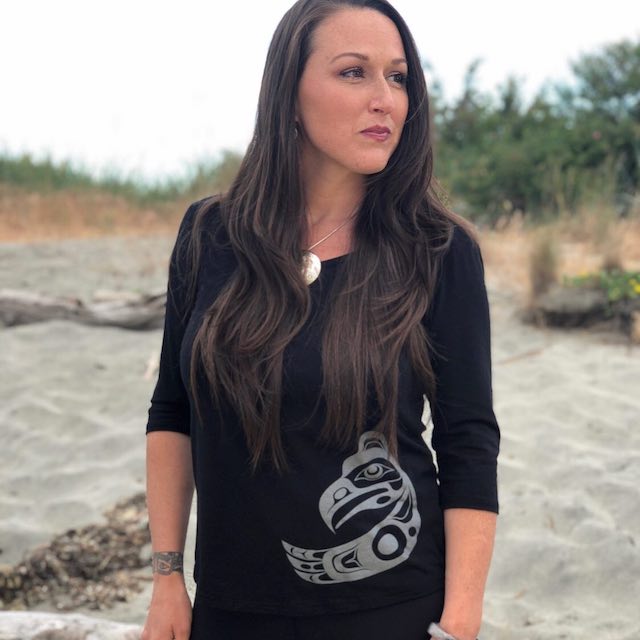 Wildflowers & Co.: This new online shop based in the unceded traditional territory of the Ligwiłda'xw people (Campbell River) strives to stock its digital shelves with 75% local and 25% North American products. Wildflowers & Co. supports small shops, women in business, and Indigenous small business owners. Local and high-quality products, including apparel, jewelry, home decor, and artwork.
Totem Design House – Kwigwatsi Studio: Eco-friendly, locally made in Comox. Open Saturdays 10:00am to 4:00pm until Christmas. Primarily a production facility, the showroom in K'omoks First Nation territory is open by appointment. The Studio contributes to Indigenous youth programs and assists in fundraising efforts for Indigenous communities.
House of Himwitsa Native Art Gallery: Indigenous-owned, specializing in sharing the culture of the Nuu-chah-nulth People — the People who live "all along the mountains and the sea" on the West Coast of Vancouver Island. Add artwork, carvings, jewellery, and weaving by local artists to your online shopping cart.
Ay Lelum–the Good House of Design: A second-generation Coast Salish design house in Nanaimo. The new 2020 Fall and Winter Season Yuxwule' Sul'sul'tun Eagle Spindle Whorl Collection is available on their website and contains ready-to-wear and couture pieces.
Thanks to everyone for sending in their suggestions! Here are a few more local favourites:
Salish.Design: An Indigenous family run fashion company in the Cowichan Valley. Artists include Joe Wilson, Doug LaFortune, Dylan Thomas, Margaret August, and lessLIE. Artists receive royalties off of every sale.
Crowfoot Collective: Indigenous-owned boutique in the heart of Cowichan Bay carrying Local and global goods. All handmade, Fair Trade and ethically sourced. Featuring Jewelry by Claire Crowfoot Jewelry.
FINAWear: Shop online for unique articles of clothing or accessories produced on demand and custom made for you. From masks and shirts to leggings, dresses and scarves. Each product featured Indigenous art created by Gitxsan artist Shar Wilson.
Sisters Sage: Shop online for hand crafted beautiful modern self-care and wellness products using traditional Indigenous ingredients. Artisan soaps, bath bombs, salves and smokeless smudge honors ancestral teachings of sage, cedar, sweetgrass, lavender and more.
Scarlett J Designs: Shop online for 100% cotton face masks with beautiful Indigenous designs. Each mask is hand cut and hand sewn by Scarlett. Functional, fashionable.
And this listing is not local, but it's a really cool story:
9-year-old entrepreneur Mya Beaudry won 3rd place at 2020 Pow Wow Pitch for her 'kokom scrunchies'. She says for her, scrunchies are a way to honour inspirational Indigenous women. She sells them online in a variety of beautiful, colourful designs.
If you have a business to add, please leave a comment on this post or reach me through my contact page and I'll include it. Thanks!
Related: MOV Webinar: Shopping Indigenous First; Indigenous Tourism BC App; Indigenous Cultural Centres in Southern BC