Orange Shirt Day (September 30th) recognizes and raises awareness about the Indian residential school system in Canada, and joins us together in the spirit of reconciliation, to honour the experiences of Indigenous Peoples. Between the late 1800s and 1996, more than 150,000 First Nations, Métis and Inuit children attended residential schools – Orange Shirt Day commemorates this legacy.
Orange Shirt Day 2020
On this day of September 30th,
we call upon humanity to listen with open ears to the stories of survivors and their families, and to remember those that didn't make it.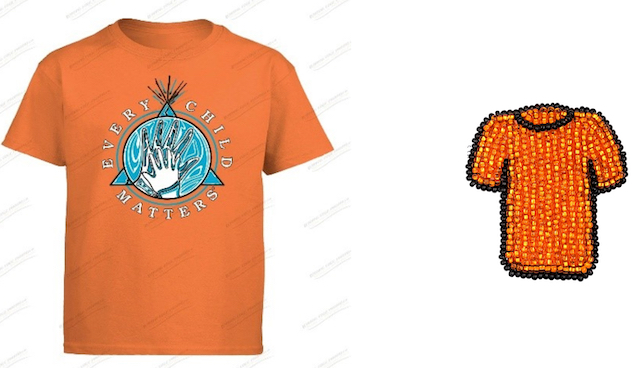 Orange Shirt Day Origins
Phyllis (Jack) Webstad, Executive Director of the Orange Shirt Society writes:
"I went to the Mission for one school year in 1973/1974. I had just turned 6 years old. I lived with my grandmother on the Dog Creek reserve. We never had very much money, but somehow my granny managed to buy me a new outfit to go to the Mission school. I remember going to Robinson's store and picking out a shiny orange shirt. It had string laced up in front, and was so bright and exciting – just like I felt to be going to school!

When I got to the Mission, they stripped me, and took away my clothes, including the orange shirt! I never wore it again. I didn't understand why they wouldn't give it back to me, it was mine! The color orange has always reminded me of that and how my feelings didn't matter, how no one cared and how I felt like I was worth nothing. All of us little children were crying and no one cared."

Continue reading…
Orange Shirt Day is a legacy of the St. Joseph Mission ("SJM") Residential School (1891-1981) Commemoration Project and Reunion events that took place in Williams Lake, BC, Canada, in May 2013. This project was the vision of Esketemc (Alkali Lake) Chief Fred Robbins, who is a former student himself. It brought together former students and their families from the Secwepemc, Tsilhqot'in, Southern Dakelh and St'at'imc Nations along with the Cariboo Regional District, the Mayors and municipalities, School Districts and civic organizations in the Cariboo Region.
The events were designed to commemorate the residential school experience, to witness and honour the healing journey of the survivors and their families, and to commit to the ongoing process of reconciliation.
The date, September 30, was chosen because that was the time of the year the trucks and buses would enter the communities to "collect" the children and deliver them to their harsh new reality of cultural assimilation, mental, sexual and physical abuse, shame and deprivation.
How to Participate
The 2020 design (image above), by Jackson Eiteneier, a grade 9 student in Calgary, is available online for $15 from the Orange Shirt Day Society here. You can also purchase beaded lapel pins from Tribal Roots online here.
In Vancouver, you can buy a beautifully designed shirt with artwork by local artist KC Hall from the Urban Native Youth Association ("UNYA") and wear your shirt on September 30th. Call the office at (604) 254-7732 to order and arrange pickup.
Update 2021
Please note UNYA no longer has these shirts available.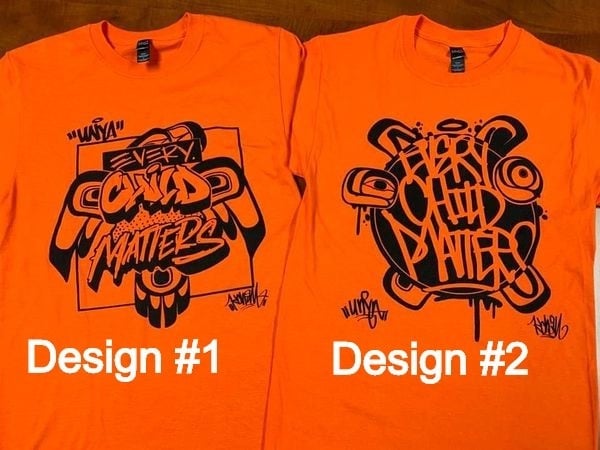 You can also participate in online dialogues and talks presented by UBC's Indian Residential School History and Dialogue Centre ("IRSHDC") on September 22nd and September 30th.
UPDATE June 2021 Totem Design House has released limited edition Andy Everson Every Child Matters shirts with 100% of proceeds going to Copper Legacy Indigenous Empowerment Society for the development and facilitation of an Indigenous Youth Suicide Prevention Program.
UPDATE June 2021 Make Vancouver has new KC Hall designs available with 100% of proceeds going to UNYA. London Drugs has also become a retail partner of official Orange Shirt Day shirts.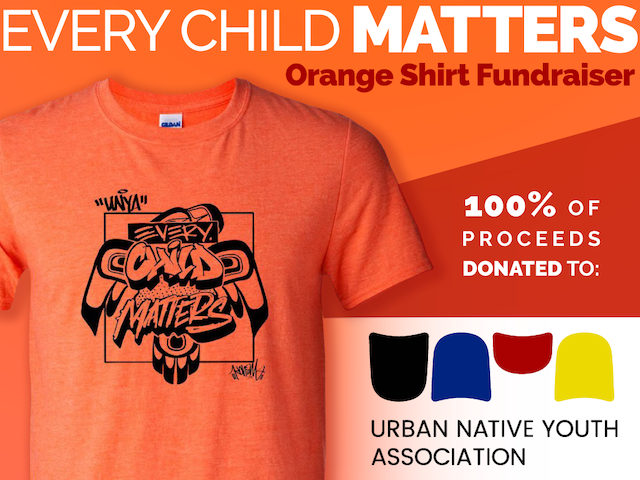 Hope and Health for All has t-shirts available, designed by Maynard Johnny Jr.
London Drugs also has Orange Shirt Day designs available in their stores.
Orange Shirt Day is an opportunity for First Nations, local governments, schools and communities to come together in the spirit of reconciliation and hope for generations of children to come. Follow the campaign on Facebook and YouTube here and wear your orange shirt on September 30th to show your support.
Update 2022