Knowledge Network, British Columbia's public broadcaster, announced today the debut of the landmark documentary series British Columbia: An Untold History. Premiering on October 12, 2021 at 9:00pm, the new docu-series takes an unflinching look at BC's complex history while offering viewers a chance to learn about diverse stories from a more inclusive lens that they may not have known before.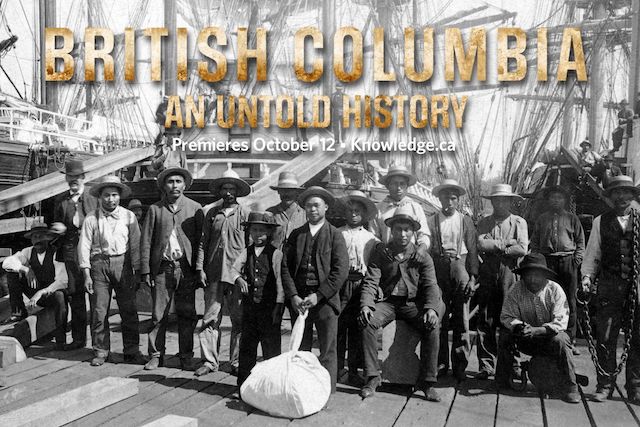 British Columbia: An Untold History
With episodes releasing weekly, the thought-provoking series about the province will take viewers on a journey from the late 18th century and spanning 200 years. The project offers a more inclusive and diverse perspective as told from those who have lived and studied BC's shared past and features the voices of authors, historians, Elders, and descendants of historical figures. Indigenous, Chinese, Japanese, Punjabi, Black, and European stories are woven together to present an astute look at the complicated past that shaped the province as we know it today.
"So much about what we are taught about our province's history is learned in school, but there are so many facets to history that do not make the classroom," said Rudy Buttignol, President & CEO of Knowledge Network. "We wanted to create a series that explores B.C.'s complicated history even further by showcasing stories and amplifying voices that were previously silenced by mainstream interpretations."
Executive Produced by Screen Siren Pictures' Trish Dolman and produced by Leena Minifie from Stories First Productions, the series is commissioned by Knowledge Network, and written and directed by Kevin Eastwood. From set to screen, those involved in the development of the series emphasized inclusion and equity from the selection of commentators to hiring protocols ensuring a more diverse crew.
"It was incredibly important to us that the series is as authentic as possible and in order to do so, we interviewed over 70 individuals and researched over 10,000 archives to put this project together, and have developed alongside the series an online history database that is incredibly impressive and in depth," said Leena Minifie, Producer of British Columbia: An Untold History. "We want this series to be a platform for members of Indigenous, Chinese, Japanese, South Asian, and Black communities to share some of their stories with an audience who may not have heard them before, and through that allow viewers to take away their own understanding of the past and challenge how they think about our province's diverse history today."
British Columbia: An Untold History will air on Knowledge Network on Tuesdays from October 12 to November 2, 2021 at 9:00pm. The series will also be available to stream for free across Canada on the Knowledge website and on the Knowledge Network app.