There's a new meal kit delivery service in Metro Vancouver! Founded by Chef Marie Grapé, MANNA Sacred Meals is a plant-based meal delivery subscription program that helps people enjoy better tasting plant-based meals in their homes. Whether you prefer a vegan, vegetarian, flexitarian or pescatarian diet, each delivery includes four-to-six servings per person, per week.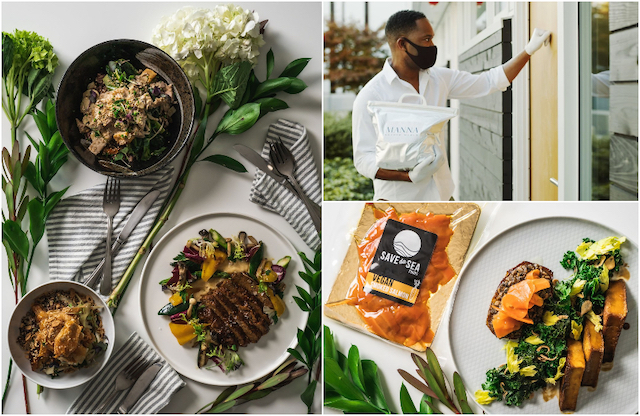 MANNA Sacred Meals
MANNA launched in November 2020, offering restaurant-style meals delivered weekly to homes from Vancouver to Chilliwack, and all the way up the Sea to Sky to Whistler. The menu is always curated to deliver both full flavour and balanced nutrition. The comfort of familiar meals will always be found in each week's menu but there are always some tantalizing dishes to try that are out of the ordinary like Ital Stew and Jerkstyle Tofu.
Additional menu options include BBQ Pineapple Tofu Bowl, Stir Fried Udon, Coconut Peanut Tofu, Sichuan Chilli Eggplant with Tofu, Truffle Wild Mushroom Pasta and more!
Zero Waste Packaging
As the first ready-made meal delivery company to be a member of the Recycling Council of BC, MANNA Sacred Meals offers a near zero-waste packaging model that takes up little room in the refrigerator and many items can be frozen. Most meals are packed in sleek plastic BPA-free and FDA-approved sous-vide pouches that make reheating the meals perfectly as easy as boiling a pot of water. MANNA closes the loop for their customers by picking up all used packaging to clean, wash and dry before dropping the packaging off to be properly recycled at a local Recycle BC facility. By diligently following the guidelines of the BC Recycling Regulation, MANNA ensures no materials are burned, buried, or enter waterways and oceans.
A partnership with Charitable Impact means 5 per cent of subscription fees are donated to a Canadian charitable organization of the customers' choice while an ongoing subsidy for frontline workers ensures those at the forefront of the pandemic can save time on meal preparation and access healthy meals with 40% off weekly meal delivery subscriptions.
Prices range from $79 for one person to $289 for a family of four. Larger orders are also possible, as well as corporate catering. Deliveries are made between 12:00pm and 8:00pm every Monday, around the Lower Mainland.
Follow MANNA on Facebook for more info.