My list of Christmas activities in Vancouver for 2020 is sure looking different, as with pretty much everything else this year (2019 for comparison). Some popular events are going ahead with special measures and precautions in place, others are cancelled entirely. Some events are moving online, while others are switching up to a drive-through or changing to a ticketed/timed entry system.
Christmas Activities in Vancouver 2020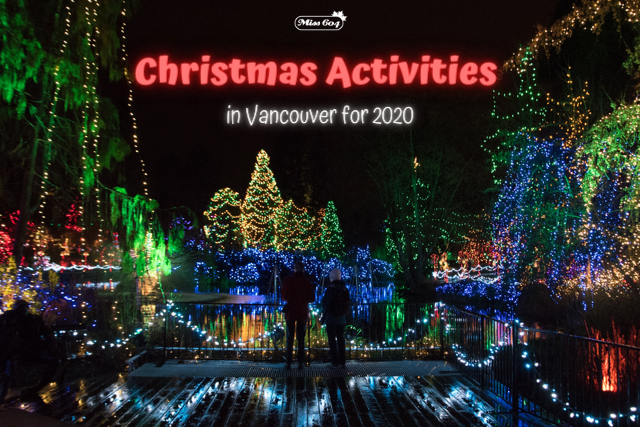 Please read the details of each event carefully on their websites, book online or by phone when necessary, and have a face covering handy for in-person experiences. Here are some options for holiday entertainment and fun with health and safety in mind:
Free Christmas Activities in Vancouver
UPDATE November 19, 2020: New provincial health orders/restrictions today limit social interactions and gatherings including those under 50 people, that were previously allowed. This is for a two week period. Check each website below for the latest updates and cancellations, or postponements.
UPDATE December 7, 2020: The social gathering restrictions have been extended until January 8, 2021 with the exception of drive-through events (with your household only).
Lights of Hope at St Paul's, Hope at Home
When: November 19, 2020 from 6:00pm to 6:40pm (launch)
Where: Online (and in person)
About: A livestream of the display will be available online from November 19th until January 4th. For those wanting to visit the display in person throughout the holiday season, please remember to do so safely, with "fewer faces and bigger spaces." Limited edition Hope at Home holiday star lanterns are also available for purchase to show your support for Lights of Hope from home.
Lumière Vancouver
When: English Bay Extended until February 2021
Where: Jim Deva Plaza, English Bay (West End, Vancouver)
About: Returning to the foot of Denman Street is local favourite, "Davie", a stunning, illuminated 24-foot-tall grizzly bear. Davie joins Luna, Stanley and Eugenia, a collection of nature-inspired light sculptures at English Bay. Lumière is also delighted to be bringing a new light installation to Vancouver this year, Prismatica, created by RAW Design.
Surrey Tree Lighting Festival
When: Saturday, November 21, 2020
Where: Online (then Surrey City Hall Plaza)
About: Hosted by Santa and Mrs. Claus, this year's online event connects everyone at home on Facebook and YouTube Live. The livestream will feature performances from Warren Dean Flandez, Ashley Pater Music, Zaac Pick, DACEY, Quinn Pickering and more.
Vancouver Tree Lighting
When: Friday, November 27, 2020 at 6:00pm
Where: Watch online
About: From the comfort of your home watch Amacon and CTV Vancouver as they officially light the 75 foot Amacon Christmas Tree. With over 1150 branches and over 100,000 lights the tree stands as a beacon of light this holiday season and a perfect place to take that holiday selfie through December. Post a pic in front of the tree and tag @amaconlivewell to show off your holiday spirit. Amacon will donate to the Vancouver International Children's Festival as part of its 'Light It Up' campaign that has raised over $1 million for local charities.
Cloverdale Christmas Tree Tour
When: December 1-18, 2020 from 9:30am to 4:30pm
Where: Museum of Surrey (17710 56a Ave, Surrey)
About: Visit Museum of Surrey to see trees custom decorated by 25 Cloverdale businesses. Pre-registration is required so we can keep attendance numbers low and maintain ample space for social distancing. Book your one hour spot early to see the trees and tour the museum after.
Holidays at Highstreet
When: Until January 1, 2020 12:00pm to 6:00pm (9:00pm Fri/Sat)
Where: 3122 Mt. Lehman Road, Abbotsford (Exit #83 off Hwy 1)
About: Holidays at Highstreet will include five unique Instagrammable installations by Canadian artists that you can enjoy safely at a distance. Free to register, book your spot online in advance.
Forest of Miracles
When: December 5 to January 2, 2021
Where: Dundarave Beach
About: West Vancouver celebrates the Christmas season with its Festival of Lights event at Dundarave Beach. Area businesses and community organizations decorate Christmas trees which are then on display for the month of December. They are pretty to see at night, and on the four Saturdays leading up to Christmas there is usually live entertainment and other family-friendly activities at the beach. In 2020 the festival just features the Forest of Miracles Christmas tree displays. No live events are happening because of COVID-19.
27th Annual Winter Solstice Lantern Festival
When: December 21, 2020 at 6:00pm
Where: Zoom
About: Join the annual Winter Solstice Lantern Festival online and share your homemade creations as we zoom into a new world of virtual connection and community building.
Activities with an Admission Fee
Steveston Festival of Trees
When: December 1-24, 2020 daily 10:00am to 5:00pm
Where: Gulf of Georgia Cannery (12138 Fourth Ave, Richmond)
Tickets: Regular admission rates apply: Adults $11.90, seniors $10.20 , youth under 17 and society members free. Admission by donation on Sundays December 6, 13 & 20.
About: Explore a forest of festive trees decorated by local merchants and organizations inside Steveston's Gulf of Georgia Cannery National Historic Site. More details to follow.
PNE WinterLights
When: December 11 – 13 and 17 – 28, 2020 * more dates added
Where: PNE Gate 9 – east of Playland, off Bridgeway Street
Tickets: Available online now (carload of four or less $39, five or more $49).
About: Buckle up for this safe, holiday experience that you can enjoy with your family from the warmth of your car along a two-kilometre route. You will be transported through nine enchanted lands filled with glowing lights in your mission to discover Santa, with special characters and festive performers to help you along your way. *Extended until January 3, 2021. Additional dates go on sale at 10:00am, Wednesday, December 16. Limited additional tickets to other dates will be released as well.
Grouse Mountain Peak of Christmas
When: November 20 to January 3, 2021
Where: Grouse Mountain
Tickets: Advance SkyRide reservations required. Peak of Christmas activities are all complimentary with a Mountain Admission Ticket, Annual Membership, Winter Season Pass, or Lift Ticket.
About: Enjoy the natural beauty of Blue Grouse Lake, lit by breathtaking light installations. Stroll through the light tunnel and marvel at new additions including a magnificent lit deer. Experience the tranquil beauty of skating on our 8,000 square foot mountaintop Ice Skating Pond, surrounded by snow-topped trees.
FlyOver Canada Christmas
When: November 19 to January 3, 2021 Temporarily Closed
Where: 201 – 999 Canada Place, Vancouver
Tickets: Take advantage of Kids Ride Free and visit during the week. From Monday to Friday with the purchase of any adult ticket get complimentary admission for one child, a cookie and 50% off a souvenir photo.
About: The magical flight takes you across Canada and on to the North Pole.
Capilano Suspension Bridge Park
When: Daily 11:00am to 6:00pm
Where: 3735 Capilano Road, North Vancouver
Tickets: Available online in advance only
About: While Canyon Lights special activations and activities cannot go ahead as planned due to restrictions, Capilano Suspension Bridge Park is open with lights on, and safety measures in place, during the day.
Maan Farms Grinchmas Drive Through
When: December 18-20, 2020
Where: Maan Farms, (790 McKenzie Rd Abbotsford)
Tickets: Available online now
About: Feel safe bringing your loved ones to indulge in some festive food and fun with The Grinch from the comfort of your vehicle. Drive up with the whole family and enjoy either a Chocolate Berry Crepe or Grinch Ice-Cream and add-on gifts. The Grinch and his helpers will bring you your Breakfast in a safe way. Visitors must remain in their vehicle at all times.
BONUS: Check out this list of holiday theatre in Vancouver, that can be streamed online from home.
Cancelled Events and Activities
Confirmed cancelled so far:
Rogers Santa Claus Parade in Downtown Vancouver
CP Holiday Train
Vancouver Christmas Market
Lights at Lafarge Lake in Coquitlam
Surrey Santa Parade, Drive Through
Christmas at Canada Place
Bear Creek Park Christmas Train
Burnaby Village Museum
VanDusen Festival of Lights
Canyon Lights at Capilano Suspension Bridge Park
Bright Nights in Stanley Park
Follow Miss604 on Twitter and Instagram for more holiday inspiration and if you know of any activities to add to the list, leave a comment or send a note here to have it included for free.