It's time for Miss604's annual list of what's open on Christmas Day in Vancouver! If you're looking for family fun or just couldn't get around to some of these holiday activities before the big day, you're in luck. Here are a few things to do:
Open on Christmas Day in Vancouver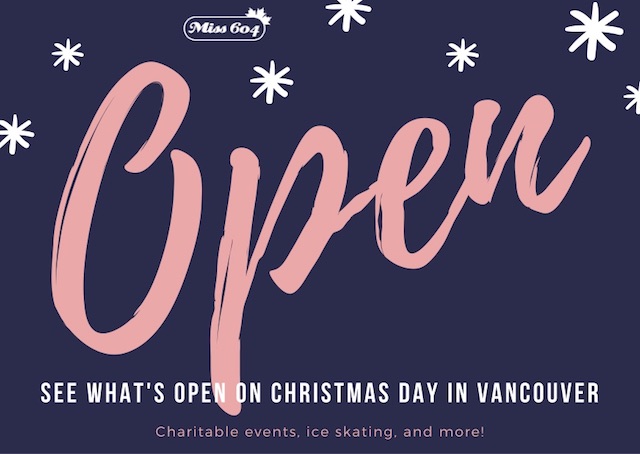 The Robson Square Ice Rink will be open for skating on Christmas Day from 12:00pm to 5:00pm.
The Vancouver Aquarium will be open from 11:00am to 4:00pm.
Local Mountains: Visit the Peak of Christmas at Grouse Mountain for some mountaintop ice skating, skiing, or snowshoeing. Cypress will also be open for snowshoe, nordic, and downhill.
Recreation: Hillcrest pool will be open 9:00am to 4:00pm on Christmas Day and the Hillcrest rink will have a public skate 2:30pm to 4:00pm. Kitsilano fitness centre will be open 9:00am to 5:00pm, Trout Lake community centre will be open 10:00am to 4:00pm, and Kerrisdale Cyclone Taylor Arena will have a public skate 12:00pm to 1:30pm.
Light Displays: The free 1.2km trail of Lights at Lafarge Lake in Coquitlam will turn on as usual at dusk. Also free, the Park & Tilford Hi-Light Festival's 150,000 lights on display over 3 acres will be open, along with Christmas at Canada Place along the waterfront in Downtown Vancouver.
Charity Events: Attend the White Spot Christmas Lunch which supports the Richmond Hospital Foundation and Variety – The Children's Charity.
If you have any other events to add, send them in via the contact form and I'll include them. Thank you!
Subscribe to the Weekly Events Newsletter
If you wish to receive this weekly/weekend event list right to your email inbox, please sign up for the new Miss604 Weekly Events Newsletter below. It will be sent once a week, only to those who opt-in.
Follow Miss604 on Facebook, Instagram, and Twitter for more event news throughout the year.