The 42nd Vancouver Folk Music Festival takes place July 19-21, hosting a diverse and musically rich roster of artist at Jericho Beach Park. The lineup promises an extraordinary celebration of music and culture, in what is one of the most beautiful locations for an outdoor music festival anywhere!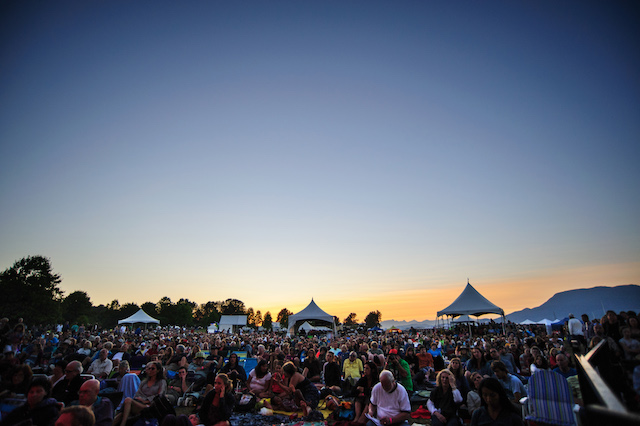 Vancouver Folk Music Festival
When: July 19-21, 2019
Where: Jericho Beach Park, Vancouver
Tickets: Available online now or by phone (604) 602-9798. Kids 12 and under are free and can enjoy the the whole festival too, and a Little Folks Village.
Musical acts will play great music on five daytime and two evening stages, in a family friendly gathering of over 40,000 enthusiastic attendees at Jericho Beach Park.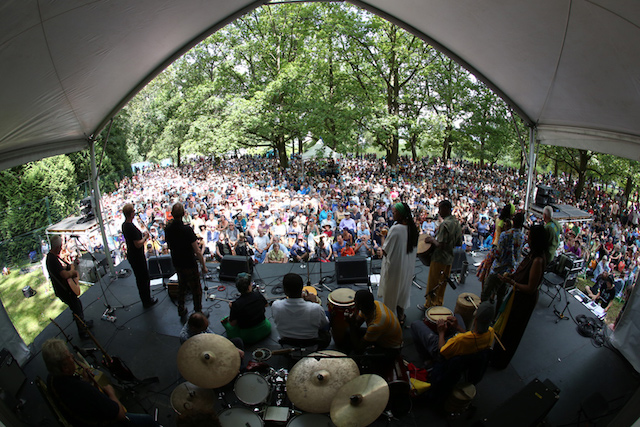 The Vancouver Folk Music Festival has always taken pride in being inclusive, diverse, expansive in their definition of "folk" music, and this year's line-up reflects that. They've programmed a festival that's truly global in spirit, broad and eclectic in range, with something for everyone.
7 Things You Can't Miss at the Festival
1. Corb Lund – Everyone's favourite real Albertan cowboy, is headlining the festival Main Stage on Friday, July 19th. Corb Lund's distinct blend of Americana-meets-roots-meets-alt-country has attracted accolades from critics in Canada and the US, who have called him "one of the best contemporary country songwriters". Joining Corb on the Main Stage on Friday are roots rockers Larkin Poe, francophone folk group Le Vent Du Nord, and Northern Ontario Cree band Midnight Shine. A great way to kick off the festival!
2. Pete's Eats – Fabulous Food For Famished Folkies! You certainly won't go hungry at this year's Vancouver Folk Music Festival. The festival offers a variety of tasty treats, from meals to snacks at various locations throughout the park. There's something for every taste, including vegetarian, gluten-free, lactose or dairy-free, Kosher or Halal, and sugar-free/low calorie options. And there's even an adult beverage garden serving a fine selection of BC wines and craft beers! See full listing of food trucks and concessions here »
3. Festival Workshops – If you're an avid folk festival goer, then you know that a lot of the magic happens at the festival workshops. It's your chance to see many of the festival artists perform and interact in an intimate space. And there's even the opportunity to learn a thing or two as well – the 2019 workshop schedule includes a Learn To Play Ukulele workshop on Saturday, July 20th! See the full Saturday and Sunday workshop and concert schedule here »
4. Zaki Ibrahim – The pick for breakout artist at this years festival, South African-Canadian artist Zaki Ibrahim is a globally distinguished singer, songwriter, and producer known for making music that defies any one genre. Ibrahim has emerged as one of Canada's hip hop and soul icons, collecting two Polaris Music Prize nominations (shortlisted in 2013 and longlisted in 2018) and a Juno nomination for R&B/Soul Recording of the Year in 2009. Ibrahim will be performing at the Festival on Saturday, July 20th, check the schedule for times and locations. Don't miss out on the opportunity to say you saw Zaki perform before she was big.
5. Little Folks Village – Vancouver Folk Music Festival has always been a family friendly event, and that continues this year with free admission for little folks under 12 when accompanied by a paid adult. The Little Folks Village is open all 3 days of the festival and includes plenty of entertainment and activities including: a Face Painting Station, a Musical Zoo Playground, Madskillz Roving Performers, and so much more! Get a full listing of all activities and hours of operation here »
6. Sam Roberts – Headlining the Main Stage on Saturday, July 20th, The Sam Roberts Band brings the Canadiana to this year's VFMF. Known for their legendary live show, the fiery spirit of Sam Roberts Band has carried them to stages everywhere from Letterman and Conan to Bonnaroo, Austin City Limits, Lollapalooza, and Bumbershoot, and alongside heroes like the Rolling Stones and AC/DC.
7. Artisan Market and Folk Bazaar – If you really want to get your folk on at this year's festival, make sure you attend the Artisan Market and Folk Bazaar. It's your chance to peruse the work of some of the finest artisans and artists around, and is a fabulous place to shop for the beautiful, the useful, and the one-of-a-kind. It's also a great place find a new boho chic festival outfit, or even just a new scarf or hat! Get location info here »
Follow the Vancouver Folk Music Festival on Facebook, Twitter, and Instagram tag #VFMF2019 for more information and get your tickets today.