Tigh-Na-Mara is a legendary Parksville getaway, and by legendary I mean if I speak the words "Tigh-Na-Mara" or "Grotto Spa" in casual conversation around Vancouver the common response is: "Ooooh, so amazing!" This seaside getaway, with spa bungalows, forest cabins, and oceanfront villas offers year-round dining, spa experiences, endless sandy beach walks, and those epic east coast Vancouver Island sunrises.
Happy Birthday, Grotto Spa
This year, Tigh-Na-Mara is celebrating the 15th anniversary of the Grotto Spa, which isn't just your regular spa! Sure, you can pop in for a mani, pedi, facial, or massage treatment but the key is to made a full day out of your visit. Live in your robe. Hang out under the waterfall in the mineral pool, then head upstairs for a treatment or for endless tapas in the Treetop Tapas & Grill.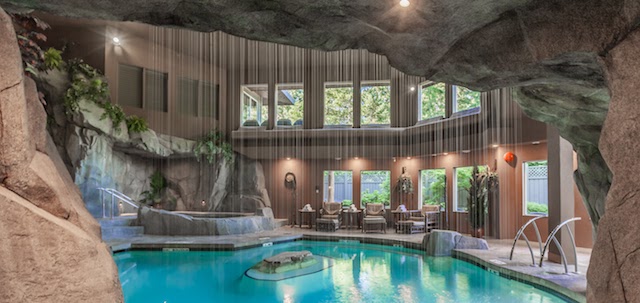 I'll never forget the first time John and I had a couples' massage at the Grotto Spa about 10 years ago. We both came out of the room trying to walk, but instead we looked like a newborn fawn learning how to work its legs. One of the therapists said: "Spa drunk, it's a thing." We made our way to the lounge, sipped some cucumber water, melted into the fluffy blankets, and totally blissed out. John still relishes his first "Spa Drunk" moment – that involved no alcohol whatsoever. Side note: If you do want alcohol, the wine and cocktail selection at the Treetop Bistro will hit the spot.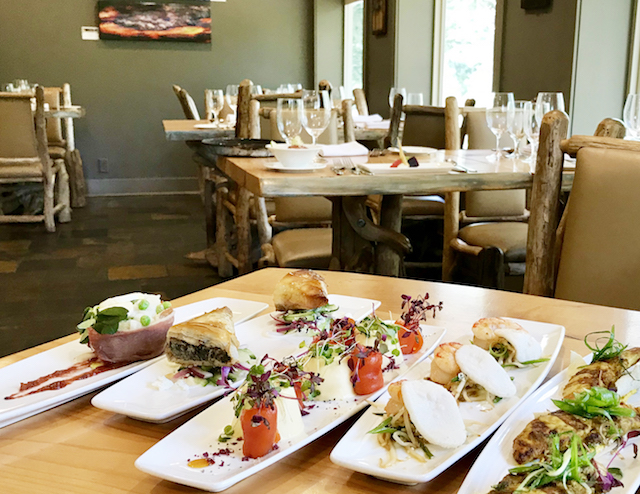 We could spend all day at the spa (and we have) and several days hanging around our room or cabin, stoking the fireplace or watching the waves roll in (and we have). But, if you're looking to explore more of the Parksville Qualicum Beach area, and keep your totally chilled out island vibe, you can also try the Reconnect Package that includes a Forest Bathing Tour.
Forest Bathing in Qualicum Beach
Gary and Ronda Murdock lead Pacific Rainforest Adventure Tours and they offer a Forest Bathing Tour in the Qualicum Beach Heritage Forest. First things first: There are no bathtubs involved. The term comes from immersing yourself, and your senses, in the atmosphere of the forest.
There's something about being in the forest that makes you relax, and for me I sometimes get giddily happy when I come across an old growth Douglas Fir – who feels like an old friend. This particular forest is in a Coastal Douglas Fir Moist Maritime Zone (as opposed to a Coastal Temperate Rainforest like Vancouver). It gets less rain on the east coast of Vancouver Island but it's the same region in which you can find Cathedral Grove.
Ronda will lead you through the forest trails silently, and in stages. You'll concentrate on experiencing the forest through your senses. Sight, sound, touch. Pausing in intervals to reflect on the sensations you feel.
A study out of Japan found that people who were exposed to forest settings had greatly improved cortisol (stress) levels, pulse rates, blood pressure, and parasympathetic nerve activity levels versus those who were exposed to urban settings. Science has confirmed the evidence on the positive effects of contact with nature on our physical, emotional and mental well-being.
It's walking therapy for the body and soul! Combine it with your Tigh-Na-Mara visit and you'll melt away the city's stresses.
Reconnect Package
The two packages offered are:
Reconnect #1) Enjoy 2 or more nights' accommodation in a Spa Bungalow Studio, Reconnect welcome amenity, 2 hour Forest Bathing Tour and mineral pool access at the Grotto Spa..
Reconnect #2) Enjoy 2 or more nights' accommodation in a Spa Bungalow Studio, Reconnect welcome amenity, 2 hour Forest Bathing Tour + 1 hour informative Beach Walk and mineral pool access at the Grotto Spa.
48 hours notice recommended to guarantee ideal tour dates and times. Minimum two people needed to book this package.
For more information, get in touch with Tigh-Na-Mara on Facebook, Instagram, or Twitter. Book by calling 1-800-663-7373 or visit the website.
It's been our go-to anniversary getaway spot for several years, and we were so happy to be back this year during the signature Parksville Uncorked festival.
Read more: Parenting Paradise in Parksville, 5 Ways to Enjoy a Vancouver Island Getaway in Parksville, Girls Getaway to Tigh-Na-Mara.