by

Disclosure: Review

— This is not a paid post. We enjoyed a complimentary media stay at Tigh-Na-Mara and BC Ferries vouchers for our trip. Views are my own. Please review the Policy & Disclosure section for further information.
After a very long work week, on a Friday that seemed never to arrive, my sister picked me up in Downtown Vancouver and we headed for the Horseshoe Bay ferry terminal. A little black rain cloud carrying the stress of the week followed us up from the car deck to the onboard cafe as we caught up over coffee.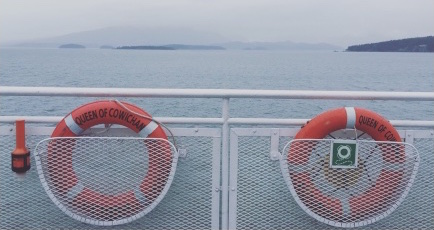 Outside, the waves in Howe Sound weren't their usual shimmering emerald, instead they were grey like the sky and just as full of water. I tried to answer emails between sips of coffee, she talked about divorce, I talked about work.
When we docked at Departure Bay, driving off the vehicle deck and down the ramps towards Nanaimo, the sun appeared, and the windshield wipers were turned off. Following the highway road signs to Parksville, a wave of anticipation swept over us and we realized we were on our way to a wine festival with spa time. We had left our little black rain cloud of stress behind us — somewhere in the Salish Sea — and we traded it for a pair of little black dresses.
Girls Getaway to Tigh-Na-Mara in Parksville
30 minutes north on Highway 19, we arrived at Tigh-Na-Mara Seaside Spa Resort, the site of another Girls Getaway I had with my friend Keira in 2009 and a getaway with my in-laws on their 50th wedding anniversary. This trip was different, in an equally good way mind you.
The lobby was busy since it was the weekend of the Parksville Uncorked Food & Wine Festival, which was the main theme of our getaway.
We got the keys to our cottage, which was a new (to me) accommodation at the resort since I had only previously stayed in the seaside lodges. Just a quick jog down the road from the main lodge and conference centre, past a row of other cabins and before reaching the multi-room seaside lodges, we turned past an ancient arbutus tree that seemed to have a heart carved into it as we reached our private driveway.
A wood-burning fireplace with logs stacked outside, a living room with skylight and full kitchen, two bedrooms, and a bathroom. It was so charming — like summer camp for adults. We threw on our coats and walked across the road to a gazebo that looked out over the water, facing east towards the mainland's south west coast, and watched the sunset's reflection behind us paint the sky pink. Back in the cabin, we popped the cork on a bottle of wine that was waiting for us and officially let our weekend begin.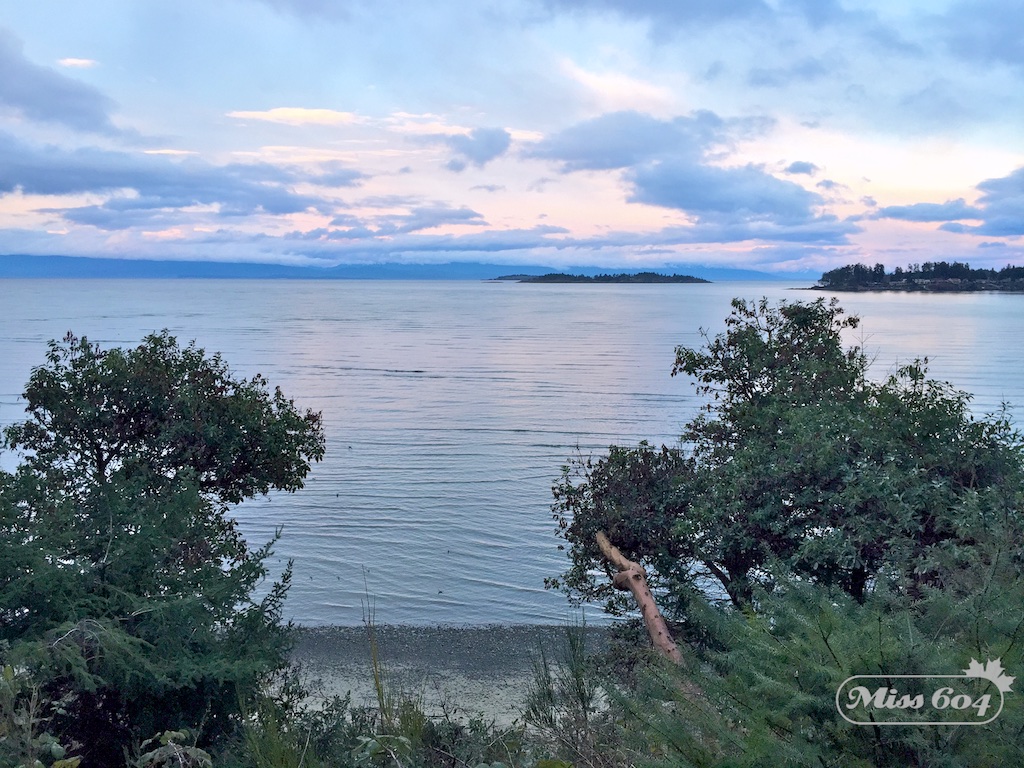 We had an enviable agenda that included spa time at The Grotto Spa (soaks in the mineral pools and facials), tickets to the Sip & Savour event for Parksville Uncorked, Bubbles & Brunch at The Beach Club Resort in Parksville, and a dinner where we experienced the forage tasting menu at the Cedars Restaurant & Lounge at Tigh-Na-Mara.
The sold out Parksville Uncorked wine tasting & pairing event was buzzing. Live music, canapés, a s'mores bar, and the best of BC and Vancouver Island wines being poured all around the room and in Cedars Restaurant & Lounge. What made the evening even better was that it was supporting Variety BC, and I had just sponsored the Social Lounge at the Show of Hearts Telethon the weekend before. We mixed and mingled, met some winemakers, bought our raffle tickets in support of Variety, and I'm sure we would have danced, if dancing was part of the evening's program.
Following Uncorked, I pulled out a headlamp from my purse to light the walk back to our cabin in true West Coast fashion: Wearing high heels and Gore-Tex jackets.
On Saturday afternoon we had some spare time so we looked up some local hikes and found Little Qualicum Falls just 20 minutes away. We spent about 2 hours walking around twisted arbutus trees and moss-covered Douglas Firs next to the thunderous network of waterfalls in the Little Qualicum River canyon that ran down from Cameron Lake.
Upon our return to our cabin at Tigh-Na-Mara, we traded our hiking boots for gumboots and took a walk along the water between the resort's beach front and Rathtrevor Beach Provincial Park. The sand glittered with purple mussels and white oyster shells, and stroller tracks weaved between seaweed that brushed up during a recent storm. The air was filled with the scent of evergreen and sea salt, and our wind-blown hair made selfie-taking difficult but we rolled with it.
We kicked the sand off our boots and returned to our cabin for a glass of wine, as I got the fire started. My sister, who works full time, goes to school, and is a single mother of 4, curled up on the couch and napped. I honestly don't know how much sleep she gets or how she fits everything she needs to do in a 24 hour day. I covered her with a blanket and kept the fire crackling as the brightness of day faded from our skylight.
When she awoke, our conversation that night was far different than the one on the ferry. We talked about our ambitions, hopes, and dreams. We recalled games we played during our childhood, the clever and witty comments my niece and nephews crack daily, and we laughed. We laughed until our eyes swelled with tears.
In the morning before check out, we brewed some tea and I lit one last fire. We put our cozy sock covered feet up on the coffee table, hugged our warm mugs with both hands, and talked some more. If we had the time, we would have made one more trip to The Grotto Spa to soak in the pools then lounge in fluffy robes in the sunroom while reading our books.
On the way back to the ferry we listened to music, we had conversations that went beyond the usual emoji we might text to each other once a week, and we talked about the next trip we each had planned. The return sailing was calm and serene. When the wind blew it didn't shake the boat, it cleared away hesitant rain clouds.
Taking time to have a Girls Getaway contains far more substance than the simple pleasures of a mani/pedi and popping a cork on a bottle of bubbly. It's about letting go, reconnecting, bonding, having fun, laughter, smiles, and sure a glass of wine (or two).
You can start planning yours now with Tigh-Na-Mara's new Girlfriends Getaway Package. Get away to the #1 Spa in Canada, according to Spas of America, and enjoy some of the wonderful perks and simple pleasures we experienced. This package includes relaxing at the spa, a night out at Cedars Restaurant & Lounge with a signature cocktail followed by great food, fun and laughter. Follow Tigh-Na-Mara on Facebook and Twitter for more information.