Riding bikes through the trails of Green Timbers, hanging out at the mall in Guildford, backyard barbecues, and sleepovers with friends from school where we didn't have to speak French like in our immersion classes. Michelle Kim's new book Running Through Sprinklers is a fictional tale of young friendships, family, and growing up in Surrey, BC.
If you recognize Michelle's name it's because she's an occasional contributor to Miss604.com and one of my first childhood friends – ever since we met in the courtyard at Hjorth Road Elementary. To celebrate the launch of her book, which has been published by Simon & Schuster Canada, we've put together a Q&A:
Running Through Sprinklers
How and why did you decide to write this book?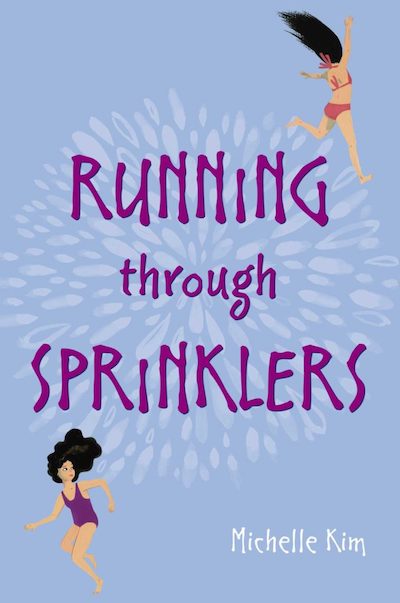 Michelle: "I was in university, heartbroken over some guy, and my mom came to take me for lunch at a deli on 10th. I remember sitting there, eating my soup, when I noticed a group of four elderly women sitting next to us. I listened in on their conversation and they were all thanking each other for being there when each of their husbands passed away. It got me thinking about the importance of female friendship, in our later years and when we are young. Preteen girls have such intense friendships with each other, it's almost like a first love. Then I started to think about how so much emphasis is place on romantic love, and unrightfully so. I think as women, female friendships are the backbone of our emotional health, and in a way, our lives."
How did the concept evolve from when you started writing it to when it was fully developed?
Michelle: "I wrote three pages for an assignment at UBC. It was a scene where two girls eat ramen (which is now the beginning of the book); I didn't think of it too much but then I wrote more scenes, in no linear fashion. Years later, when I had enough scenes, I stitched it all together, but it still wasn't quite working. So I put it to the side and began working on films. After writing and directing my first feature film, The Tree Inside, I decided to tackle the novel again using what I learned from filmmaking and everything clicked. It was a long process but I'll say I'm so happy it worked out the way it did because otherwise I would not be a filmmaker and my book would not be what it is today."
Why write about growing up in Surrey?
Michelle: "Looking back, I've come to realize what a privilege it was to grow up in Surrey. It's incredibly multicultural. The people here are very hardworking. I'm just so grateful. In a way, Running Through Sprinklers is a love letter to Surrey."
You can purchase Running Through Sprinklers online now or find it on the shelves of your local bookstore. If you would like to win your own author-signed copy, I have a one to give away! Here's how you can enter to win:
Leave a comment on this post (1 entry)
Click below to get another entry by posting on Twitter:
[clickToTweet tweet="RT to enter to win a copy of @miju's book #RunningThroughSprinklers http://ow.ly/Ms5E30jw4Zl" quote=" Click to enter via Twitter" theme="style6″]
I will draw one winner at random from all entries at 2:00pm on Thursday, April 26, 2018. The winner will have the options to pick up their copy in person at one of Michelle's upcoming book signing events around Metro Vancouver.
Follow Michelle on Twitter, Facebook, and Instagram for more information.