by

Disclosure: Sponsored Post

— Published in partnership with ZenSeekers Please review the Policy & Disclosure section for further information.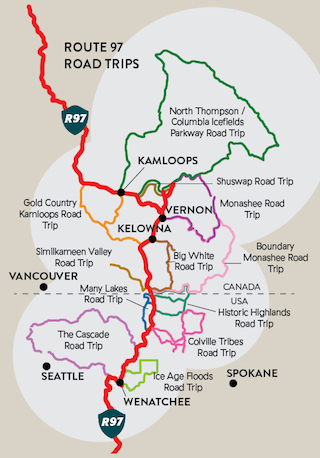 The following has been contributed by Dax Justin in partnership with ZenSeekers, exploring BC's Gold Country and #Route97.
#Route97 is a collection of experiences and destinations you will find within the Okanagan Valley and into Washington state.
ZenSeekers challenges you to explore the region this fall and have a series of stories to help make that happen.
Exploring Gold Country with Dax Justin
The greens and golds of Cariboo country in fall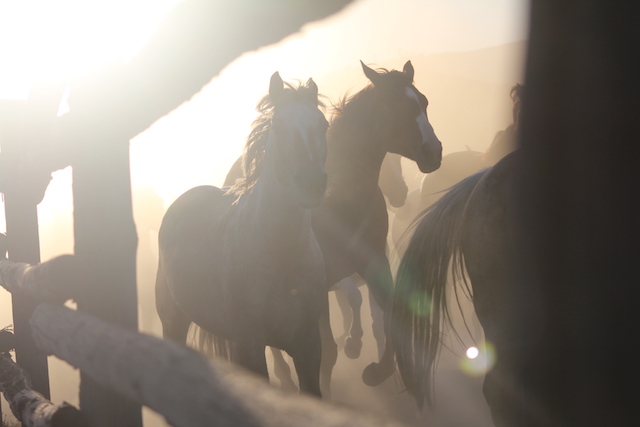 I was heading to Cache Creek, about 350 kms north of Vancouver, the gateway to the Cariboo region, a place that took me by surprise. I landed in this desert-like landscape with rolling hills of ranchlands and grasslands spread out before me.
This is a place known for its outdoor adventures and some cools stops you'll not want to miss when you visit here. Here are a few places I discovered on my late September trip. I'm sure that fall is one of the most beautiful seasons here with the changing colour and gorgeous light.
Be curious. Learn more about Gold Country on the #Route97 website »
Ashcroft Bakery
The smell of fresh baked bread gets me every time – especially when I'm hungry, so a stop at Ashcroft Bakery on Ashcroft's main street is a must. You'll feel like loading up your car many warm loaves of bread for your road trip and the bakery's famous cinnamon buns. This popular spot is owned by a couple of local women, making visitors feel welcome they serve a delicious cup of coffee after an early morning drive from the city.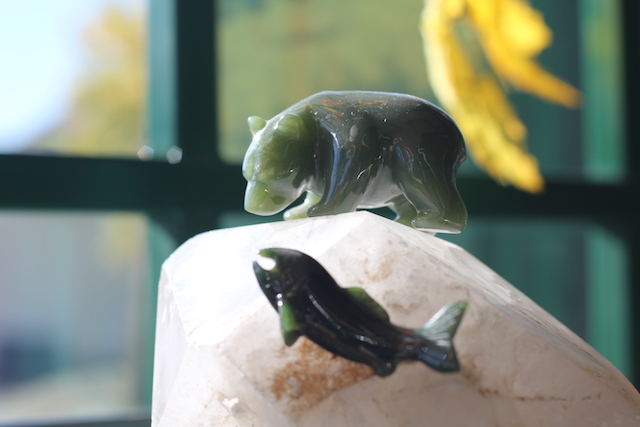 The Jade Shoppe
The Cariboo Jade Shoppe is a local institution in Cache Creek. Walking into the store, the first thing I notice is a massive one-foot thick slab of jade at the front door.
This store has been around since the 1960s and is run by Bill Elliott, who restores, collects and buys jade creations from jewelry and intricate sculpture and semi-precious rock specimens, and beautiful amethyst pieces. Elliot's a man about town who's also a volunteer firefighter who owns several other businesses.
People from all over the world who pass through this town stop at the shop, also known for gift items such as moccasins and Canadian gifts. As I walk around the store, I'm captivated by one intricate piece – a bear with a fish in its mouth, and think of the hours it must have taken to create it.
I was fascinated to learn that nephrite jade is commonly found in this northwest region of BC and that the province is one of the major exporters of jade in the world. Jade is also the official stone of BC.
The semi-precious stone is famous for its gorgeous shade of medium or deep green and a symbol of peace. It's also such a hard stone that it can only be cut with a diamond cutter and that it can take hours to get the stone to a high sheen with grinding and polishing.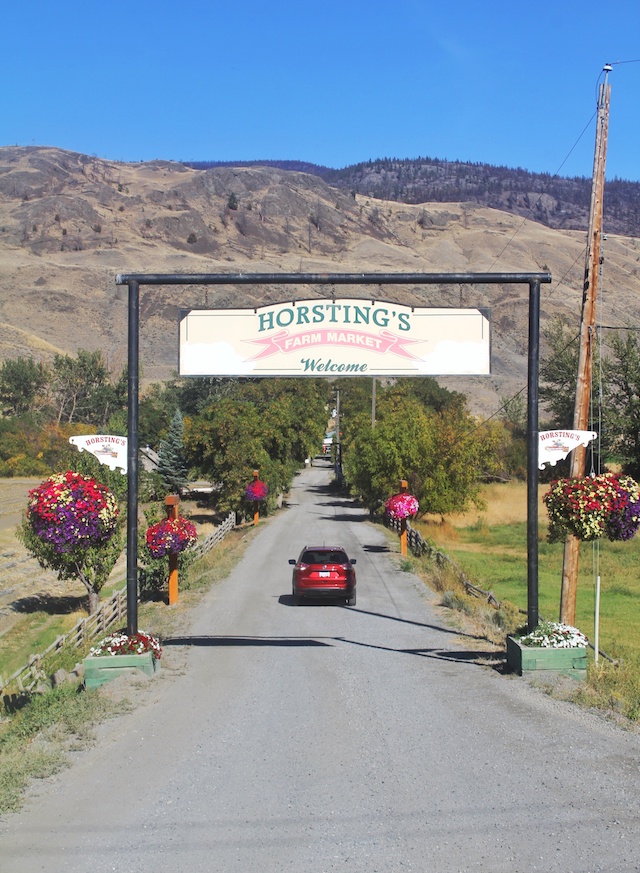 Horsting's Farm and Market
I must admit, I'd never made a pie before, but my visit to Horsting's Farm and Market was going to be my first time. Located just outside Cache Creek, the 85-acre farm is known for locally grown goodness and fresh-made food – and its deliciously fresh pies.
Specializing in seasonal fruits and vegetables, fall is beautiful time to visit to buy everything from apples to peppers and pumpkins.
We headed into the kitchen for pie-making school, and I was put to work to make the market's signature apple pie. I cored, chopped and tossed the apples into a big cauldron and then kneaded the soft dough, using my thumbs to decorate the crust's edge. We popped the pies into the oven and waited for them to turn golden brown.
The smell was amazing and made me drool and the small brought me back to my mom's kitchen.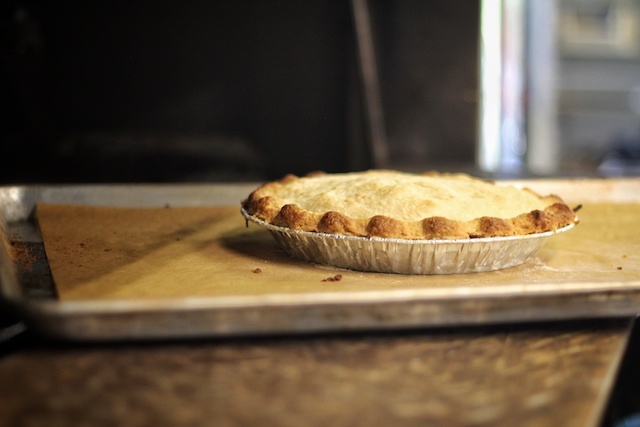 One fun fact I learned here: the actor Cuba Gooding Jr. used to religiously order his pies from here after shooting a movie in the region and getting a taste of one.
Be curious. Learn more about Gold Country on the #Route97 website »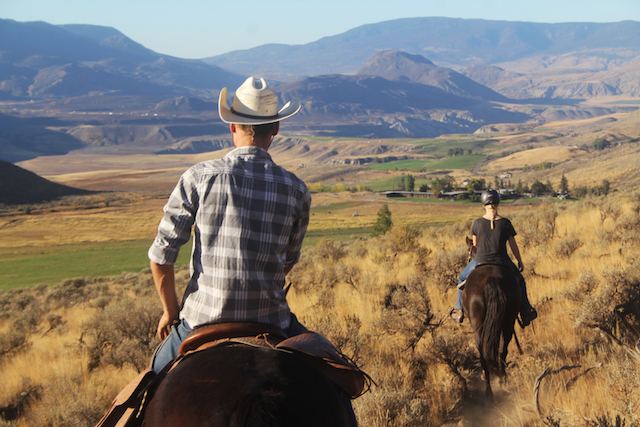 Sunndance Guest Ranch
It had been a few years since I'd got up on a horse, so I was happy the folks at Sundance Guest Ranch loaned me Troy for my ride. He was so well behaved and mellow, letting me stop and get some stunning shots of the gorgeous ranch, just four hours from Vancouver.
People from the city will find this such a welcoming place, surrounded by the peaceful landscape of rolling hills. In fall, the hills are a golden colour and the sun still warms you as you ride. The golden light was coming over the hills, and shades of yellow and earthy colours made me feel like I was riding on a movie set.
I could see why people from all over the world come here to learn about ranch life and culture. I had the chance to ride with guests from the U.K. and Germany, and even a couple of stunt riders from Vancouver who were getting in some practice.
After our two-hour ride, we were hungry and treated to family style dinner of beef skewers, fresh veggies and cupcakes for dessert.
Full and tired I was ready to relax in my comfortable guest cabin for a few hours before heading out to see what the night sky would hold.
Late in the evening I went for a walk and gazed up the stars, on this clear night. I had just returned and was spoiled by the Aurora in Yellowknife, and didn't expect to see the Northern Lights here.
Well, I was wrong about that.
Within the hour, the night sky opened up and the Aurora began to dance for us. I got so excited I ran into the lounge like a kid, telling the rest of the guests to get outside.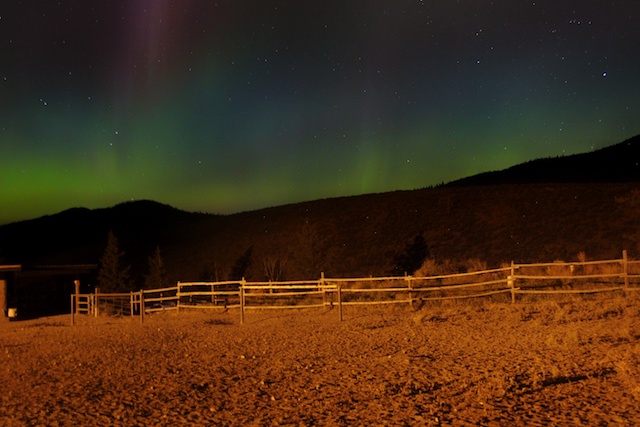 This is not officially a dark sky preserve, but it could be. So far from the city lights, it was apparent this is a perfect perch for the Northern Lights.
Me and the guests stood outside for more than an hour watching this spectacular show. We were like a bunch of kids standing there in awe.
What an amazing way to end an incredible weekend in this beautiful part of BC.
I can't wait to come back.
If You Go
About the Author: Dax Justin on Behalf of ZenSeekers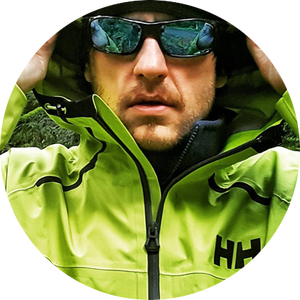 Dax Justin is a Canadian Explorer Adventure/Landscape photographer, visual content creator, and destination storyteller based in Alberta, Canada.
His photographic work focuses on outdoor adventure, landscapes, mountain lifestyle, people and sports. The photography captured on expeditions bring the adventure to a worldwide online audience in real time, expanding brand reach through social media and travel networks including Seekers Media.