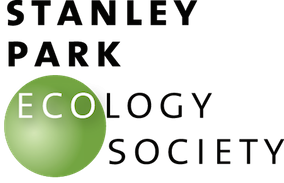 This post has been contributed by Katherine Town, Vancouver lifeguard stationed at Lost Lagoon, on behalf of the Stanley Park Ecology Society ("SPES"). As a member of SPES for the last six years, I wanted to offer the team an opportunity to share their news, events, and work so I created the "SPES Series" where they contribute and share stories with my audience once a month.
Is It Safe to Skate on Lost Lagoon?
By Katherine Town, Vancouver lifeguard stationed at Lost Lagoon
It's a rare winter in Vancouver when the temperature dips low enough for Lost Lagoon to freeze over. Vancouverites are enthralled with the ice, and yearn to go on it. But, is it safe? Seeing birds standing on the ice does not mean it will support you. After all, a bird may weigh a pound or two, how much do you weigh? The same if your dog scampers out on the ice. Consider its weight versus yours.
At any given time, the ice in Lost Lagoon is of variable thickness. On the city side, where it is predominately in the shade, the ice will be thicker. On the Park side, it is usually sunny, so the ice is thinner. Any place where water is moving means thin ice: at a drainage pipe emptying into the lake or where birds are moving around. Underneath the trees is another area where the ice is thin.
The water in Lost Lagoon itself is not totally fresh water. Some salt water leaks in, and this means it must be much colder in order for it to freeze. In addition to its brackish state, there is very little water circulation in Lost Lagoon; the bottom of the lake is silty with decomposing plants and waterfowl feces which bumps up the water temperature.
A few other factors contribute to thin ice on Lost Lagoon: The lake is close to the ocean, at sea level, so the freezing level must be very low to affect it. The temperature of the ocean also affects the land surrounding it. Lost Lagoon temperatures are therefore moderated by the ocean surrounding it. And Lost Lagoon is a large body of water reaching 7 feet deep in some areas. A larger body of water takes longer to freeze. Areas like Trout Lake, farther east away from the ocean, with 150 feet of elevation above sea level, will freeze more quickly. Combine all of these factors together, and you can understand why it takes Lost Lagoon longer to freeze than other ponds.
And ice can still be thick and not safe. When the snow falls on top of ice, the snow acts like a blanket and insulates the ice, keeping the ice warmer. The ice won't form as quickly nor as solidly. It's the kind that you will fall through! Or, air pockets may be formed in the ice, and these won't support your weight either.
Frozen Lagoon Safety Tips
Standing on the ice and stomping on it with your feet to see if it supports you is risky! Especially if you are unsure of the water depth. If you want to stomp on the ice, find a place where the water depth is only few inches thick. When you fall through, you only get wet to your ankles! Imagine the surprise you'll get if you fall through 5 feet of ice cold water.
Keep your dog off the ice. When your dog falls through, your first inclination is to go and get him. Stop! Your dog is considerably lighter than you. This means you are definitely going swimming.
If you need to rescue someone, think of your own safety. Try to rescue them without putting yourself in danger, that is, stay away from where they fell in. Throw them something that floats. Throw them something with a rope attached to it, so you can pull them back in. Around the perimeter of Lost Lagoon, there are red wooden ice ladders. You can extend an ice ladder out to them.
If you feel you must go out on the ice, standing in one place puts all your weight in a small space. Try to distribute your weight over a large area. Lying flat on your stomach distributes your weight over a greater surface area. This is also how the red wooden ice ladders work in a rescue.
During periods of cold weather, when there is ice on Lost Lagoon, the Vancouver Park Board stations lifeguards to patrol the ice. If you are unsure of ice conditions, speak to the lifeguard. When the danger signs are on the ice warning you of thin ice, believe them! The signs are there because it is not safe. The Lifeguard's mandate is prevention — by keeping people off the ice.
With all these conditions, Lost Lagoon is not open to ice skating very often. The ice may be thick enough for one person to walk on it, but if the Park Board opens up the lake, 1000 people could show up! (Trout Lake experienced 2000 skaters at once last weekend). To be safe, the ice will need to be thicker to support that many people. Approximately 10 years ago, a portion of Lost Lagoon was open for skating for less than a week. 23 years back, skaters enjoyed several weeks of fun on Lost Lagoon during a very long cold spell. It doesn't happen very often, but when it does it's such a thrill!
Read: Vancouver's Snow Lifeguards
Until Lost Lagoon's ice is thick enough to support skaters, content yourself with this fun video of river otters enjoying some slippery fun last January:
Enjoy Vancouver's rare wintry weather, but play safe!