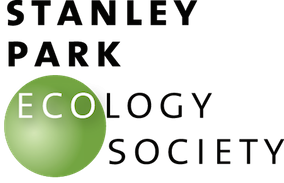 This post has been contributed by Kathleen Stormont, Communications Specialist with the Stanley Park Ecology Society ("SPES"). I have been following SPES since I moved into the West End over a decade ago and I have been a member for four years. I wanted to offer the team an opportunity to share their news, events, and work so I have created "SPES Saturday" where they contribute and share stories with my audience once a month.
The Big and the Small of It in Stanley Park
When people think of Stanley Park, it's the big things that come to mind: towering old growth cedars, majestic Siwash Rock, or the 7 km seawall. But get down to the microscopic level and you'll find an intriguing world overlooked by Park visitors – until now. Stanley Park Ecology Society's new microscope is revealing the miniature wonders of the Park to enthralled audiences during SPES' school and day camp programs.
Courtesy of funding from TD Friends of the Environment Foundation, the new dissecting microscope has a stage large enough to accommodate the small treasures that program participants collect in the Park. Pond dipping at Beaver Lake, for instance, produces a plethora of aquatic insects whose individual details are lost to the naked eye. But, pop a "find" under the scope (which can be hooked up to a screen projector or camera), and a whole group of explorers can observe the quivering gills of a may fly nymph or count hundreds of square scales, arrayed like shingle siding, on a moth's wing.
"Even I, who have spent countless hours peering through microscopes, was mesmerized by the complexity in colour, pattern and design revealed by the larger-than-life screen projections from the microscope," exclaims Dylan Rawlyk, SPES' School Programs Manager. "My computer's desktop is one of these images now!" Indeed, magnified up to 70 times, parts of insects, plants and animals resemble breathtaking works of abstract art.
A digital camera attached to the microscope enables SPES educators to photographically store and share their microscopic discoveries with subsequent groups of school kids and summer day campers. "We can now develop resources that are more detailed than ever before to allow for further study and research within the classroom," says Dylan. As staff collect more photos of the Park's microbiota, you, too, will be able to view this unique photographic collection at the Stanley Park Nature House on Lost Lagoon. The Nature House is open Tuesday to Sunday, 10:00am to 5:00pm.