"It would have been perfect, but I would have to give up Buttons," my mother has said to me several times over the last year. She's been looking to move back into Downtown Vancouver but since adopting her kitten, the search has been a struggle since many properties do not allow pets in some capacity.
Pet-friendly rental accommodations has been a hot topic in Vancouver, as more than 60% of Vancouver residents have a dog or cat. According to the BC SPCA, 20 per cent of the animals dropped off at their shelter is by owners facing housing related issues1. However, landlords say renting to pet owners isn't an easy decision.
"I agree that everyone has a right to a home. I'm not sure that right extends to including pets," said David Hutniak, Landlord BC's CEO. He said they love animals too, but regardless of how well-behaved a pet is, units have to be maintained – and that often means replacing flooring once the animal moves out.2
The City of Vancouver is pushing for the province to revitalize legislation on pet ownership to accommodate our furry family, but that's not to say there are a few options out there already. Bosa and BlueSky Properties offers pet-friendly rentals in three Vancouver communities including Downtown, Chinatown and False Creek, with buildings offering pet-friendly amenities like "laundro-mutt" pet wash stations at LIDO at False Creek.
Win a BC SPCA Shop Gift Card
To keep the conversation going, Bosa and BlueSky Properties have offered up a $100 gift card to the BC SPCA's online store that I can give away to a Miss604 reader.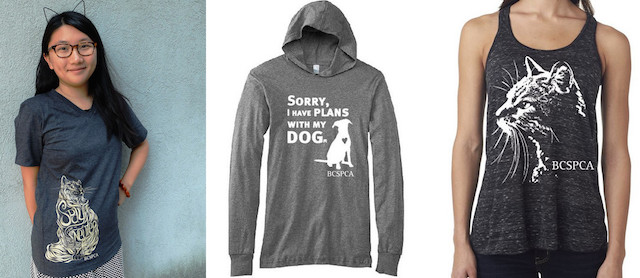 The shop has plush toy animals, leashes and harnesses, t-shirts, hoodies, and many more items for the pet lover in your life. You can also donate to the care of a wild animal, or purchase educational resources.
Here's how you can enter to win:
Leave a comment on this post (1 entry)
Post the following on Twitter (1 entry)
RT to enter to win a $100 BC SPCA shop gift card from @blueskybosa & @Miss604 http://ow.ly/4mKHne
I will draw one winner at random from all entries on Wednesday, April 20, 2016 at 12:00pm. Follow Bosa and BlueSky Properties on Twitter and Facebook for more information about their pet-friendly properties and amenities.
1, 2Source: Global BC
Update The winner is Andrea!