Stardust Roller Rink was a staple of growing up in the Surrey area and just as Amy Reid writes in The Now Newspaper, everyone has a Stardust story.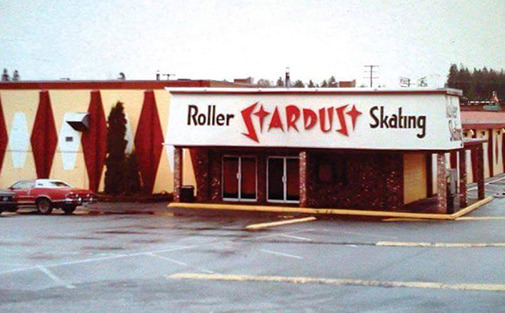 In fact in my popular post "Signs You Grew Up in Surrey in the 90s" Stardust in Whalley is the site of some of the most-recalled memories. Now you can relive some of those magical moments and skate through nostalgic scenes at an upcoming Stardust Roller Rink Reunion.
With its flashing lights, laser beams, spinning disco ball and blaring music, Whalley's Stardust roller rink drew huge crowds for decades.

Before closing in 2005, it was a landmark for generations, the place to be for thousands of kids. Now, as Amy Reid reports, the Stardust is making a comeback of sorts.

In its prime, hundreds of teens flocked to the venue on a typical Friday or Saturday night to strap on a pair of roller skates and glide around the polished floor.

While widespread popularity of roller rinks took off during the post-Second World War baby boom, it wasn't until the days of disco that the upbeat, dance-style venues like Stardust popped up.

Gone were the days of outdated organ music and boring lights and in were flashy mirror balls and disco tunes. Naturally, the end of the disco era hit the roller rink industry hard, with many rinks closing their doors.

While there was once more than a dozen roller rinks in B.C., they all slowly bit the dust. But Surrey's venue on 135th Street held on longer than most…. [Amy Reid with files from Tom Zillich – The Now]
Not a school year went by without someone having their birthday party there and even when I converted to rollerblades in the 1990s for after-school recreation, my friends and I always laced up the skates for some quality time at Stardust on weekends.
Stardust Roller Rink Reunion
The roller rink is still around. It's called Central City Arena (10240 City Parkway) and it hosts ball hockey along with public skates and birthday party packages with lights and music. However for those looking to re-visit Stardust in its heyday, there are a few public reunion parties planned in February, organized by Krissy Williams through a Facebook group.
The reunions are all currently sold out (for February 12, 13, 20) but if you join the group, you'll be notified when more openings/events are available.