Last night, Vancouver City Council voted in favour of tearing down the Georgia and Dunsmuir viaducts. "This is a once-in-a-generation city-building opportunity," said Mayor Gregor Robertson in a written statement.
The vote on Monday night meant staff will start detailed planning and land negotiations, and will report back to council in 18 months with an update. The plan to remove the viaducts includes an increase in downtown park space. It also includes two new city blocks that would be used for social and market housing. (Source: CBC Vancouver)
Before (Now)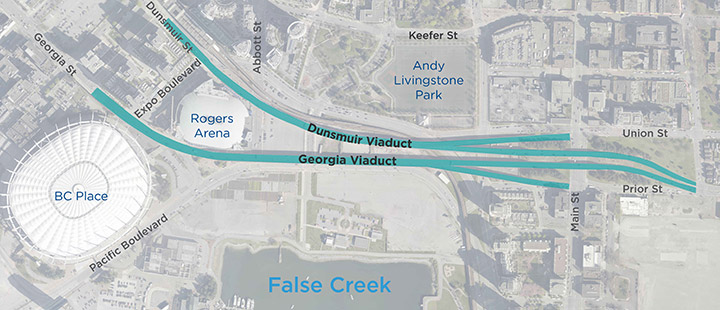 After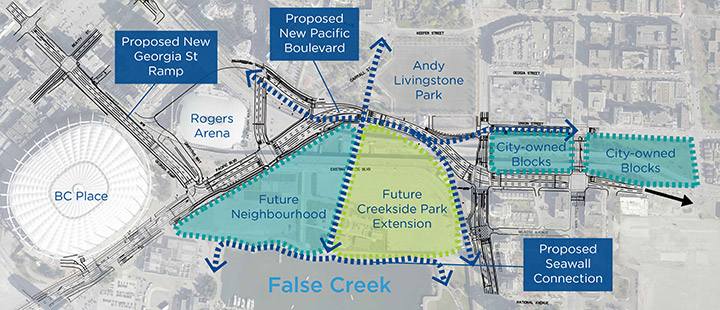 In the Mayor's statement he said: "There is no decision at the city that has been more scrutinized, studied, deliberated or consulted on than whether or not to remove the viaducts, and after four years, it is time to move forward."
Vancouver Viaduct History
Vancouver has had viaducts in place, in that area, for close to 100 years. On July 1st, 1915, the first Georgia viaduct opened for streetcar use. It extended over the CPR's Beatty Street yard and it was named the "Hart McHarg" bridge after a World War I hero. Apparently the viaduct was so poorly constructed that within a few years of it going up, chunks began to fall on, endangering pedestrians below.
It wasn't until 1963 that, under the leadership of Bill Rathie (the first mayor of Vancouver that was actually born in the city), a 20-year program was drawn up that would involve redevelopment, transportation solutions, low-cost housing, and a downtown revitalization. A new Georgia viaduct was thought up for cars to allow easier access to downtown.
But the replacement viaduct in the 1960's and into the 1970's was also part of a larger plan. There was a movement to build a freeway system right into and through downtown Vancouver. Can you imagine Highway 1 ploughing right through East Vancouver, Strathcona, and Chinatown? This was the grand idea and it was thought that the viaducts would nicely connect the freeway to the city's centre.
Before the freeway plans were solid, buildings were being razed in anticipation. This included the Hogan's Alley community, which was bulldozed to make room for the new Dunsmuir and Georgia viaducts. Buildings on the East side were reduced to rubble and wiped off the city map — and this is where residents stepped in. Strathcona community activists created much opposition to the grand plan and ended up saving their corner of the city.
Looking ahead, you can view the proposal for removal on the City of Vancouver's website along with a series of information boards.