It's election night in Canada! Follow on social media, radio, television and online — everywhere you turn and tune in will have coverage across the country. Watching democracy in action has my pulse racing as though I'm watching Canada in the Olympics.
Personally, I'm flipping between several channels on TV, following the #ELXN42 tag on Twitter and using the Canada Election Dashboard from the CBC. No numbers have been released yet pertaining to voter turnout but given the streams of "I voted!" posts I saw on my social feeds today, I think (and hope) it was higher than the last election.
Follow live results at https://t.co/iDO0fRxcyI #elxn42

— Elections Canada (@ElectionsCan_E) October 20, 2015
Canadian Election Results in Vancouver
In Vancouver, polls are just closing as those who were in line before 7:00pm get to cast their ballots. I'll post the results below as they come in later tonight: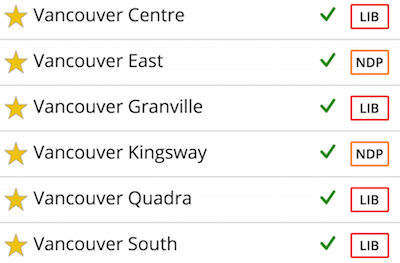 Vancouver Centre: Hedy Fry (LIB)
Vancouver East: Jenny Kwan (NDP)
Vancouver Granville: Jody Wilson-Raybould (LIB)
Vancouver Kingsway: Don Davies (NDP)
Vancouver Quadra: Joyce Murray (LIB)
Vancouver South: Harjit Sajjan (LIB)
As of 8:37pm: two MPs have officially been elected. Incumbent Hedy Fry in Vancouver Centre and incumbent Joyce Murray in Vancouver Quadra. 8:47pm, Jenny Kwan is elected in Vancouver East. CBC News projects that Jody Wilson-Raybould is elected in Vancouver Granville, and that incumbent Don Davies is elected for Vancouver Kingsway, at 9:05pm. 9:25pm, CBC News projects that Liberal Harjit Sajjan wins Vancouver South.
As of 11:59pm: Polls Reporting: 73,200 of 73,568 (99.5 %)
Voter Turnout: 17,465,299 of 25,638,379 registered electors (68.12 %) — does not include electors who registered on election day. This is the highest voter turnout in Canada since 1993. (Sources 1, 2)
Follow the #ELXN42 tag on Twitter for the latest results and follow the official Elections Canada result dashboard for more information.