I had the pleasure of attending an advanced screening of the new crime drama Mr. Holmes with BC's official Sherlock Holmes Society, The Stormy Petrels, last week at the International Village Cinemas. Opening in theatres on July 17th, the film stars Ian McKellen as Sherlock Holmes and Laura Linney as housekeeper Mrs. Munro, and is based on the 2005 novel A Slight Trick of the Mind written by Mitch Cullin.
In 1947, the long-retired Sherlock Holmes, aged 93, lives in a remote Sussex farmhouse with his housekeeper, Mrs. Munro, and her young son, Roger. Holmes reflects on his life while writing in his journals, tending to his bees, and dealing with the deterioration of his once incredible mind. The film, like the novel, uses flashbacks to reveal events of the past, when he was still at the height of his fame and mental ability at his Baker Street consulting rooms, and during a visit to Japan.
Having grown up with Sherlock Holmes stories, told so frequently at one point I thought John Watson was an uncle of mine over in England, I tend to be critical of new fan fiction. However, I have learned over the years that new interpretations, movies, shows, and stories are always welcome as long as it helps the propagate the legacies of Holmes and Watson. Fran Martin, the President of The Stormy Petrels wrote this in her review of the film: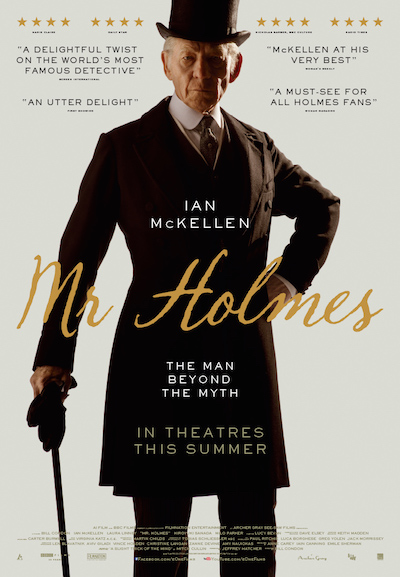 "If you plan on going into this film expecting to see the same Sherlock Holmes that you are used to, except a little older, you will be disappointed. This is not your usual action-packed, thrill-of-the-hunt-grab-your-toothbrush-Watson type of story.
Holmes, like the rest of us, is human after all. Even the sharpest of minds lose their edge. Even the heartiest of souls can weaken. Memories fade, but regrets can linger. Vulnerability takes over. We all need someone.
We still cheer on our hero as he tries to right the wrongs. After all, he is still our Holmes!"
Martin adds that the acting was superb and she recommend the film to everyone: "You needn't be a Holmes aficionado to appreciate it."
Win Passes to Mr Holmes in Vancouver
If you would like to see an advanced screening of Mr Holmes, I have 5 double passes to give away for July 15, 2015 at Fifth Avenue Cinemas, 7:00pm viewing. Here's how you can enter to win:
Leave a comment on this post with a Sherlock Holmes quote or story title (1 entry)
Post the following on Twitter (1 entry)
RT to enter to win movie passes for #MrHolmes from @eonefilms @Miss604 http://ow.ly/PlPCf
I will draw all 5 winners at 12:00pm on Monday, July 13, 2015. Winners are encouraged to get to the theatre at least 1 hour in advance to claim their tickets.
Update The winners are Stacey, Derek, Monique, Steph, and Samantha!