The City of Vancouver is celebrating the two year anniversary of the expanded city Green Bin program for food scraps recycling. This program allows residents to recycle all their food scraps and is now available to about 100,000 single family/duplexes households and 1,800 multi-unit residential buildings currently serviced by the City.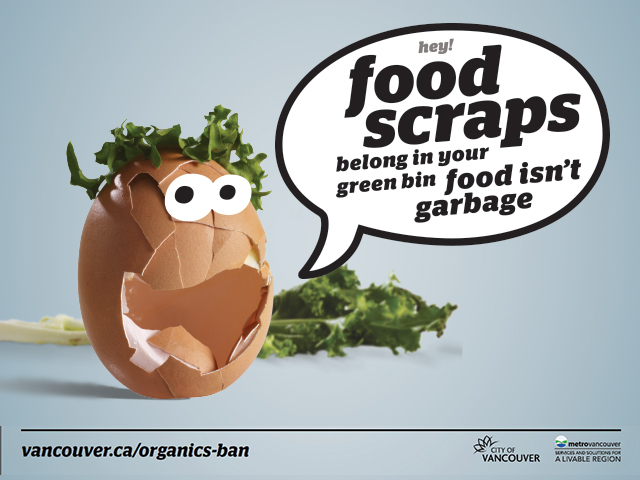 As of January 2015, a Metro Vancouver organics disposal ban on all food scraps comes into effect across the region. The regional ban will mean that food scraps will no longer be permitted in regular garbage. The City is also intending to make food scraps collection and diversion programs mandatory across all sectors of the City.
About The Green Bin/Food Scraps Program
To date, Vancouver households participating in the City's Green Bin program have reduced the amount of garbage sent to the landfill by an average of about 40 per cent.
Recycling food scraps reduces the amount of garbage produced, cuts down on global warming pollution and creates a useful compost product for local gardens.
First introduced in 2010, the program allowed residents with City waste collection services to add uncooked fruit and vegetables to their Green Bin. In 2011, a pilot project was initiated to test an expanded program, allowing all food scraps and food soiled paper to be placed in bins, and included the proposed change in collection frequency.
The program was expanded in 2012 to all single family/duplex households and to 1,800 multi-unit residential buildings that receive waste collection service from the City. Since the switch to city-wide weekly organics pick-up and bi-weekly garbage pick-up, the City has seen compostable organics collected increase by approximately 64 per cent, and a 40 per cent decrease in garbage collected. That's about 24,500 tonnes less garbage going to the landfill each year.
The City has also contributed funding to the Food Scraps Drop Spot Program through a Greenest City Grant that serves residents living in multi-unit residential building who don't receive City collection service. As of July 1st, 2014, the program expanded to seven locations and has collected more than 120 tonnes of food scraps from 38,000 drops since the inauguration of the program in 2011.
Win a Zero Waste Holiday Prize Pack
To promote the organics disposal ban and information about food scraps recycling in the new years, the City of Vancouver and I both have a Zero Waste Holiday prize pack to give away that contains:
Family pass (2 adults, 2 children under age 17) for the Bright Nights Christmas Train in Stanley Park
Family pass (2 adults, 2 children under age 18) for the Festival of Lights at VanDusen Gardens
2 reusable shopping bags
A water bottle
"Zero Waste Home" book
There are three ways that you can enter to win:
Take the Food Scraps 101 Quiz and you'll be entered in the City's draw.
Take the Food Scraps 101 Quiz and leave a comment back here with your score to be entered in my draw.
You can also post the following on Twitter to enter to win:
RT to enter to win a @CityofVancouver Zero Waste Holiday prize pack from @Miss604 http://ow.ly/D8znM #FoodIsntGarbage
Both my draw and the City of Vancouver's draw will take place on November 5, 2014. I'll draw my winner at 12:00pm that day. The winner of my prize pack is not eligible to win the City of Vancouver's prize as well.