#WhatsTheLink is a series about all that TransLink, Metro Vancouver's transportation authority, is responsible for in the region. Learn more at Translink.ca/WTL and join the #WhatsTheLink conversation on Instagram, Twitter, Facebook, The Buzzer Blog, and here of course!

TransLink Helps to Make our Regional Economy a Thriving One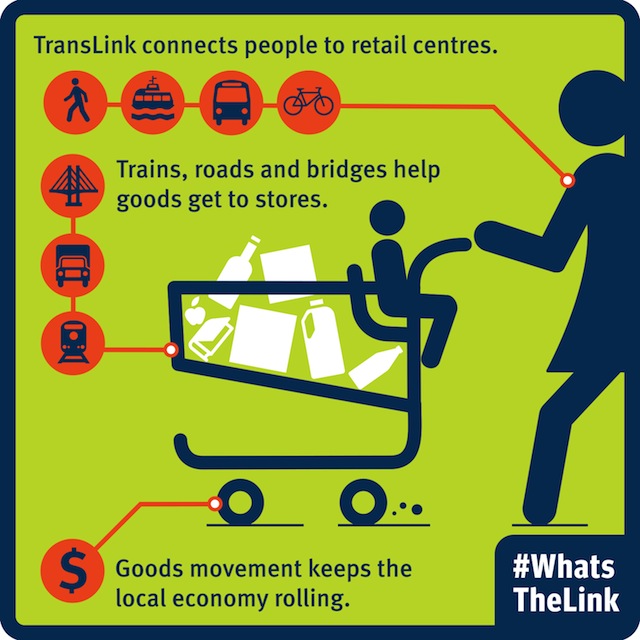 Have you ever wondered about the journey the coffee you drink, the medication you take or the new speakers you bought have taken to get to you? If you're like many in Metro Vancouver, you haven't. That's because the goods we use each day are usually readily available on the shelves, and we take it for granted. One of the reasons we don't have to worry about finding fresh milk, fuel for our vehicles or materials to build our homes is because of the efficient movement of goods and people in our region.
One of the key reasons our region is efficient when it comes to goods and people is that TransLink helps to make this happen.
Vancouver, being a port city, ships goods from central Canada and the prairies to Asia and elsewhere as well as receives goods from Asia and beyond, which make their way to our region's shelves and into the greater Canadian economy. What happens when these goods arrive in our region? Most goods are loaded onto trucks to be delivered to hospitals, shopping malls, construction sites, distribution centres, gas stations and pretty much anywhere goods and services are consumed.
As Sany Zein, Director of Infrastructure and Network Management for TransLink puts it, "While gateway-oriented goods movement is a very large part of our economy, most of the trucks we see on the roads are serving the local economy." And in order to service the local economy, most trucks need to use TransLink's Major Roads Network (MRN). In 2014, TransLink will provide $42 million dollars towards the MRN as part of the organization's mandate to help facilitate the movement of goods in the region.
"The Major Roads Network is the distribution network for longer trips in the region. Almost everything we have in our homes and businesses is delivered by truck. Without an efficient Major Roads Network, we wouldn't have a thriving economy," says Zein.
TransLink also funds infrastructure projects, which help to move goods and people and avoid congestion. Examples of this are the Golden Ears Bridge and the Roberts Bank Rail Corridor, which is intended to alleviate congestion and bottlenecks on the roads network.
The third way TransLink helps to get us the things we need and take us to the places we want to go is by proving an efficient transit system. As Zein puts it, Transit removes trips away from the road network to rail and bus, freeing up congestion on the roads. If our service was inefficient, and we had more vehicles on the road, we would have huge congestion problems."
So, the next time you're craving that particular type of ice cream, think about how TransLink helps provide effective roads, major infrastructure management, and public transportation to make that happen.