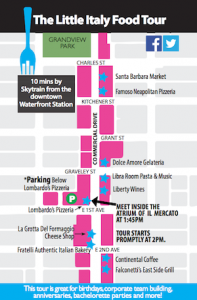 On a drizzly Saturday afternoon I became re-acquainted with one of the most interesting and diverse neighbourhoods in Vancouver thanks to the Taste Vancouver Food Tours: Little Italy tour. Having enjoyed the Gastown food tour operated by Jewel Taylor back in December of 2011, I knew that I was in for a treat with the Commercial Drive version.
I met up with Jewel and the rest of the group at Il Mercato on the corner of Commercial Drive and First Avenue where our host offered pertinent details about the 2.5 hour tour upon which we were about to embark.
Jewel said that she and her partner walked up and down Commercial Drive one day and counted 39 countries that were represented through the businesses along the way. Italian families and businesses have a strong representation in this area known as Little Italy, which tied into an underlying theme of family-owned and operated establishments. One of the best examples of this harmony was at our first stop at Lombardo's.
At Lombardo's we met with Patti Lombardo who opened Lombardo's in 1986, serving up crisp Napolateana style wood-oven pizza. Going strong for 25 years, Patti's daughters are involved in the business, like Julia who was preparing the day's 2go pizzas for their new take-out shop just a few feet away in Il Mercato where her sisters also work. Our sample at this stop was a slice of capricciosa pizza with prosciutto, artichoke hearts, and black olives.
With the delicate ring of a bell, Jewel signaled to the group that it was time to move on and off we went to La Grotta Del Formaggio Cheese Shop. This is where I realized a second (or third) theme of the tour: places that have amazing aromas. We samples three cheeses, including Applewood Smoked Cheddar and one of my favourites, Manchego.
Moving across the street we were served some signature sangria and some world famous sausages at Falconetti's, which you might recognize from an episode of Diners, Drive-Ins, and Dives. It was hard not to fill up already on an order of Falc's Fries, tossed with garlic and kissed with a hint of lime, but we exercised some impressive will power and set out for our next location.
Down the block at Liberty Wine Merchants we sampled a lovely chianti that was available in the shop for under $20 to compliment your home-cooked meal, inspired by Little Italy.
Famoso Neapolitan Pizzeria
Location: 1380 Commercial Drive, Vancouver
Website | Facebook | Twitter
Santa Barbara Market
Location: 1322 Commercial Drive, Vancouver
Website | Facebook | Twitter
Three more pizzas were served up just for our group, fresh out of the authentic bell oven at Famoso. The Neapolitan-certified slices were samples of their Margherita (fior-di-latte, fresh basil, pecorino romano, extra virgin olive oil), Funghi (parmesan crema, fior-di-latte, roasted white mushrooms, oyster mushrooms, caramelized onions, white truffle oil, pecorino romano), and Cavoletti (oven-roasted Brussels sprouts, prosciutto crisps, gorgonzola cheese, dates, walnuts, drizzle of honey) pizzas. Once our tummies were full of the soft dough and crisp toppings we left the warmth of the pizzeria and received an education in local grocery shopping over at Santa Barbara Market.
At the market we sampled cheese and meat platters, juicy grapes and savoury stuffed olives as we learned about the incredibly low prices and the incomparable selection of over 100 olive oil varieties available behind the deli counter. Apparently the market gets so busy around the holidays that there's a lineup out the door with a number system for shoppers so be sure to check it out before then.
Dolce Amore Gelateria
Location: 1588 Commercial Drive, Vancouver
Website | Facebook | Twitter
Libra Room Pasta & Music
Location: 1608 Commercial Drive, Vancouver
Website | Facebook | Twitter
Over half-way through the tour we stopped at Dolce Amore for some hazelnut gelato to reset our palettes. It was creamy, dreamy, and stuffed with hazelnut flavour. I looked longingly at the other goodies in the freezer case like the ice cream sandwiches that I will return to sample someday soon. We heard all about this family business, run by the fourth generation of the Grippo family, continuing the theme on the tour as we moved onto one of the city's best dinner + live music venues at the Libra Room.
Next to the stage with a drum kit, piano, and garage door that opens up onto The Drive, we enjoyed a rich ravioli with mushrooms, parmesan, and pesto. It was a very generous portion packed with the compliment of warm flavours you would expect from the heart of Little Italy.
Following the pasta, we walked back up to Continental Coffee where we met owner Anita Allan, who is actually a part of the Grippo family that runs Dolce Amore. Anita quickly became the star of the entire tour in my eyes, sharing her family history, entrepreneurial spirit, and stories of growing up mere blocks away.
I loved hearing about how she would shop for shoes at Copp's on Commercial as a little girl and how she built up her own business over the last 34 years. Her two sons work for the coffee company, as does her grandson, and we sampled the fruits of their labour in a beautifully brewed cappuccino. The pastries at Fratelli across the road were the perfect compliment and a delightful way to end our tour.
The Taste Vancouver food Tours: Little Italy edition runs every Saturday from 2:00pm to 4:30pm for $49, which includes all of the food and beverage tastings. Vegetarian options are available.
Food brings everyone together and what better way to discover more venues in our hometown than by sampling a handful at once. The outing makes for a fun date day, family bonding (I brought my mother along), and team-building with a work group or team. You'll enjoy the generous tasting samples, the pace of a walking tour, and you'll definitely find yourself making a grocery list to fulfill on a return trip or planning a date night with live music and good eats.
Learn more about these businesses, the people who run them, and the history of this eclectic neighbourhood by winning a spot for you and a guest on an upcoming tour. Here's how:
Leave a comment naming your favourite Italian food item (1 entry)
Post the following on Twitter (1 entry)
RT to enter to win a @tastevantours Little Italy tour from @Miss604 http://ow.ly/qTpuT
I will draw one winner at random from all entries at 5:00pm on Tuesday, November 19, 2013 who will be able to enjoy a complimentary spot (with a guest) on an upcoming tour. Must be 19+. Follow Taste Vancouver Food Tours on Twitter and Facebook for more information about their various activities and tours around town.
Update The winner is Connie!